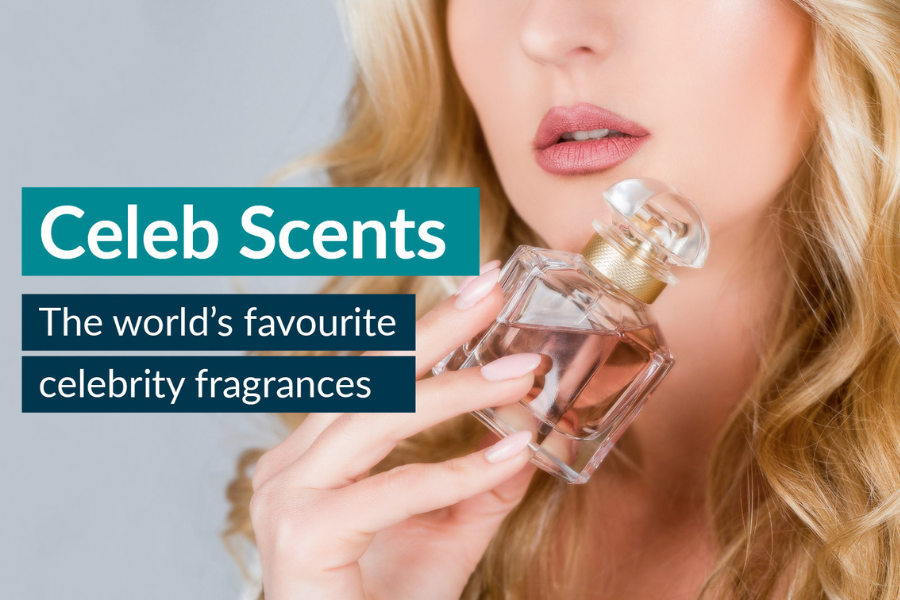 Celebrity Scents: The World's Most Popular Fragrances
Celebrities are always looking for new ways to capitalise on their fame and connect with their fans. Launching their own brands of drinks, cosmetics and clothing lines can help build their brand and generate revenue. Some celebs have even gone as far as releasing their own signature fragrances as a side hustle.
But which celebrities have come up smelling like roses when it comes to launching their own perfumes, and how much will a bottle set you back? We've analysed Google search data and Amazon listings to find the most popular celebrity fragrances and their prices.
---
The world's most popular celebrity scents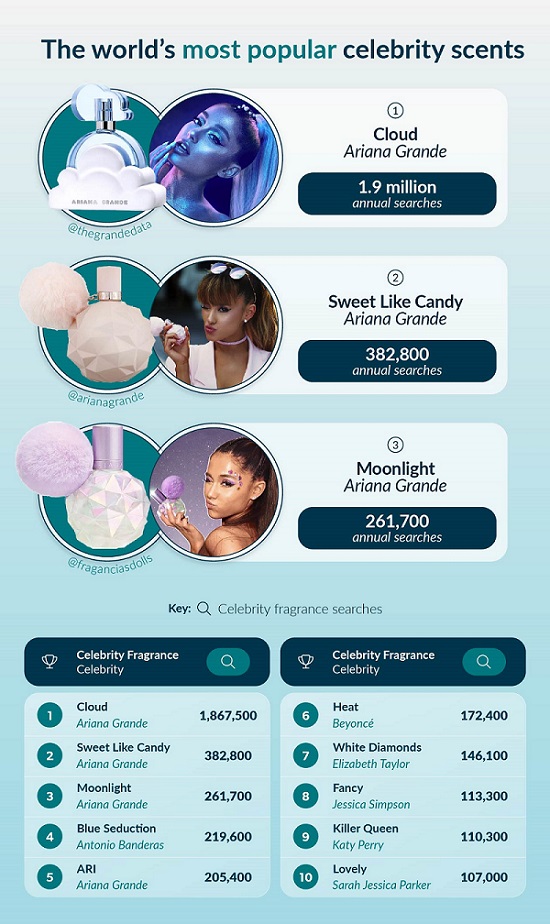 1. Cloud, Ariana Grande - 1.9 million annual searches
Cloud is the fifth fragrance in Ariana Grande's growing beauty empire, it is the most popular celebrity scent globally with 1.8 million annual searches. With top notes of pear and bergamot mellowing into a unique heart of whipped cream and praline, Cloud is one of Grande's best-selling scents, with a bottle sold every 11 minutes!
2. Sweet Like Candy, Ariana Grande - 382,800 annual searches
Up next is Ariana Grande's third fragrance release, Sweet Like Candy. As the name suggests this perfume features the sugary top notes of blackberry and pear, and a heart of marshmallows, whipped cream and frangipani. With over 380,000 searches this year, it is the second most popular celebrity scent.
3. Moonlight, Ariana Grande - 261,700 annual searches
Thanks to her dedicated fanbase, another of Ariana Grande's fragrances completes the top 3. Much like her other fragrances, Moonlight has a sweet, fruity and floral scent and was created to inspire confidence in the wearer.
---
The celebs with the most popular fragrance lines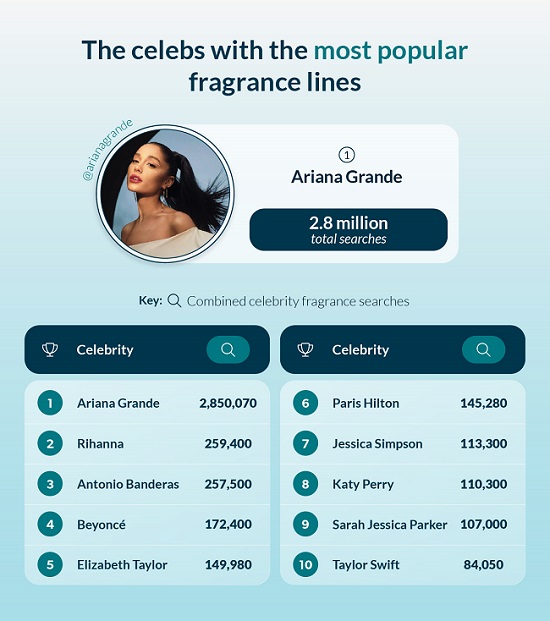 1. Ariana Grande - 2.8 million total searches
Taking the top spot is pop star Ariana Grande, who has steadily been building a beauty empire since the launch of her first perfume ARI in 2015, with sales of her perfumes exceeding an astonishing £800 million through 2022! So it is no surprise that her most popular fragrances have racked up 2.8 million searches over the past twelve months.
2. Rihanna - 259,400 total searches
While Rihanna is now an established mogul in the world of beauty with her brand Fenty Beauty, she first dipped her toe in the world of personal care with the fragrance Reb'l Fleur launched in 2011, a warm tropical and fruity mix. She launched her own perfume, Fenty Eau de Parfum under the Fenty brand in 2019, which sold out instantly.
3. Antonio Banderas - 257,500 total searches
Whilst most celebrities only release one or two fragrances before moving on to the next project, Antonio Banderas has established himself in the niche of celebrity scents, releasing more than 80 over the last 20 years! His two most popular, Blue Seduction and Seduction In Black have a combined total of 257,500 searches over the past 12 months.
---
The most publicised celebrity scents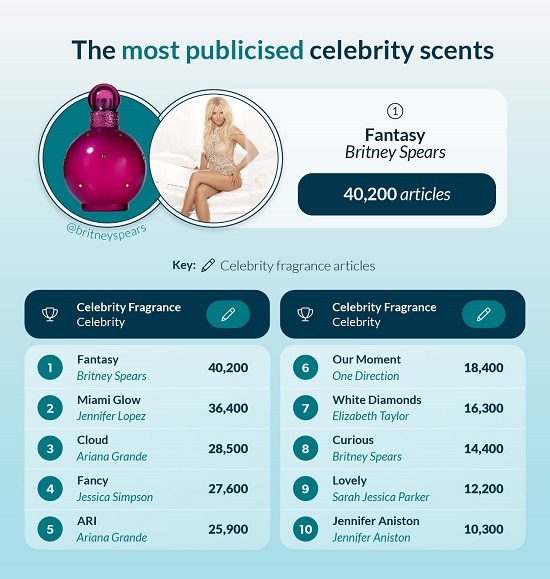 1. Fantasy, Britney Spears - 40,200 articles
First released in 2005, Fantasy by Britney Spears is one of the best-selling perfumes of all time, with the singer even dropping an anniversary edition back in 2013. So it's no surprise it's the most publicised celebrity scent, with 40,200 articles on Google. The fruity perfume with top notes of litchi, kiwi and quince doesn't take itself too seriously.
2. Miami Glow, Jennifer Lopez - 36,400 articles
Taking second place is JLo's Miami Glow with 36,400 articles. Designed in collaboration with master perfumer Caroline Sabas, this follow-up fragrance to her first perfume Glow evokes its namesake city with tropical top notes of passionfruit, coconut milk and pink grapefruit.
3. Cloud, Ariana Grande - 28,500 articles
Taking third place is Cloud, by Ariana Grande. The fragrance evokes memories of youth with its praline and whipped cream notes whilst also having more sophisticated bass notes of wood and musk, making it appealing to fans of the pop sensation and perfume lovers alike.
---
The most popular celeb scents on Instagram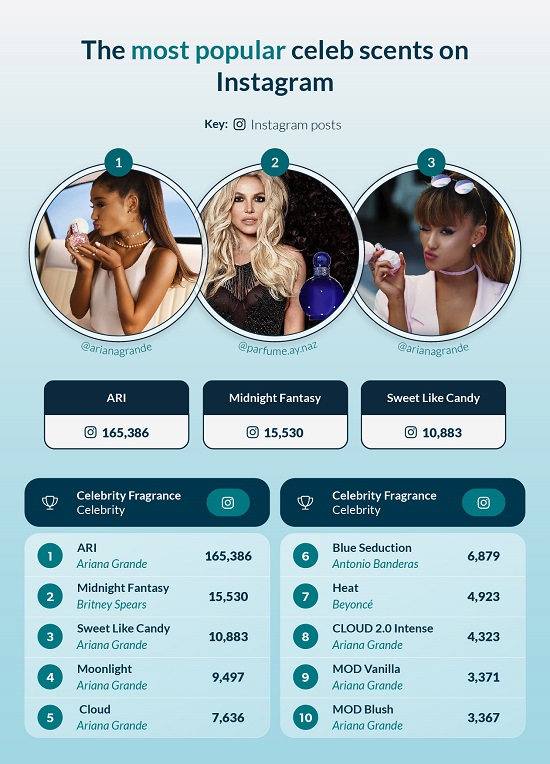 1. ARI, Ariana Grande - 165,386 Instagram posts
Ariana Grand's first foray into the world of perfume takes the top spot for Instagram posts with over 165,000, this is more than ten times that of second place. Like her other scents, ARI is a feminine fruity and floral fragrance with pear and grapefruit top notes which mellows into bass notes of marshmallow and musk.
2. Midnight Fantasy, Britney Spears - Instagram 15,530 posts
Taking second place is Britney's fourth fragrance Midnight Fantasy, with 15,530 posts on the platform. Developed way back in 2006 in collaboration with perfumer Caroline Sabas, Midnight Fantasy is a fruity fragrance featuring notes of plum raspberry and sour cherry.
3. Sweet Like Candy, Ariana Grande - Instagram 10,883 posts
Up next is Ariana Grande's third fragrance, Sweet Like Candy with 10,883 Instagram posts. Like her other signature scents, the fruity perfume begins with top notes of pear, moving into whipped cream and marshmallow middle notes, making it perfect for younger perfume fans.
---
The most viewed celeb scents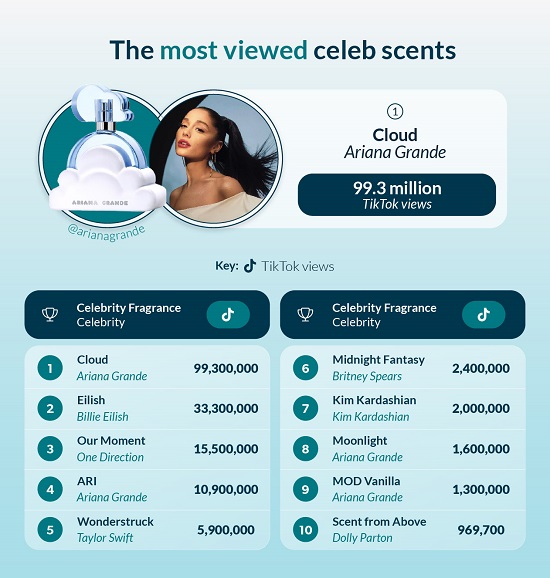 1. Cloud, Ariana Grande - 99.3 million TikTok views
By far the most popular celeb scent on TikTok is Cloud by Ariana Grande. With three times more views on the platform than Eilish, another singer's signature scent. Unlike her other fragrances which start off sweet, Cloud begins with a woody orchid musk before settling into creamy coconut scents.
2. Eilish, Billie Eilish - 33.3 TikTok million views
Taking second place is Billie Eilish's self-titled fragrance Eilish. The perfume sold out instantly when it was released in 2021, so it's no surprise it takes second place with 33.3 million TikTok views. Infused with amber, red berries and cacao, Eilish features the singer's favourite scent, vanilla and is designed to evoke the feeling of being at home.
3. Our Moment, One Direction - 15.5 TikTok million views
Released just under ten years ago by One Direction, their debut fragrance Our Moment takes third place. The award-winning perfume has floral notes of freesia and jasmine along with the sweet scents of forest fruits and pink grapefruit. The perfume has 15.5 million views on the platform.
---
The celebs with the highest proportion of fragrance searches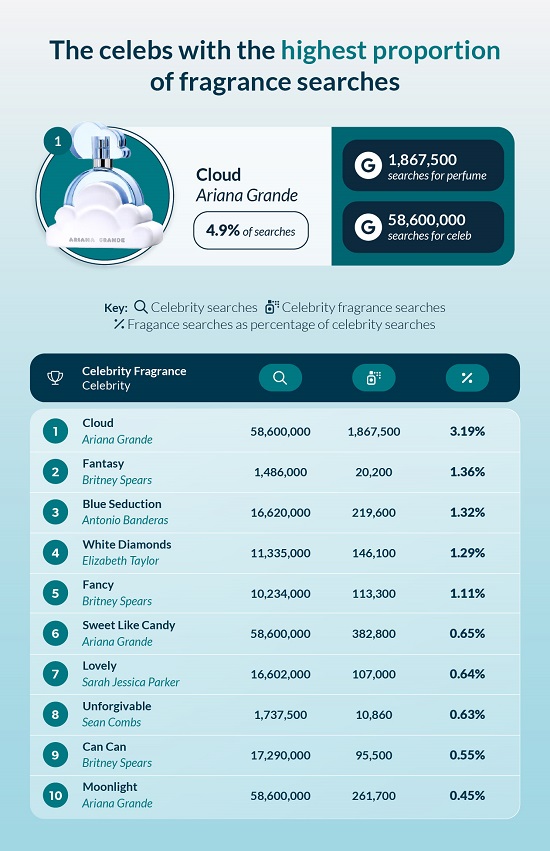 1. Ariana Grande, Cloud - 4.9% of searches
Google searches for perfume - 1,867,500
Google searches for celeb - 58,600,000
Cloud by Ariana Grande takes the top spot as the celebrity scent with the highest proportion of searches, totalling just under 5% of searches for the singer. The scent has proved popular not just with fans of her music but also for perfume lovers on a budget, as it smells very similar to cult favourite Baccarat Rouge 540, for a fraction of the price.
2. Britney Spears, Fantasy - 2.4% of searches
Google searches for perfume - 20,200
Google searches for celeb - 1,486,000
Up next is Britney's fragrance Fantasy, with searches for the pop star's best-selling perfume making up 2.4% of total searches. Fantasy has been touted as one of the best celebrity perfumes by experts thanks to its mass appeal. It has sweet top notes appealing to younger perfume fans; and base notes of jasmine, musk and orris catering to the more sophisticated tastes of older perfume fans.
3. Antonio Banderas, Blue Seduction - 1.5% of searches
Google searches for perfume - 219,600
Google searches for celeb - 16,620,000
As well as being one of the most successful representatives for fragrance and beauty giant Puig, Antonio Banderas also has his own range of fragrances. The most popular when it comes to the proportion of searches, and third overall is Blue Seduction, a fragrance for men featuring cardamom, mint and cassis among its notes.
---
The most expensive celebrity scents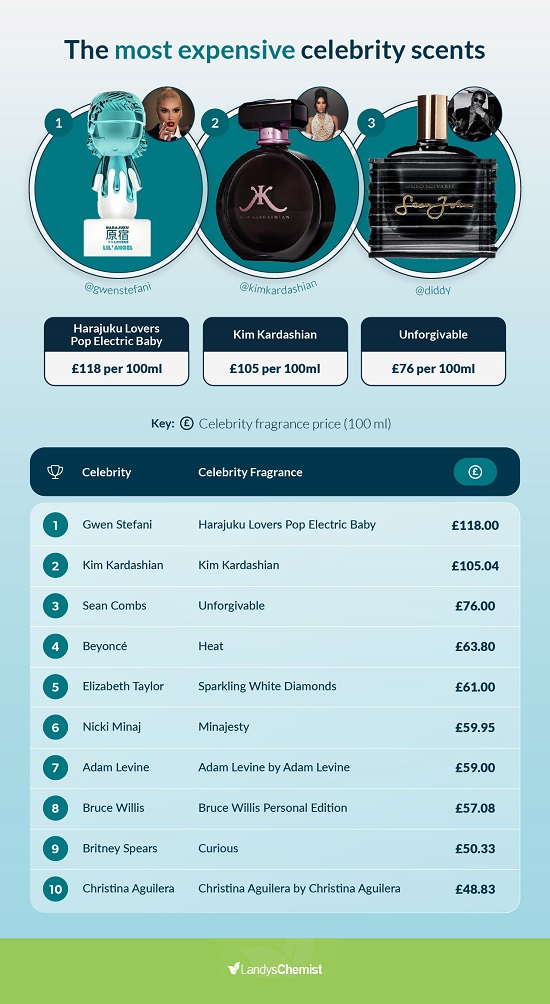 1. Harajuku Lovers Pop Electric Baby, Gwen Stefani - £118 per 100ml
Gwen Stefani's Harajuku Lovers Pop Electric Baby tops the list as the most expensive perfume, costing a whopping £118 per 100ml. Launched in 2014, the floral musky perfume
is part of her Harajuku Lovers fashion brand, inspired by Stefani's fascination with Japanese street culture.
2. Kim Kardashian, Kim Kardashian - £105 per 100ml
Up next is Kim Kardashian, by Kim Kardashian. This sophisticated scent features floral notes of mandarin, honeysuckle and jasmine. Launched way back in 2009, Kim Kardashian's self-titled perfume has since been discontinued, which could explain its current price tag of £105 per 100ml as it has become a collector's item for avid fans of both perfume and Kim K herself.
3. Unforgivable, Sean Combs - £76 per 100ml
The first fragrance for men on the list, Unforgivable by Sean Combs, the real name of rapper P. Diddy will set you back £76 per 100ml of the floral tangerine, grapefruit and bergamot scented eau de toilette. This comes as no surprise as the fragrance won awards in the year of its launch, making it a highly sought-after celebrity scent.
---
Methodology
A list of celebrity fragrances was compiled from

list articles

.

Global searches for celebrities and celebrity perfumes were taken from Google Ad's

Keyword Planner

from April 2022 to March 2023.

The number of articles was found using Google's allintitle function.

Perfume prices per 100 millilitres were taken from

Amazon

, Data was collected on 28/04/2023.

Instagram posts and TikTok views were collected on 03/05/2023.
---