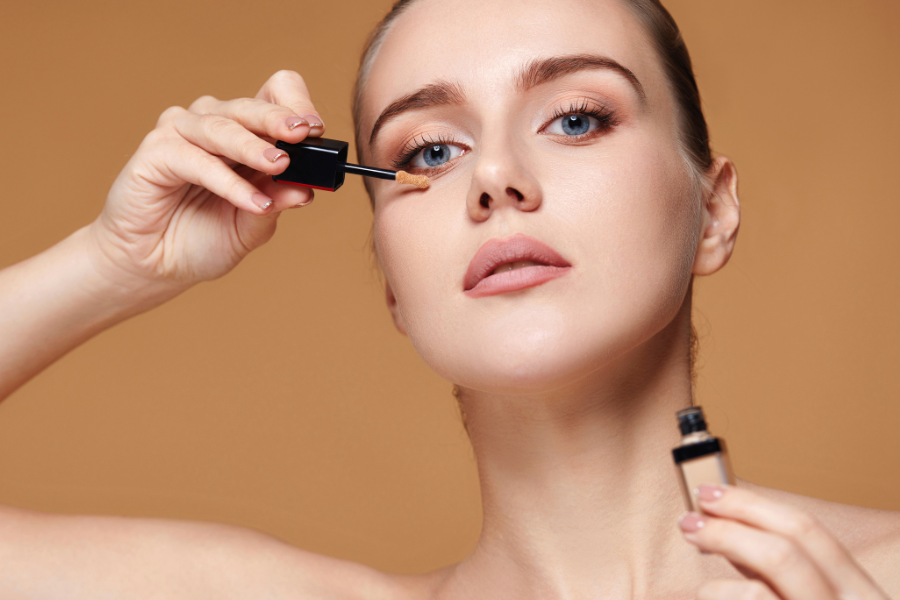 How To Prevent Your Concealer from Creasing Under Your Eyes
What is Concealer?
Concealer is a high-pigmented, versatile make up product. Concealers are typically used to cover blemishes, pigmentation, and other imperfections, but are also great for highlighting and emphasising your features when contouring. Concealers can come in many formulations with both thick and thin consistencies, and typically give you full coverage.
However, a common problem that we encounter with concealer is creasing under the eyes. There are a few factors that can cause creasing under eyes including the concealers formulation, your skin type, and the application.
What causes your concealer to crease?
These are the four most common mistakes that can cause your concealer to crease under the eyes:
Using the wrong formula for your skin: For example, if you have dry skin, using thick formulations can cause excessive drying that leads to creasing.
You are not prepping your under-eye area: Prepping the under-eye area is an essential step in preventing your concealer from creasing. It helps the concealer work and sit better on your skin for a flawless application.
You are using too much product: Concealers are high coverage and are formulated to help cover imperfections so a little goes a long way. Using too much product can cause the concealer to build up in the fine lines underneath the eyes.
You are setting your concealer wrong: Setting your concealer with powder straight after application can cause creasing as it has not had the time to 'settle into the skin'. On the other hand, leaving your concealer set with powder for too long can leave your under-eyes looking dry and emphasise any creasing.
How do you choose the right concealer for your under eyes?
There are plenty of options when it comes to concealer and so choosing the right concealer can be a difficult decision. Here are some points to reflect on when deciding what concealer to use under your eyes:
Start with considering your skin type: If you have oily skin, you might want to consider finding a blendable mattifying concealer, or if you have dry skin, opt for a creamy hydrating concealer.
What are your skin concerns: If your primary concern is dark-circles, opt for a full coverage concealer with a thicker formula to conceal the pigmentation. Whereas, if your main use of concealer is the brighten the under eyes, you could go for light and illuminating formula.
Browse through our range of some of the best concealers here.
How To Stop Your Under Eye Concealer From Creasing:
It can be difficult to stop your concealer from creasing. Fortunately, we have a step-by-step guid with plenty of tips and tricks to avoid stubborn concealer creasing:
Prep your under-eyes: Preparing your under eyes is one of the most important steps in preventing under-eye creasing. It helps to keep the delicate area moisturised and ready for the upcoming steps. You can prep your under eyes by simply using a good eye cream and serum. This helps your concealer to grip onto your skin and make easier to work with.
Consider application placement: The goal you want to achieve with your concealer will determine how you should place your concealer. If you want to lift your eyes, then make place two small dots of concealer near the inner corner and outer corner of both eyes. For dark circles, fine lines, and bags, apply two small dots of concealer slightly below the underneath the eye area and blend upwards. If you are covering dark circles, it worth investing into a good colour corrector. Avoid placing the concealer right underneath the eye as this can make concealer look cakey and cause creasing.
Blend your concealer with your ring finger: The skin underneath our eyes is one of the most delicate areas, as so we want to make sure that we work gently on these areas (Read more). Our ring finger naturally is our weakest finger which makes it the best tool for applying concealer. Avoid rubbing the concealer onto the under-eyes and instead dab gently until blended. Not only is the ring finger good for our gentle eyes, but it also helps the concealer blend and melt into the skin. The natural warmth of our fingers helps to product to spread evenly.
Gradually build coverage as desired: At this point, if you feel like you want more coverage repeat steps 2-3 until you have reached your preferred coverage. This helps to prevent creasing.
Let your concealer sit for one to two minutes: By letting your concealer sit for a few minutes, it allows product to naturally sink into our skin with the warmth of our body.
Set with loose powder: After letting the concealer sit, dab over your concealer with your finger again and set the under eyes using a light layer of translucent loose powder. We recommend that you use a make-up sponge for this step as they work well with evenly gripping the loose powder. Essential: before setting the concealer, dab your make up sponge with translucent powder lightly over your hand to smooth out the powder and remove excess. Let this powder sit for a few seconds before lightly brushing it off with a fluffy make-up brush.
Our Top Concealers For Under Eyes:
Clarins Everlasting Concealer

Elizabeth Arden Stroke Of Perfection Concealer
Lancome Teint Idole Ultra Wear All Over Concealer

---
By Rhysa Phommachanh, BA skincare and make-up specialist