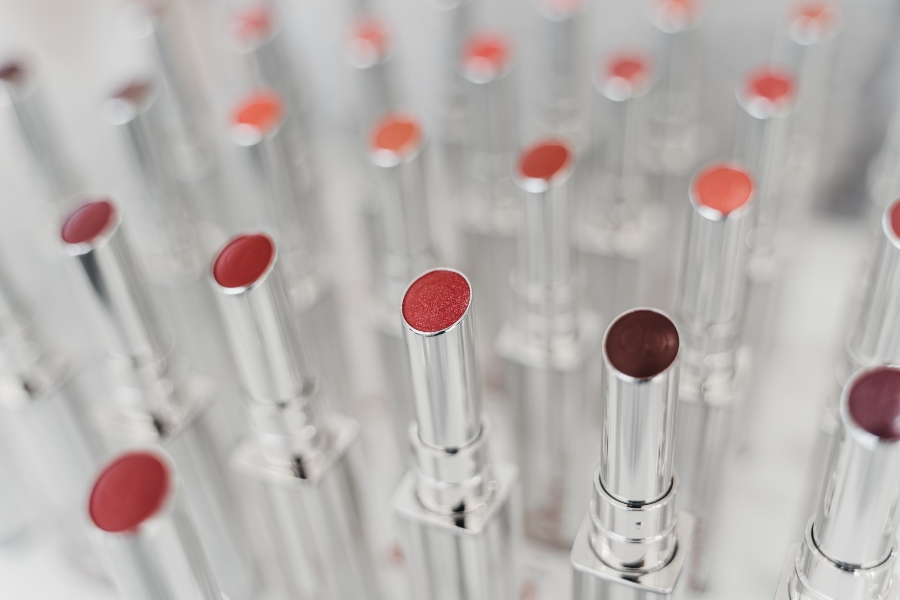 9 Best Lipsticks Of 2021
By Girish Desai, Pharmacist (GPhC ), Nutritionist and Homeopath
---
One smooth swipe, your look can go from good to GLAM with the perfect lipstick. There is a fabulous range of matte, satin, long-lasting, bold and subtle lipsticks around so finding the perfect one, or rather ones, to pop on can take a lot of research time. But worry not, we've done the lip work and checked out our customers' favourites, the industry staples and exciting new releases to create THE list of best lipsticks for 2021.
We've chosen a trio of lipsticks in three categories below: best-selling lipsticks, matte and satin lipsticks.
Best-Selling Lipsticks
Who better to tell us which are the best lipsticks of 2021 than you! Taking a look at what Landys' customers are loving, there are some clear front runners which people keep coming back for.
Lancome L'Absolu Rouge Cream Lipstick
Available in a number of romantic shades of red, rose and orange, this non-matte lipstick is, as its name suggests, a creamy lipstick that feels velvety on the lips. It has great pigmentation and is buildable for a more intense colour. Favourite shades in the range include: smokey Rose Nocturne (007), berrylicious Rose Rhapsodie (354) and playful Effortless Chic (361). The L'Absolu Rouge range also has a matte range if you prefer a less glossy finish.
Lancome L'Absolu Rouge Cream Lipstick
Elizabeth Arden Beautiful Colour Moisturising Lipstick
Elizabeth Arden lipsticks are always sensational, and the Beautiful Colour Moisturising range feels as good as it looks. As a hydrating lipstick, it doesn't feel gloopy or sticky, rather it applies like warm butter, gliding onto your lips. It takes a few minutes to settle, leaving a matte finish. Favourite shades from our customers include: the bold Neoclassical Coral, effervescent Rosy Shimmer and dusky yet sparkly Desert Rose.
Elizabeth Arden Beautiful Colour Moisturising Lipstick

Clarins Joli Rouge Lipstick
Last but certainly not least, the third of our customers' favourites is the Clarins Joli Rouge Lipstick. The Joli Rouge range features some of the boldest and most stunning shades available. Customer favourites include the flirty Hot Pink (713), rich and sultry Royal Plum (738) and the lipstick line's namesake Joli Rouge (742), a classic and understated red that works for day and night.
Clarins Joli Rouge Lipstick

Matte Lipsticks
When you want to make a statement with your lips, without having to shout about it, a great matte lipstick will do the job. Their oil base makes them longer lasting (often but not always) than glossy, satin lipsticks, and the shine-less finish ensures they have a subtle presence within your look.
Bobbi Brown Luxe Matte Lip Color
Beauty Lab awarded Bobbi Brown's Luxe Matte Lip Color the gold award in its long-wear lipstick test. Maintaining full colour without smearing or fading, it's a true favourite of many make-up artists. The range features a selection of muted nudes and rose pinks, warm reds and zingy magentena tinged rouges, plus a couple of deep purples.
Get the lipstick from Bobbi Brown
Maybelline New York SuperStay Matte Ink Crayon Lipstick
A Good Housekeeping award winner, Maybelline's SuperStay Matte Ink Crayon Lipstick comes in a phenomenal number of hues, that are a blend of pinks, reds and oranges, as well as nudes spanning pale pinks to warm browns, plus a few daring magentas and two shades of black. It is a quick-setting lipstick that doesn't feel dry and offers the right pigmentation after a single application.
Get the lipstick from Maybelline
NYX Professional Makeup Soft Matte Lip Cream
NYX's Soft Matte Lip Cream range boasts an enviable range of shades that will work for all skin tones. Forgoing radically bright or neon shades, this lipstick range covers the breadth of beiges with options such as Toulouse's subtle mauve, Cape Town's soft sand and Berlin's deep, warm brown. It also showcases a few richer colours with the classic red Amsterdam, violet-toned Transylvania and baby-pink Tokyo.
Get the lipstick from NYX cosmetics
Satin Lipsticks
For a glossy, satin lipstick with a sheer or wet-look finish, you want good pigmentation and a multidimensional shine. Since satin lipsticks are anything except subtle, you can enjoy some more artistic and daring looks using these sumptuous and shimmery lippies.
Charlotte Tilbury K.I.S.S.I.N.G Lipstick
The K.I.S.S.I.N.G Lipstick collection boasts flamboyant and vivid colours, thanks to the unique blend of waxes used to create these lipsticks, and are lip protecting too – the formula includes UV protection and acts as a balm to hydrate your lips. This range features some of the most shocking and exciting satin lipstick shades, such as the golden Yes Honey, electric pink Velvet Underground and sensuous, earthy Pillow Talk Intense.
Get the lipstick from Charlotte Tilbury
Dior Addict Halo Shine Lipstick
This shimmery and glossy lipstick collection is full of statement shades, from the fiery orange of Success Star (744) and the ripe raspberry of Sweet Star (752) to the wild magenta of Daring Star. The Dior Addict Halo Shine collection has hydrating care built into the formula for added lip protection with aloe vera.
Uoma Beauty Black Magic Hypnotic Impact High Shine Lipstick
Powerful, mystical and punk are all great ways to describe the Black Magic Hypnotic Impact collection of lipsticks from Uoma. Their unique metallic shine combined with vibrant colours creates statement shades to make you stand out. The collection is now using a vegan recipe so you can look great and protect the planet at the same time. Popular shades include the devilish On-Fire, rave-worthy Allure and opulent Regal.