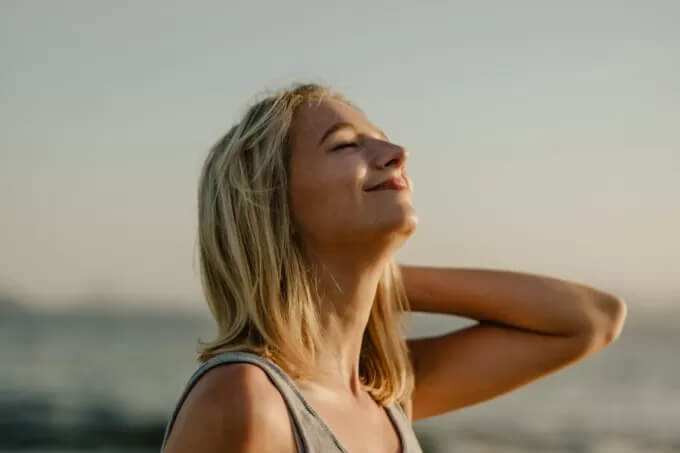 Best Fake Tan: 8 Self Tanners For 2020
By Andreea Tamas, Clarins Beauty Consultant
---
As we head from spring to summer, now is the perfect time to start building up your tan for the holiday season. Sadly, many of us will be missing out on our trips abroad to sunnier spots this year due to COVID-19. But just because we might not be going away doesn't mean we can't get the holiday glow and self tanner is an easy way to achieve a gorgeous tan!
Self Tanners Are Better Than Ever
Remember when fake tan meant a distinctly orange hue and streaky finish? It doesn't bear thinking about. Thankfully, self tanner technology has improved and now we have a huge range of fabulous self tanners to choose from.
From mists to creams, there is a topical tanner that suits your skincare routine and can give you a gorgeous tan. There are fake tans for sensitive skin, instant tanners for a quick fix, fake tans for pale skin and more!
Here are our 8 best fake tans for 2020, including mists, creams and boosts. Each of these self tanners can help you achieve the right tan for you, from a sunkissed glow to warm bronze.
1. Clarins Self Tanning Milky-Lotion
This is the best hydrating self tanner on the market right now. Clarins' Self Tanning Milky-Lotion is very much what the name promises, offering a rich moisturising lotion that will not only protect your skin but will give you a gorgeous golden tan. This fake tan takes 4–6 hours to develop so apply liberally before bed and you'll be perfectly tanned by morning.
2. Vichy Ideal Soleil Hydra-Bronzing Self-Tanning Milk
Vichy's Ideal Soleil is a fantastic face and body tanner. It has been specifically created as a fake tan for sensitive skin and is paraben free, all of which means you can use it on delicate skin and your face without worrying about greasy build up or breakouts – this is the ideal self tanner for those who are acne prone. This tanning milk should be built up over time. It takes an hour to develop into a golden glow and can be applied daily to build into a warm bronze tan.
Vichy Ideal Soleil Hydra-Bronzing Self-Tanning Milk

3. Esthederm Sun Kissed Self-Tanning Body Lotion Light Tan
Looking for a self tanner for pale skin? This is the one for you. This Esthederm lotion will give you a skin-kissed tan after the initial application, which can be built up with applications 2–3 times a week to a light golden shimmer. If you want to give the appearance of a healthy tan but don't want to look like you've been baking in the sun, this is the best fake tan for you.
4. Lancome Flash Bronzer Self-Tanning Body Lotion
If you can't be bothered to wait around for your self tanner to absorb and dry, try Lancome's Flash Bronzer. It is a super fast drying formula that will absorb quickly, is transfer resistant and even has added vitamin E to keep your skin healthy and plump. This fake tan body lotion will give a warm tan to begin with and can be built into a bronze glow with weekly applications.
5. Clarins Radiance Plus Golden Glow Booster Body
Are you looking for the best self tanner for your first attempt at simulated summer skin? Clarins Radiance Plus Golden Glow Booster Body is the way to go. Unlike some of the fake tan creams and lotions, this is a booster which you can add to your own moisturiser or body oil to create the perfect tan that suits you. It is still recommended that you build up your fake tan with applications at least twice a week if you are looking for a subtle almond or tawny tan.
6. La Roche-Posay Autohelios Cream-Gel
Do you have dry skin? If you experience dryness, especially on elbows, knees and other areas with rough or sensitive skin, La Roche Posay's Autohelios is the best self tanner for you. Not only will this help you create a healthy glowing tan, it is a superb moisturiser lasting up to 8 hours. Apply evenly, including around knees and elbows for complete coverage.
7. Lancaster Instant Self Tanning Body Jelly
The greatest golden tan you could get in only a few short hours. Lancaster shucks the routine of gradual build up, which most fake tans require. Instead, this self tanner will transform your skin from dull and pale to a sunkissed bronze from the first application. It does take 2–3 hours to develop, but once it does you'll love the results.
Lancaster Instant Self Tanning Body Jelly
8. Bioderma Photoderm Bronz Invisible Sun Mist SPF50
Do you play sports outdoors or prefer to exercise in the sunshine? Bioderma's Photoderm Bronz Mist is the best fake tan for you. This is a gradual self tanner which can be applied multiple times per week until you achieve the golden tan of your dreams. It has SPF50 protection and vitamin E to protect your skin from UV rays and skin damage, while creating a streak free tan.
Find More Self-Tanning Products
The above are 8 of our favourite, and most popular, self-tanning products that are available in 2020. But, we have even more in our range, including other self tanners from the same brand collection, additional sizes and bronzing powders to lift your new fake tans beautifully.
---
Disclaimer
The products offered are not intended to diagnose, treat, cure, or prevent any illness or disease, or to replace the advice of a medical professional. Results are not guaranteed and may vary from individual to individual.