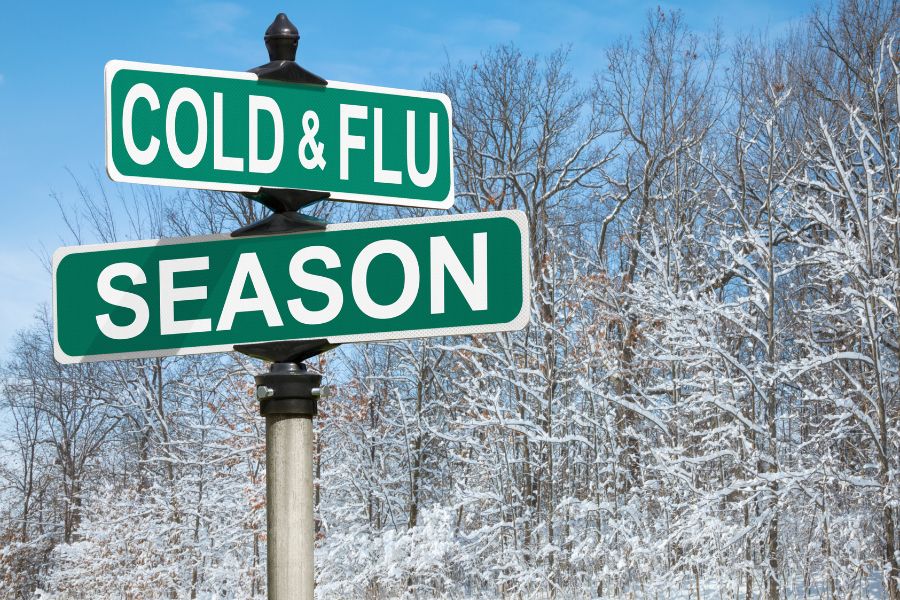 Best Botanical Immune Boosters For The Cold and Flu Season
What Factors Contribute To A Poor Immune System?
During the winter season, we have so much to look forward to with Christmas round the corner and a few days off to enjoy a well-earned break. It is time to wrap up warm, nourish your body with nutritious meals but also enjoy a good night's sleep when you can.
Factors that may contribute to a poor immune system:
Stress

Lack time plan and cook properly during the week

lack of sleep because we worry

Or we suffer from a poorly functioning digestive system
Supporting our immune defences has never been so important, not only to avoid catching all the bugs & viruses roaming around but also to support our body into prompt recovery if we were to start experiencing signs of those!
Here are our Top 4 Botanicals to Support your Immune System:
1. Elderberry
Elderberries quite often steal the show, particularly for family immune supporting remedies! Rightly so! These dark coloured berries are packed full of antioxidants, flavonoids and vitamins and have been well-researched for their 'anti-viral' properties[1].Elderberries contain vitamin C which contributes to the function of a normal immune system. The antioxidants anthocyanins, bioflavonoids and polyphenols have shown to exert protection against oxidative stress. Oxidative stress is at the root cause of illness and disease.
When should we take Elderberry?
Start at the first signs of a viral infection, which can cause snuffles, coughs, splutters, sore throats, aches and pains. They are thought to help 'inhibit' several strains of the flu virus. Elderberries have shown to reduce the duration of flu symptoms by increasing the antibody level to combat influenza and help fight off illness. This wonderful botanical is also thought to help reduce 'inflammation' which could explain why it has a pronounced effect on reducing aches, pain and fever[2,3].
Nature's Answer Sambucus Kids Formula can be given for a few weeks, particularly if children often get run down. This formula also contains two other well-studied botanicals, Astragalus and Echinacea. Astragalus root is a botanical traditionally used in Traditional Chinese Medicine and has since become very popular. Its attributes are due to the polysaccharides, flavonoids and saponins it contains. Research shows they play a role in supporting the immune system and prompt recovery from virues [4]. It is free from sugars, artificial sweeteners or preservatives.
Nature's Answer Sambucus Black Elder Berry provides 2.5g of black elderberry juice concentrate from 12, 000 mg of black elderberries. A great tasting formula suitable from the age of 6 years old, free from unnecessary additives, sugars, sweeteners and flavourings. Can be taken at the first signs of a cold or as a maintenance dose.
2. Mullein Leaf
The leaves of the Mullein plant are naturally rich in an abundance of plant compounds including flavonoids, saponins, tannins and mucilage. It is also a source of Vitamin C and minerals including potassium, calcium, iron, magnesium, manganese, phosphorus and selenium. Mullein has been used by multiple cultures over the centuries, including native Americans and Asians. Traditionally used as a respiratory remedy for conditions like hayfever, asthma, irritable chronic bronchitis, as well as other upper respiratory tract infections, mullein is revered for its soothing and relaxing properties. This makes it an ideal botanical to keep in your remedy cabinet for this season[5].
When should we be taking Mullein leaf?
When experiencing chestiness, Mullein may be an ideal tonic. It is thought to support a reduction of inflammation of the mucus membranes, whilst also supporting the expectoration of any bothersome 'phlegm'. The mucilage found in mullein, is highly regarded as a botanical compound known to reduce coughing and tightness in the respiratory system. Mucilage is known to be soothing in nature[6]. Research has recently looked at mullein's use in the management of asthmatic conditions[7]. Two types of asthma exist and both are related to our immune system's production of an antibody called IgE. Atopic asthma involves inflammation that is facilitated by the immune system's elevated production of IgE, whereas non atopic asthma is intrinsic and inflammatory, created by the production of local IgE's, a reaction against viruses.
3. Olive leaf
The OleoPein® Olive Leaf comes from the olive tree, which is an evergreen native to the Mediterranean region. Olive leaves were traditionally ground up and used in teas. In fact, Oleopein is the unique molecule responsible for the benefits associated with olive oil. Oleopein is a polyphenol produced in the leaves and in the fruit of the olive tree and is thought to help support blood pressure and the immune system[8]. Like all alcohol-free herbal extracts from Nature's Answer, the liquid extract contains the standardised botanical. This allows for a concentrated liquid extract of very high quality. It is also free from gluten, GMO's, artificial additives and only contains the natural preservative from coconut glycerine. Alcohol -free extracts are produced using Nature's Answer cold Bio-chelated® proprietary extraction process, yielding a Holistically Balanced® Advanced Botanical Fingerprint® extract in the same synergistic ratios as in the plant.
4. Echinacea
Properties associated with the beautiful echinacea plant are down to the natural botanical compounds polysaccharides and alkamides. Research suggests Echinacea to play a role in common colds and flu-like illnesses[9].It may have anti-inflammatory properties and studies have shown it can help shorten the duration of such illnesses and reduce their frequency[10]. Echinacea purpurea and angustifolia, are the two types utilised in Nature's Answer's standardised liquid extracts.
Are there other remedies to consider to boost your immunity?
Other botanicals to consider include are Pau D'arc, Astragalus and Oil of Oregano.
Other vitamins and minerals that support the normal function of the immune system include vitamin D3, Vitamin C and Zinc.
Wrap up warm, enjoy the cosy season and top up your rescue cabinets with this wonderful range from Nature's Answer.
References
[1] Wieland L.S. et al. (2021) Elderberry for prevention and treatment of viral respiratory illnesses: a systematic review. BMC Complement Med Ther. Apr 7;21(1):112. [PubMed]
[2] Hawkins, J et al. (2019). Black elderberry (Sambucus nigra) supplementation effectively treats upper respiratory symptoms: A meta-analysis of randomised, controlled clinical trials. Complement Ther Med. Feb;42:361-365. [PubMed]
[3] Liu D et al. (2022). Elderberry (Sambucus nigra L.): Bioactive Compounds, Health Functions, and Applications. J Agric Food Chem. Apr 13;70(14):4202-4220. [PubMed]
[4] Auyeung, K. Han, QB. and Ko JK (2016) A review of its Protection against Inflammation and Gastrointestinal Cancers. Am J Chin Med. ;44(1):1-22 - [PubMed]
[5] Hutchens, A. (1991). Indian Herbaology of North America.
[6] Herbal Medecine Weiss & Fintlmann (2000)
[7] British Lung association: htttps://statistics.blf.org.uk/asthma
[8] Vajdian, Rezvan, et al. (2016) "Effect of olive leaf extract on cytokines secreted by macrophage.": 116-120. https://www.sid.ir/paper/336607/en
[9] Shah, S. et al. (2017) Evaluation of echinacea for the prevention and treatment of the common cold: a meta- analysis- The Lancet Infect Dis Jul; 7 (7): 473-480.
[10] Sharma,M. Schoop,R and Hudson, J.B (2009) Anti-inflammatory function -Echinacea as an antiinflammatory agent: the influence of physiologically relevant parameters. Phytotherapy research. 23(6) .Pages 863-867
---
By Isabelle Nunn: Head Nutritionist at Kinetic Enterprises Limited
*The claims are based on clinical research, are not aimed to diagnose, treat, cure, or prevent any disease. Food supplements should be used within the framework of a healthy lifestyle and not used as substitutes of a varied and balanced diet.
12/12/2022 10:45:25 AM