The Luxury Makeup Index 2023
---
Which exclusive makeup brands are the most popular worldwide?
Some luxury cosmetic brands have learned how to conquer social media, with Charlotte Tilbury's Flawless Filter going viral on TikTok and Fenty Beauty's Gloss Bomb hitting nearly 193,000 Instagram mentions. But which designer makeup brands are the most popular worldwide?
For this research, we will look into Google search volumes, increases in demand and Instagram and TikTok data to reveal the most popular luxury cosmetic brands of all time.
In the last year, a new revelation of makeup and skincare hybrid products hit the market and have become a staple in every beauty lover's collection. High-end makeup brands like Nars brought out their filter finish Sheer Glow foundation, which combines vitamin C and turmeric to correct dullness and texture. How do other brands contend?
---
The Most Popular Luxury Makeup Brands
Dior Beauty is the Most Popular Luxury Makeup Brand in the World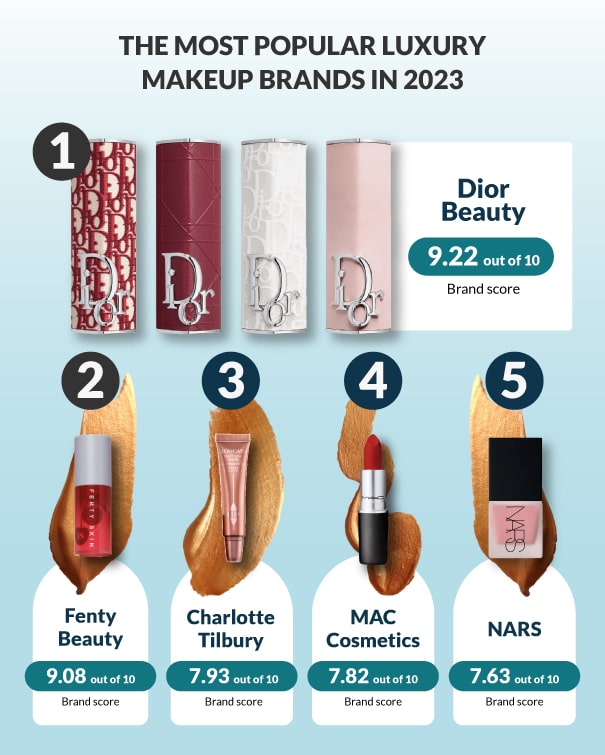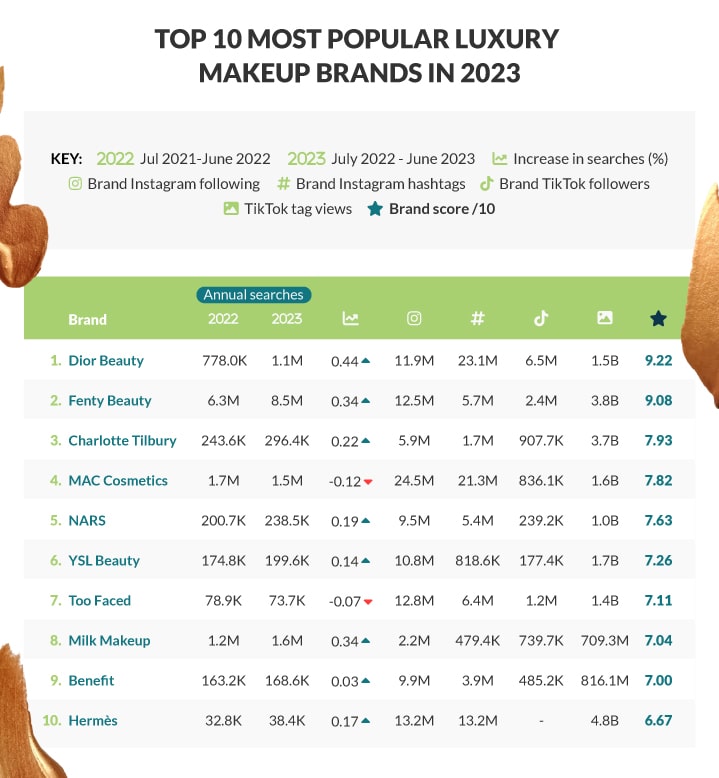 1. Dior Beauty
Brand Score: 9.22 out of 10
Dior Beauty is considered the most expensive and luxurious brand in the cosmetics industry and is worn by a-list stars like Jennifer Lawrence and Charlize Theron. The Dior Beauty line scored 9.22 out of 10 in the ranking, stealing the crown for the most popular brand. Dior Beauty has an annual search volume of 1.1 million and witnessed an increase of 44% in searches over the last year. The much-loved brand has an Instagram following of 11.9 million, with 23.1 million hashtagged posts, making it one of the most popular luxury brands on our list.
2. Fenty Beauty
Brand Score: 9.08 out of 10
Rihanna's holy grail cosmetics brand, Fenty Beauty, just missed the top spot, scoring 9.12 out of 10 in our ranking. Fenty Beauty was created with the promise of inclusion for all women. With an unmatched offering of shades and colours for all skin tones, the brand surpassed an annual revenue of $582.8 billion and has 12.5 million Instagram followers, making it one of the world's most successful celebrity beauty brands.
3. Charlotte Tilbury
Brand Score: 7.93 out of 10
The viral makeup brand, Charlotte Tilbury, was founded in 2014 by a British makeup artist of the same name and has since earned a reputation for selling high-quality products that look gorgeous on all features and skin tones. Achieving a search increase of 22% in the last year, Charlotte's brand is worth the hype. Although the brand has a smaller Instagram following than others in our top three (5.9 million), Charlotte Tilbury has built a large TikTok following of 907,000 and records 3.7 billion TikTok tag views.
---
The Least Popular Luxury Makeup Brands
Artistry is the Least Popular Luxury Makeup Brand in the World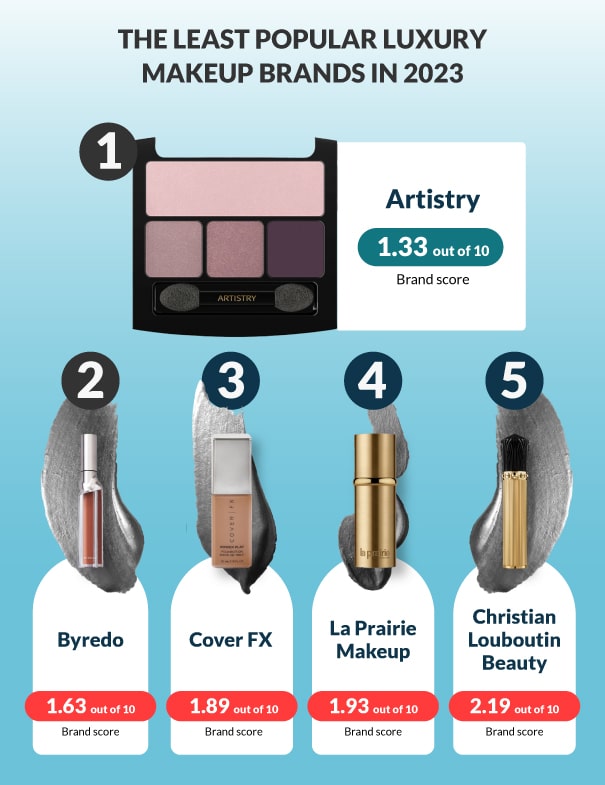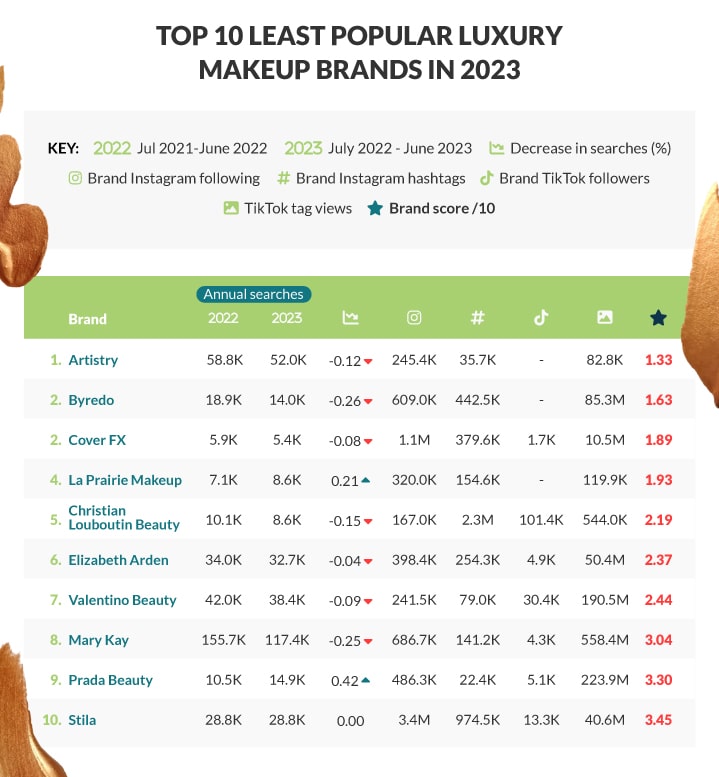 1. Artistry
Brand Score: 1.33 out of 10
Artistry has been ranked as the least popular luxury makeup brand. In the beauty world, Artistry is a global competitor in the prestige beauty space, boasting anti-ageing, intensive, brightening, luxury and basic skincare collections. The skincare and cosmetics company lost points for social media popularity and search decreases. The brand recorded 245,361 Instagram followers and did not have a TikTok account, making it one of our list's least popular luxury makeup brands. Searches saw a decrease of 0.12%, declining from 58,000 to 52,000 in 2023.
2. Byredo
Brand Score: 1.63 out of 10
Byredo is well known for its luxury fragrances and makeup launched in 2022. Byredo offers minimal cosmetics to create subtle and alluring looks. The brand lost points for its number of Instagram mentions (442,545 tagged posts) and zero followers on TikTok. With an Instagram following of 608,979, the brand is more popular than Artistry, however, searches for Byredo have dropped by 0.26% in the last year.
3. Cover FX
Brand Score: 1.89 out of 10
Cover FX offers vegan and cruelty free makeup essentials made with clean, safe ingredients. The brand became popular with influencers back in 2021, thanks to its diverse offering of foundation shades. Searches for the brand declined by 0.8% in the last year and the brand lost points due to its TikTok following (1,738 followers). However, the brand still has a cult following on Instagram of over 1 million.
---
The Most Popular Designer Makeup Brands
Dior Beauty is the Most Loved Designer Cosmetics Brand in the World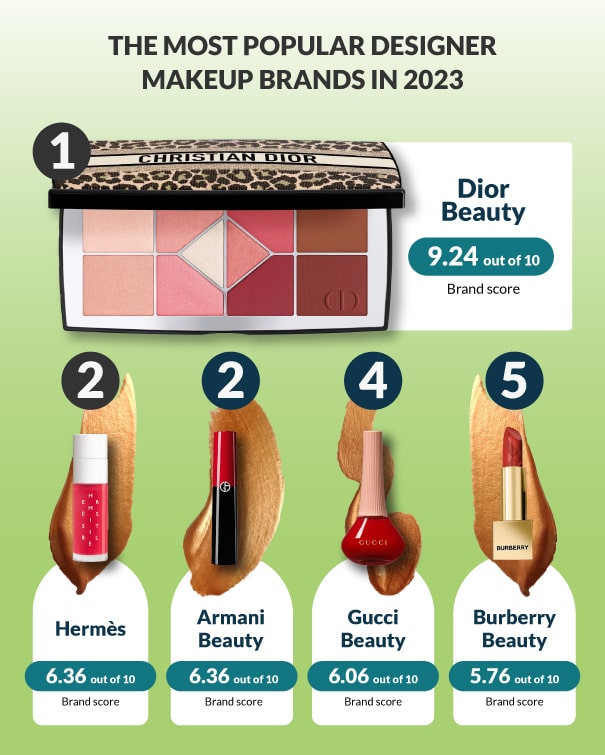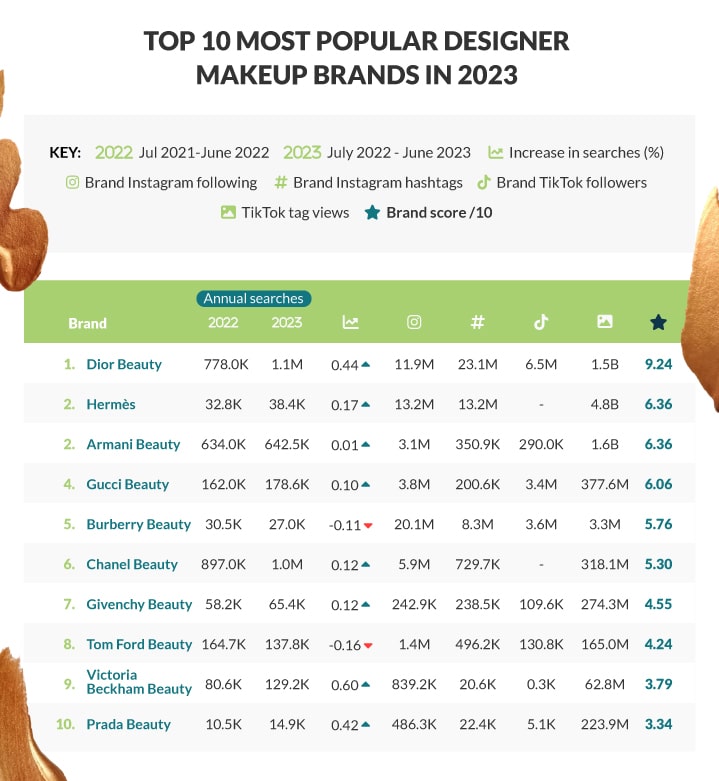 1. Dior Beauty
Brand Score: 9.24 out of 10
Dior Beauty also stole the crown for the best designer brand, topping our list with a score of 9.24 out of 10. Dior has capitalised itself as one of the world's ultimate fashion houses, Christian Dior SE and in recent years, the value of its perfumes and cosmetics amounted to 7.7 billion euros, up from the previous year. Dior has made bold moves in earlier years to cater its brand to a wider audience, incorporating youthful and innovative designs and hitting all the right beauty trends.
2. Hermès
Brand Score: 6.36 out of 10
Hermès International S.A. is a French luxury design house specialising in leather goods, lifestyle accessories, home furnishings, perfumery, jewellery, watches and ready-to-wear. The brand launched into makeup in spring 2020 with lipstick, followed by blush and nail colour and has impacted social media. With an Instagram following of 13.1 million and 13.2 million hashtags on Instagram, as well as 4.8 billion TikTok tag views, Hermès has distinguished itself as a brand to watch.
3. Armani Beauty

Brand Score: 6.36 out of 10
Giorgio Armani Beauty (now part of L'Oréal's luxury portfolio) was launched in 2000 and over the last 20 years, Armani Beauty has delivered its range of luxury makeup, skincare and fragrance. Giorgio Armani's colour collection, in collaboration with Pat McGrath, was introduced to push the company's beauty business to the forefront. Armani Beauty now has a following of 3.1 million on Instagram and 350,898 mentions. The exclusive brand also has 1.6 billion TikTok tag views, showing that Armani Beauty has established itself as both a luxury fashion house and a popular makeup brand.
---
The Top Trending Luxury Makeup Brands of 2023
REFY is the Top Trending Designer Cosmetics Brand of 2023, with a Search Increase of 159%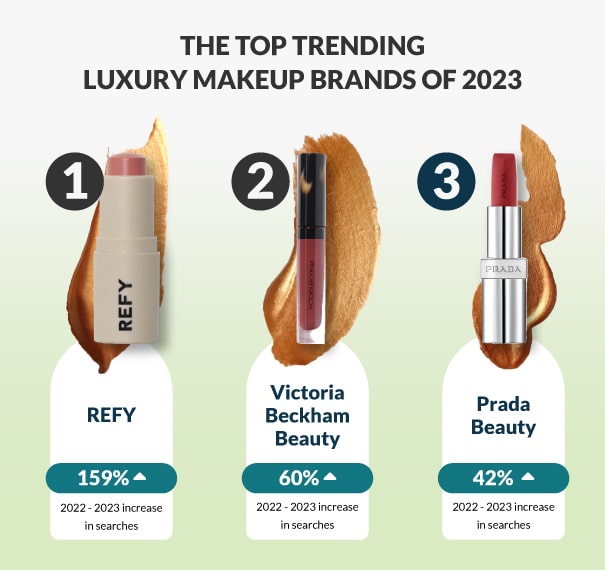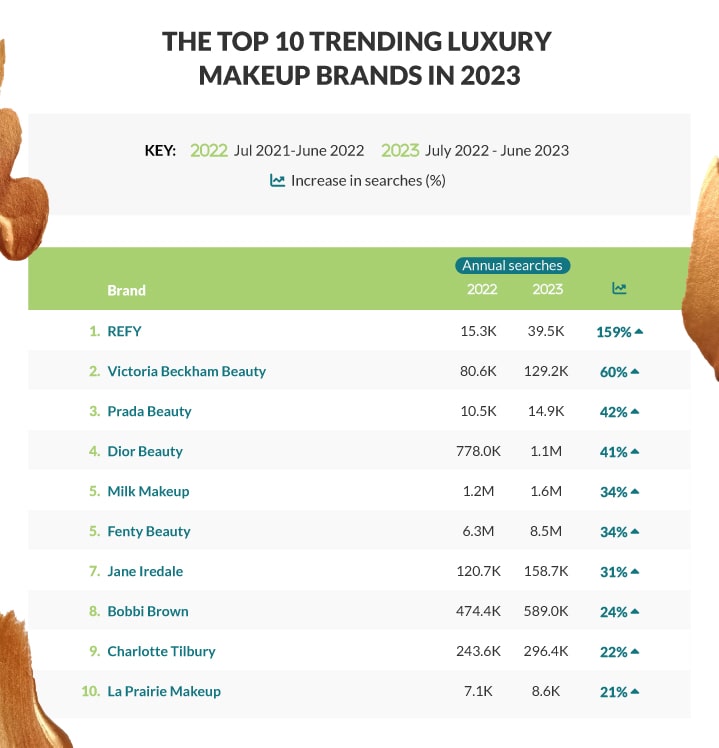 1. REFY
2022 - 2023 Increase in Searches (%): 159%
REFY Beauty was launched in November 2020 by social media influencer Jess Hunt and co-founder Jenna Meek. The brand had massive success with its revolutionary 'Brow Sculpt', which had a 100,000-person waitlist and sold out in just six weeks. The REFY brand recorded a 159% search increase in the last 12 months.
2. Victoria Beckham Beauty
2022 - 2023 Increase in Searches (%): 60%
Victoria Beckham Beauty is a clean luxury beauty and skincare brand founded by the English fashion designer, singer and television personality of the same name. Beckham's celebrity status has been advantageous as the launch in 2019 was met with excitement and its engagement continues to grow, as it recorded a 60% increase in searches over the last year.
3. Prada Beauty
2022 - 2023 Increase in Searches (%): 42%
Our top-scoring beauty brand is also one of the most trending, as it recorded a search increase of 42% in the last year. Prada launched their Rethinking Beauty campaign in August, showcasing their Prada Skin and Prada Color ranges to demonstrate how each range "rethinks beauty" through technology and creativity. Prada's new campaigns could be among many drives for its popularity, as it recorded a search increase of 42% in the last 12 months.
---
The Luxury Makeup Brands That Have Lost Popularity in 2023
Byredo Witnesses a Decline in Demand, as Searches in 2023 Drop By 26%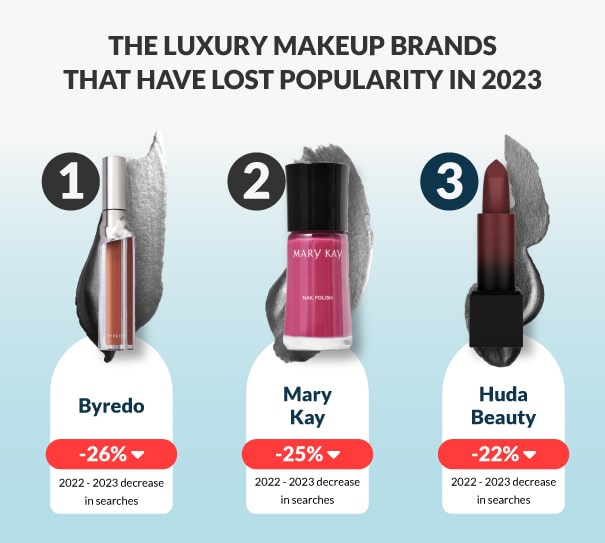 1. Byredo
2022 - 2023 Decrease in Searches (%): -26%
Luxury fragrance house Byredo launched its first makeup line in October 2022 and it was all the beauty world could talk about in the months leading up to it. Byredo is well known for its cult favourite scents, 'Gypsy Water' and 'Bibliothèque', so the brand faced pressure to deliver nothing less than awe-inspiring makeup. Unfortunately, annual searches for the makeup line dropped by 26% by the end of June 2023, descending from 18,900 searches to 13,980.
2. Mary Kay
2022 - 2023 Decrease in Searches (%): -25%
Mary Kay is in close second place for the luxury brands losing demand. The brand has celebrated its 60th anniversary on the market. In 1963 Mary Kay Ash launched her business and opened her first store; Beauty by Mary Kay, which became a source of inspiration to millions today. In 2021, Mary Kay received 58 awards and recognition honours for its products and company accomplishments. But in the last year, Mary Kay lost popularity, with a significant decline in searches of 25%.
3. Huda Beauty
2022 - 2023 Decrease in Searches (%): -22%
Launched by award-winning beauty blogger Huda Kattan in 2013, Huda Beauty is one of the world's fastest-growing beauty brands. With an Instagram following of 53.3 million and 30.5 million Instagram hashtags, it's easy to see why. However, Huda's line recorded a drop in searches in the last year, of 22%. In 2022, a proposed settlement was reached in a lawsuit that alleged that Huda Beauty sold its Neon Obsessions makeup palettes with harmful chemicals to human eyes. According to Law360, a California federal judge approved a $1.9 million settlement to resolve the claims.
---
Methodology
To find the most popular designer cosmetics brands, a seed list was taken from articles like InStyle, Hello Magazine and WhoWhatWear.
Each brand's annual global search volume was taken from Google Keyword Planner for
2021, 2022 and the first half of 2023. We then calculated the search increase between these years to find the top trending and least in-demand brands of 2023.
Each brand was also analysed on their social media data, using TikTok and Instagram to find the number of tags and hashtag mentions, as well as the makeup brand's number of followers and hashtag mentions. This data is accurate as of 08/08/2023.
Each makeup brand was ranked based on their 2022-2023 annual search volume, search increase and social media factors before being given a normalised score out of 10.