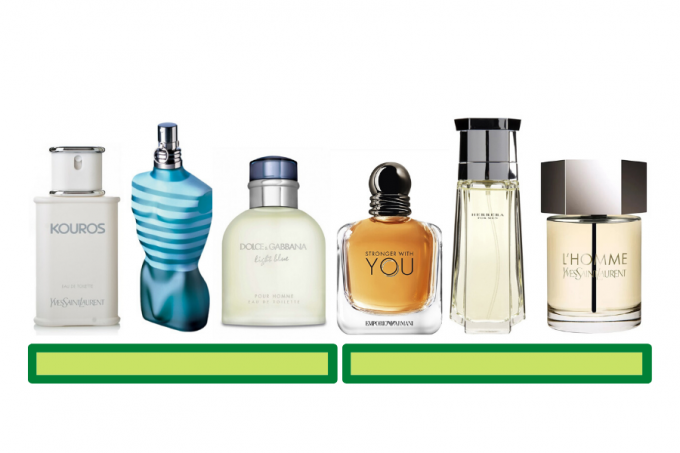 Best Men's Perfumes & Aftershaves 2020
By Andreea Tamas, Clarins Beauty Consultant
---
The world of men's perfumes and aftershaves continues to develop, with new eau de toilettes and parfums being launched each year. Whether you are looking for a new scent to add to your collection or thinking about switching up your spritz with a fresher spring spray, we have the men's perfumes and aftershaves for you!
Our collection of 10 includes old favourites and new entries into the world of men's fragrances. We've chosen these particular options due to their fresh and masculine scent profiles, as well as popularity with our customers.
1. Yves Saint Laurent Kouros
Fresh, slightly sweet with spicy notes, Yves Saint Laurent Kouros is an excellent eau de toilette for men who want to exude strength and class. Fresh coriander and delicate jasmine are masculinised with woody bergamot and rich patchouli. With base notes of leather and oakmoss, there is a sense of nature to this scent which makes it perfect for spring or summer.
Yves Saint Laurent Kouros Eau de Toilette 50ml

2. Viktor & Rolf Spicebomb Night Vision
This new, 'explosive' fragrance is the latest addition to Viktor & Rolf's Spicebomb range. Night Vision is bold, earthy and packs a green punch thanks to provocative scents in all layers of this men's eau de toilette. It starts with top notes of green mandarin, grapefruit and apple accord which are paired with biting spice through green cardamom. The heart of this fragrance has a soft, floral feel with notes of germanium, rosemary and lavandin. It's finished with base notes of toasted almonds and cedarwood.
Viktor & Rolf Spicebomb Night Vision Eau de Toilette 50ml

3. Paco Rabanne 1 Million
This fragrance could almost be considered timeless at this point with ten years under its cap. 1 Millions is a solid gold favourite men's fragrance with its distinct combination of refreshing peppermint and sweet blood mandarin top notes. The masculine is at the heart of 1 Million with sophisticated scents of musk and cinnamon. This is all rounded out in the base notes of sumptuous amber and soft leather for a luxurious, sexy fragrance.
4. Jimmy Choo Man
If you are looking for a lighter, less imposing fragrance for spring, Jimmy Choo's Man is the perfect choice. There is beauty in the simplicity of this fragrance which shucks traditional notions of masculinity in favour of a sharp, full scent. Base notes of pepper and suede are married with delicate melon and honeydew in the heart of this fragrance. Man is topped with juicy mandarin and fragrant lavender to create an inviting men's perfume that effortlessly conveys finesse and style.
Jimmy Choo Man Eau de Toilette 50ml

5. Jean Paul Gaultier Le Male
This men's perfume is as instantly recognisable as the bottle which depicts a sculpted male body with horizontal white stripes on the torso. It is confident, alluring and familiar, a very specific combination that has allowed this fragrance to maintain its popularity for years. The three core scents of Le Male are mint, lavender and vanilla. Alone they might seem too soft but they are rounded out with undertones of bergamot, sandalwood and cumin which elevate this men's perfume.
Jean Paul Gaultier Le Male Eau de Toilette 75ml

6. Dolce & Gabbana Light Blue Pour Homme
D&G are precision experts when it comes to fashion and fragrances. Their vision marries classic ideas with international, exploratory flair. Light Blue Pour Homme is exemplary of this. It marries musk, bergamot and oakmoss which are favourite scents in men's perfumes. The twist here is notes of Sicilian mandarin, a touch of juniper, pink pepper and then, right in the heart of this eau de toilette, Brazilian rosewood. This is a sexy men's perfume that combines freshness with a mediterranean heat.
7. Yves Saint Laurent L'Homme
YSL's L'Homme is a fantastic fragrance for those who want to mix up their regular men's perfume, moving perhaps from a cooler winter scent to a warmer summer scent but who aren't ready to go for a super rich and spicy perfume. L'Homme marries sandalwood and Haitian Vetiver with a touch of greenness with basil, a little spring with violet and a touch of something extra through a top of Chinese ginger. Together, these scents make for a charismatic and social men's perfume.
Yves Saint Laurent L'Homme Eau De Toilette 60ml

8. Viktor & Rolf Spicebomb
The original Spicebomb men's perfume from Viktor & Rolf, this scent is smoky, luxurious, imposing and spicy with an aromatic heart that makes it a formidable and wearable men's fragrance. The top notes of Spicebomb are grapefruit and cinnamon, which are elevated by core notes of saffron, elemi and pimento berries. In the base notes we find the robust scents that give this perfume a masculine edge: intoxicating tobacco, rich leather and earthy balsam.
Viktor & Rolf Spicebomb Eau de Toilette 50ml

9. Giorgio Armani Stronger with You
A cosy, sensual aftershave, Giorgio Armani's Stronger with You is one of the newer men's fragrances on this list. As such, it shows some innovation in the scents that it showcases, namely in the heart notes of sage and pineapple, as well as base notes of chestnut and cedar. Already this has an aromatic and tropical sweetness against open woody scents. Top notes of violet and mint leaf, along with cardamom add a touch of light spiciness to this fragrance.
Giorgio Armani Stronger with You Eau de Toilette 100ml

10. Carolina Herrera Herrera for Men
Herrera for Men is last but certainly not least on this list. A long established brand and scent, this men's perfume was launched almost 30 years ago and has proven popular since then. The unmistakable combination of sophistication and crisp freshness with masculine notes makes this the perfect men's fragrance for everyday wear. The top notes are primarily lavender and rosemary, with spicy green notes in the heart. The base notes ground this scent, with sandalwood, amber and tobacco rounding out the more fragrant notes above.
Browse more men's perfumes, and bottle sizes
These are just some of the best men's perfumes and fragrances available, and certainly some of the most popular with our customers. But, there are many other men's perfumes to choose from, including new editions of your favourite scents and different bottle sizes for old favourites.
---
Disclaimer
The products offered are not intended to diagnose, treat, cure, or prevent any illness or disease, or to replace the advice of a medical professional. Results are not guaranteed and may vary from individual to individual.