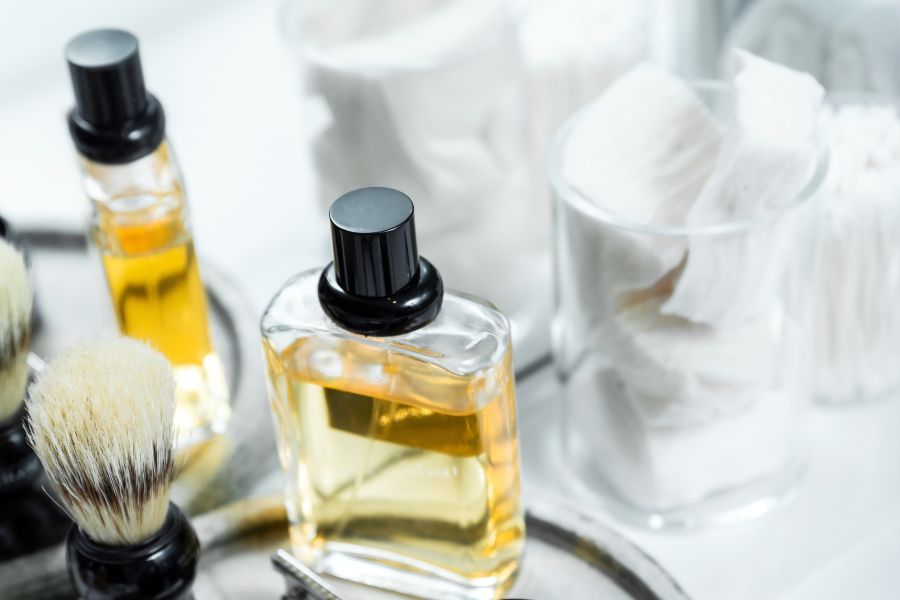 Best Men's Perfumes & Aftershaves 2022
A great men's perfume or aftershave will be memorable, inviting and make you feel great. But selecting the right mens fragrance can be a challenging task - more so if you are doing it online. Lucky for you, we've done the research to find out which are the best bold and subtle perfumes for men for 2022.
Whether you are looking for a new signature fragrance, something special for an upcoming occasion or are looking to gift a mens aftershave, we have a fantastic selection for you. Below is a list of our ten favourite scents and why you should choose them.
1. Dolce & Gabbana K Eau de Parfum
Price: £52.00
For something with an air of regality, Dolce & Gabbana K Eau de Parfum checks all the boxes. The fusion of citrus and woody scents create something bold but not too intense, fruity yet warm. Top notes of blood orange and juniper balance finely with earthy base notes of patchouli, vetiver and cedar. The crown cap design only adds to its regality and confirms who is king.
2. Paco Rabanne Invictus Victory Eau de Parfum
Price: £46.00
Celebrate victory with an intensely fresh scent from Paco Rabanne. The combination of refreshing lemon and full-bodied tonka bean is crisp and bold, while the hints of lavender and vanilla make this especially appropriate for the upcoming summer months. The contrasting elements of Invictus Victory mean that it is both sensual and fresh and has a luxurious aroma that will last all day.
3. Prada Luna Rossa Ocean Eau de Toilette
Price: £44.00
We are confident you will receive nonstop compliments when wearing Prada Luna Rossa Ocean. It exudes class and is the scent for the modern adventurer. This aftershave is the epitome of versatility and works as both an everyday fragrance and one for special occasions. Rich bergamot is mixed with vetiver, tonka bean, and elegant notes of iris making this a masculine scent that is never overpowering. A perfect aftershave for every type of man.
4. Diesel Only The Brave Tattoo Eau de Toilette
Price: £40.50
This bold fragrance from Diesel has a dark and intoxicating scent. Top notes of sweet apple mellow to a sage and bourbon pepper middle. There's a distinctive patchouli and tobacco base which rounds out the Only The Brave Tattoo fragrance. This is a standout scent for confident and mysterious men. It's strong, long-lasting, and good value for money making it an ideal gift for young men.
5. Issey Miyake L'Eau D'Issey Pour Homme
Price: £40.50
Issey Miyake has built their brand creating scents using rare and unusual ingredients, and L'Eau D'Issey Pour Homme is no different. The unique and elegant composition makes this a very masculine fragrance and a classic for any occasion. Its spicy, woody tones come from a blend of yuzu, cinnamon and nutmeg, leaving you with a fresh, vibrant and elegantly timeless scent.
6. Narciso Rodriguez For Him Bleu Noir Eau de Toilette
Price: £41.00
If you are looking for something modern and refined, Narciso Rodriguez For Him Bleu Noir is the perfect choice. There is an elegance to the scent as it combines fresh, spicy notes with deep, sensual woods to create something superbly addictive. The top notes of nutmeg and cardamom balance with base notes of ebony wood and amber, making it great for wearing every day.
7. Mont Blanc Explorer Ultra Blue Eau de Parfum
Price: £44.00
A fragrance full of adventure and freedom, Mont Blanc Explorer Ultra Blue is inspired by the ultra blue of nature. The eau de parfum's top notes awaken the senses with a zesty fusion of Italian bergamot, citrus and the addition of a touch of pink peppercorn. At the heart of the fragrance is marine accord where the fresh, aquatic notes contrast with the depth of grey amber. Mont Blanc continues to be committed to ethical sourcing and the main ingredients of the Explorer Ultra Blue come from Givaudan's Sourcing for Shared Value program.
8. Dunhill Driven Eau de Parfum
Price: £39.00
Dunhill Driven is the fragrance for a man who is a warrior at heart. The eau de parfum draws inspiration from its archives, yet embraces a new level of modernity. This fragrance is a tribute to the racers and the balance of woody, citrus and floral notes will be sure to get hearts racing. Hints of bergamot, lime and plum play with the spices of jasmine, rose and cinnamon while there are also deep base notes of musk, amyris and vanilla. A unique blend for those who are not afraid to take risks.
9. Gucci Guilty Parfum Pour Homme
Price: £60.00
A sophisticated, subtle interpretation of the classic Gucci Guilty fragrances. This spicy, woody scent is elevated to higher levels of intensity thanks to the aromatic hook of French lavandin abrialis and lemon sfumatrice that combine perfectly with the intensity of juniper. This is offset with citrus and spice and dries down onto the skin beautifully. A long-lasting scent that is beautifully balanced.
10. Ralph Lauren Polo Deep Blue Eau de Parfum
Price: £61.00
Another sophisticated perfume inspired by the depths of the ocean. Ralph Lauren Polo Deep Blue opens with a wave of citrus, bergamot and sage. This creates a foundation of sensuality that intensifies with base notes of salty ocean accord and patchouli. The combination of scents provide a new level of freshness and present a new fragrance perfect for any occasion.
Find More Men's Fragrances & Aftershaves
The above fragrances are just a small sample of some of our favourite scents. If you are interested in seeing a full list of men's perfumes, including different bottle sizes, follow the link here: Shop men's fragrances: perfumes and aftershaves