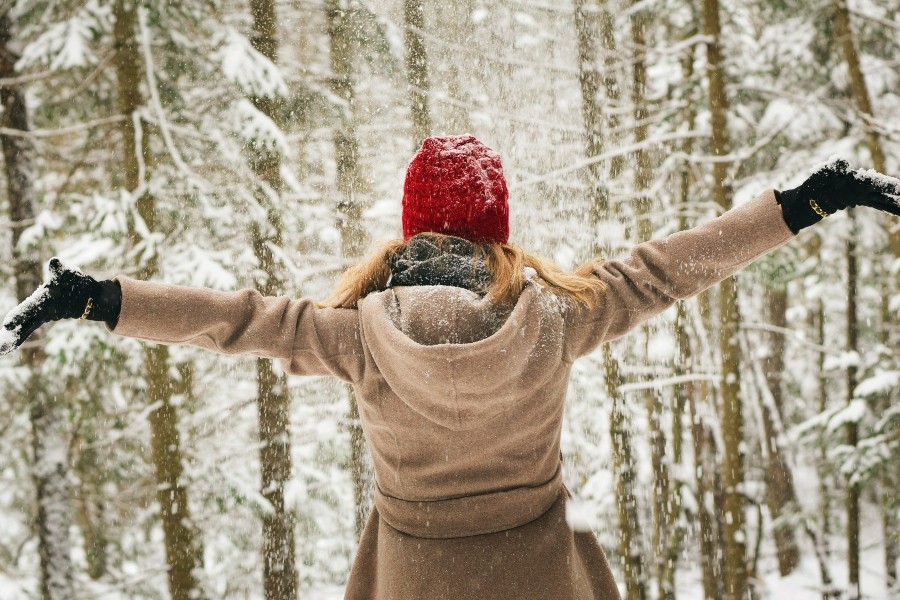 6 Essential Winter Skincare Tips
By Girish Desai, Pharmacist (GPhC ), Nutritionist and Homeopath
---
Cold, windy weather can be refreshing (particularly if you've been staying in all day/week) but the drop in temperature in winter creates new challenges for your skin. In winter, your skin is subjected to harsh wind, rain, low temperatures and perhaps even sleet and snow. These conditions can make the skin irritated and less able to maintain natural moisture levels, leading to an increase in skin concerns like blemishes and dryness.
To help you keep your skin looking and feeling its best, through the winter months and into spring, we've compiled a list of 6 top tips.
1. Stick To Your Skincare Routine
Shorter days and busy working schedules can mean you feel exhausted a lot of the time. Not to mention if you are trying to keep busy and stay grounded during a global pandemic. It's all too easy to fall into bed without going through your evening skincare routine. However, this can increase the chance of blemishes, since you won't be clearing the pores of dead cells and oils.
Make sure to schedule in time in the morning and evening to cleanse, moisturise and treat your skin. If you struggle to find the energy to do this, you can save time by investing in multi-tasking products like micellar cleansers, which cleanse and take off makeup in one sweep.
Landys recommends:
La Roche-Posay Sensitive Skin Micellar Solution

2. Use Seasonal Skincare Products
This might sound strange, but think of your skincare like you would your wardrobe. As the seasons change, so should your skincare routine. You want to make sure you are matching your skincare with the seasons, be it wearing more sun protection in summer or a richer moisturiser in winter.
Be aware though that swapping products can itself cause problems if you don't choose the right formulas for your skin type. An overly-oily product on blemish-prone skin can block pores and lead to breakouts. Make sure you choose products that suit your skin type, season and needs.
When picking new products, look for those marked non-comedogenic (meaning it doesn't cause pore blockage), those tailored to your skin type, and avoid any that leave an oily film as this will increase breakouts and irritation rather than prevent them.
3. Exfoliate Your Skin To Clean Your Pores
With the drier weather of winter, skincare advice tends to focus on rich moisturisers to ensure your skin has enough moisture. However, if you are liberally applying moisturiser, you may find that your pores can become clogged. To avoid a buildup, you should add an exfoliating scrub to your winter skincare routine.
Using a mild scrub will gently wipe away any build-up of dead cells from the skin's surface, allowing your pores to flow freely – though don't forget to use your usual moisturiser afterwards. Landys recommends:
La Roche-Posay Ultra-Fine Scrub

4. Eliminate Central Heating & Dry Air
Artificial heat and air mean there's less moisture in the air, and staying in this type of environment over time often dries your skin out. Dry skin can lead to breakouts as the layer of dead cells on the skin's surface can clog pores and prevent sebum (the natural skin oil that seals in moisture) from flowing freely.
One solution is to spend as little time outdoors as possible, particularly when the weather is at its coldest at the peak of winter and at night. Investing in a humidifier for your home will rebalance the natural moisture levels in the air and give your skin a break from the effects of air-conditioned or centrally heated spaces. You should also drink plenty of water and make sure you are maintaining your daily skincare regime.
5. Wash Hats & Masks Regularly And Cleanse Your Skin
Stylish and warm winter clothes are one of the joys of cooler weather. Wrapping up warm will keep your blood flowing on your daily walk and also help insulate against blustery or snowy weather. But it can also mean you're creating a closed (and potentially) contaminated environment between your skin and your outerwear.
Bobble or beanie hats that sit on the forehead, and scarves that cover the lower face, can trap oil and encourage breakouts. Similarly, during the pandemic you may be wearing a mask when out and about in busy areas, so you may find you are getting maskne for the same reason.
To deal with this, remove hats, scarves and masks as soon as you get indoors to help skin breathe. Aim to select natural fabrics as much as possible that allow your skin to breathe when out and about – homemade masks should be made of tightly woven fabrics. Wash hats and scarfs regularly to remove oils and dirt that could transfer onto your skin. Wash reusable masks after each day of use.
You can also help your skin to avoid blemishes, and help to clear them up, by using a cleanser to remove dead skin and combat dryness. Landys recommends:
Lancôme Galatée Confort

6. Find Time To Unwind & Make Sure To Get Enough Sleep
Stress is an issue all year round, and personal factors (work, family) can often increase stress levels. You carry stress in your body and it can lead to skin issues as well as poor sleep – which in turn can make you feel worse and cause skin issues. Where possible, make time to unwind and destress, doing whatever helps you do this, be it reading, exercise or speaking to a loved one.

You should also make sure to maintain good sleep hygiene. Sleep routines can become disturbed due to a range of factors, from stress and too much caffeine, to blue screens late at night, leading to restless nights and not enough sleep. Sleep is vitally important for overall good health, so ensure you prioritise getting enough of it. Your skin will thank you for it.
---
Disclaimer
The products offered are not intended to diagnose, treat, cure, or prevent any illness or disease, or to replace the advice of a medical professional. Results are not guaranteed and may vary from individual to individual.