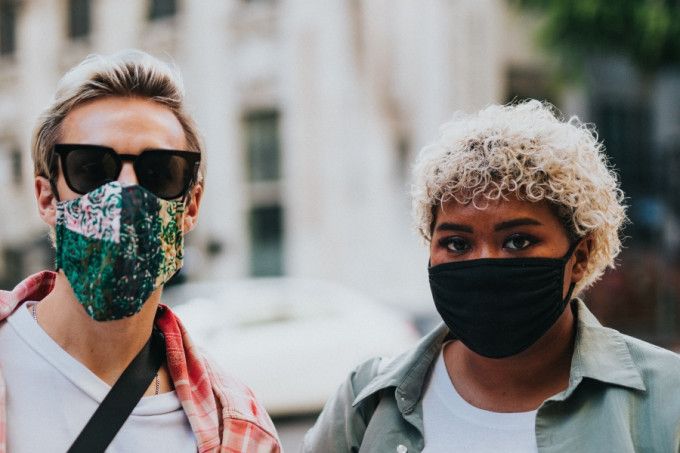 Maskne: How To Deal With Mask Acne
By Neesha Desai, Pharmacist
---
One of the first common issues we heard complaints about in store at Landys Chemist, at the start of the pandemic, was dry skin, principally caused by using hand sanitiser – the majority of these dry out the hands – and more frequent hand washing. We wrote a guide to hand creams you can use to help avoid dryness. Brands like Vichy and La Roche-Posay have since released hand sanitisers which also contain glycerin; this is a natural hydrator and helps protect the hands a bit more from dryness whilst the alcohol content still works to kill germs.
Then, people started to talk more about spots on their faces, namely around the jaw, chin and cheek areas. Face mask wearing, as a result of the COVID-19 pandemic, created a new cause of skin issues for some people. Although masks are not mandatory, many people are still wearing them or are dealing with the skin issues caused by wearing them.
This is our advice for dealing with maskne.
What Causes Mask Acne?
Mask acne, or 'maskne', has been brought on by the very necessary use of masks to prevent the spread of coronavirus when in public spaces.
Over the course of the day, we all have skin that dies and falls away. But because of the masks being worn protectively, especially for those who have to wear them for long periods of time while working, that dead skin is getting trapped in our masks and clogging our pores.
When combined with the warm weather that we've experienced over the summer, it means that we are creating the perfect breeding grounds for bacteria to grow, causing spots.
PREVENTING MASK ACNE
The most important thing is to not panic and stop wearing masks – there are far safer and easier solutions to maskne. A simple skincare routine can help to keep the skin clean and protected.
Adopt A Regular Skincare Routine, With Cleanser And/Or Exfoliator
If you haven't already, you should adopt a regular skincare routine, morning and night. As a preventative measure, we'd recommend ensuring you use a cleanser twice a day, along with a facial moisturiser and sunscreen – in the summer. These skincare products will help to keep the skin clean and to wash off the daily dirt so you avoid getting spots.
In addition, it would be worth adding a face exfoliator to your skincare routine; exfoliators are designed to help remove dead skin cells and leave the pores clear thus reducing the chance of bacteria build up.
If you've already succumbed to mask acne then all is not lost. There are specific products that can be used directly on spots like:
Vichy Normaderm S.O.S Sulphur Paste

La Roche-Posay Effaclar A.I.

These targeted treatments are great to reduce the appearance of blemishes and are mild enough to be put on the skin and left overnight for maximum efficiency.
Use A Face Mist To Reduce Appearance Of Blemishes
In addition you can also add a face mist like the La Roche-Posay Serozinc Spray to your regular routine. This product is especially designed to help improve the appearance of blemishes but also works to refresh the skin without clogging the pores. When you use it it feels like a light mist on the skin rather than a heavy cream and this can be particularly useful in the summer.
La Roche-Posay Serozinc Spray

Day Creams Can Help With Skin Issues Caused By Mask Wearing
If you have stopped wearing masks and want to boost your skin's health, or are just keen to get your maskne under control, then we recommend trying a day cream in your skincare routine.
Day Creams Provide A Protective Layer
Masks have been vital in helping slow and reduce the spread of coronavirus. However, they have been hard on our skin and caused different problems including dryness, irritation, acne, and more. Dry skin, in particular, is a common problem from wearing face masks but applying a moisturising day cream will add a protective layer that can reduce dryness.
Day Creams Are Gentle On Sensitive And Irritated Skin
If you find that you have a naturally dry skin type, then day creams are best suited to providing much needed moisture to your skin as wearing a mask for even a short time can make your skin more sensitive. You will also want to avoid trying harsh products, such as a chemical peel, exfoliants, or retinoids, as these can aggravate the skin further. Day creams tend to exclude active ingredients like these so are more gentle on your skin.
Skin irritation with masks is most common along the bridge of the nose and cheeks as this is where the flexible nosepiece is secured into place. To reduce the chance of skin irritation, it is recommended to use a thicker emollient, such as day cream, in this area to increase the skin barrier, provide lubrication for the junction of the mask with the skin, and prevent other external factors from damaging your skin.
Day Creams Contain Ceramides Which Help Prevent Germs Getting Into Your Skin
Applying a day cream can help rehydrate your skin and create a barrier that retains moisture. If the product contains ceramides then these are also beneficial to your skin.
Some of us may also be in roles where we are required to wear face coverings for long periods of time and this can make skin itchy. Additionally, if your face mask is made out of fabrics like cotton, this can absorb the natural oils on your face and cause your skin to dry out.
It is also worth noting that it is important to avoid moisturisers that contain water or alcohol as these can make dry skin worse. Retinoids should also be avoided as they can further irritate the skin as well.
For now, the most important thing is to recognize the greater benefits of wearing masks – but that doesn't mean that you can't continue to care for your skin!
For now, the most important thing is to recognize the greater benefits of wearing masks – but that doesn't mean that you can't continue to care for your skin!
---
Disclaimer
The products offered are not intended to diagnose, treat, cure, or prevent any illness or disease, or to replace the advice of a medical professional. Results are not guaranteed and may vary from individual to individual.