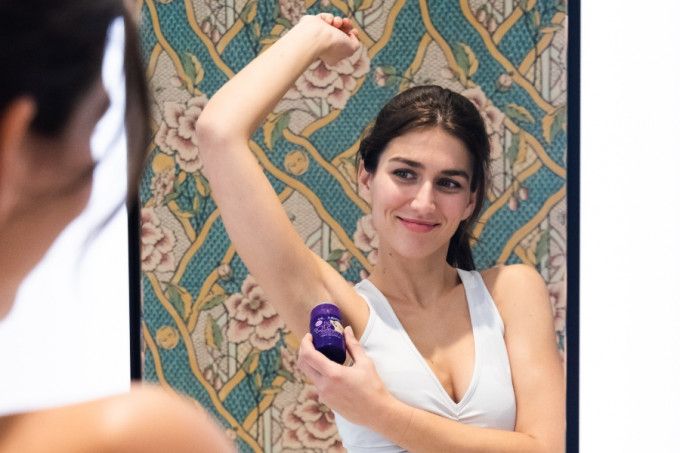 Best Deodorants: For Women & Men
By Andreea Tamas, Beauty Consultant
---
Finding the right deodorant is as personal as picking your perfume or aftershave. You want to make sure you are getting the best deodorant, one that compliments any other fragrances you have, lasts as long as you need it to and makes smelling great easy.
Forget generic and poor quality deodorants that are sickly sweet or are overwhelmingly pungent. We've collated a list of the best and most popular deodorants for men and women, and the best unisex deodorants available in 2021. This includes spray and stick deodorant options.
Best Deodorants: Unisex
All of these deodorants offer gender-neutral fragrances, or are scent free, and can be used by the whole family.
Vichy 48 Hour Intensive Antiperspirant
As the name suggests, this is both an antiperspirant and a deodorant. The roll-on applicator makes it easy to put on and it is long lasting, so you can wear it all day without having to reapply – depending on your own body's needs. This deodorant is also alcohol and paraben free and has no colourants.
La Roche-Posay 24hr Physiological Roll-On Deodorant
La Roche-Posay has specially formulated this deodorant for sensitive skin, making it perfect for those who want a dermatological way of concealing odours. This is a fragrance-free deodorant, working to neutralise odours rather than just covering the smells.
Uriage Power3 Deodorant Roll-On
This deodorant is also an anti-perspirant and has been enriched with Uriage Thermal Water to soothe even the most sensitive skin – particularly under the arms. It is a long-lasting and highly popular deodorant that has been formulated to prevent white streaks from antiperspirants and yellow stains on clothing from sweat.
Bioderma Sensibio Fresh Roll-On Deodorant
Bioderma's Sensibio deodorant is hypoallergenic, alcohol free and has no aluminium salts. For those who have sensitive skin or have to be careful about what they use, but still need an effective deodorant, this is the one for you. It is lightly scented and works well at neutralising odours.
A.Vogel Salt of the Earth Travel Deodorant
If you are looking for an all-natural deodorant, A Vogel has the perfect one for you. Economical to use, perfume free and vegan friendly, the Salt of the Earth Travel Deodorant is perfectly sized for use on the go. It doesn't contain aluminium chlorohydrate, alcohol, CFC's, propellants or parabens.
Best Deodorants For Women
Thierry Mugler Alien Radiant Deodorant Spray
The luxurious Mugler Alien Radiant is the ultimate choice for an all-day deodorant. One of the most popular deodorants for women, it uses the delicate Alien fragrance which combines the softness of jasmine with amber and woody undernotes. It is fast drying and long lasting, what's not to love?
Clarins Eau Dynamisante Fragranced Deodorant
Refreshing and comfortable protection from odours. Clarins' Eau Dynamisante uses liquorice extract, among a range of plant extracts, to create a soothing, easy application of deodorant. Re-apply any time of the day for a boost of freshness.
Jean Paul Gaultier Classique Perfumed Deodorant
Scented with the sweet orange blossom and spicy ginger notes of the Classique fragrance, this deodorant is an ideal companion skincare product for those already using products in the Jean Paul Gaultier family. The easy application spray lasts for hours and is effective at odour prevention.
Narciso Rodriguez For Her Deodorant Spray
Boasting 12 hour protection from odour, this deodorant spray can be applied after showering and before exercise to ensure freshness. It uses the "For Her" scent by Narciso Rodriguez which has peach and rose top notes, and a base of subtle sandalwood and patchouli.
Valentino Donna Perfumed Deodorant Spray
No-one does it quite like Valentino, and his trademark timeless elegance extends to this perfumed deodorant. Utilising the most effective odour prevention ingredients, it offers a fresh scent in a replication of Valentino's "Uomo" fragrance which features bergamot, vanilla and leather notes.
Best Deodorants For Men
Hermes Terre d'Hermès Deodorant Stick
Terre d'Hermès is one of the more sophisticated deodorants for men. Shaped to fit into a jacket pocket or side of a travel bag, it offers long-lasting protection. This quick drying deodorant has a distinct woody, cedar scent with notes of pepper and rich citrus, such as orange and pepper. Elegant and effective.
Prada L'Homme Deodorant Spray
The ideal companion spray for those who enjoy and use the Prada L'Homme Eau de Toilette. It marries perfectly with the signature fragrance while providing excellent odour protection. It balances notes of geranium and patchouli to create an elevated, masculine scent.
Aramis 24 Hour High Performance Deodorant Stick
Sandalwood, leather, sage and bergamot make this one of the best-smelling men's deodorants available in 2020. Yet, this is a distinct fragrance that has been around for over 50 years and is easily identifiable as Aramis. It is also a highly effective 24hr deodorant you can use day in and day out.
Jean Paul Gaultier Le Male Deodorant Spray
Jean Paul Gaultier's Le Male is an iconic fragrance, so it's no surprise that it's a companion deodorant, available as both a spray and a roll-on. It has a light, freshness that pairs perfectly with the odour-preventing power of this deodorant. You'll smell as good as you feel.
Clarins Men Antiperspirant Deodorant Stick
Clarins alcohol-free antiperspirant and deodorant is an excellent upgrade for anyone looking for a two-in-one stick that has a fantastic scent. Using natural extracts, it has a soft citrus scent that is perfect in winter or summer. The roll-on allows for easy application, even after exercise. It is also great for sensitive skin.
Deodorant FAQs
We look at some of the most common questions about deodorants that will allow you to choose the perfect one for you and help you understand the difference between deodorants and other similar products.
Is Stick Or Spray Deodorant Better?
Better, in this case, is relative to how you want to apply your deodorant. Stick and spray deodorants are equally effective so it really comes down to your preference for application. If you are on the go and want a more subtle way of reapplying your deodorant then a stick will work best. Sprays are quick and easy in a changing room setting but a big mist (and smell) in the middle of your office or bathroom can be a bit inconvenient for others, no matter how nice the scent is.
What's The Difference Between Deodorant, Body Spray And Antiperspirant?
If you aren't sure what sets these three options apart, you aren't the only one. Deodorant is a skin product used for covering and preventing unwelcome body odour, brought on by sweating. Antiperspirants prevent sweating and are often also scented. Body spray is a scented spray that works like a quick, simpler eau de toilette, offering an odour-covering fragrance for the whole body.
Some products are both deodorants and antiperspirants, offering sweat protection and a lasting scent, but many are just one of these. Make sure to check the product to ensure you get exactly what you are looking for.
What Is A Body Mist?
Body mists are hydrating sprays intended to add moisture to the skin. They are often lightly scented – like a light version of a body spray. Body mists typically need to be reapplied every few hours – unlike deodorants which typically only need to be applied once or twice a day, depending on if you are doing physical exercise or not.
---
Disclaimer
The products offered are not intended to diagnose, treat, cure, or prevent any illness or disease, or to replace the advice of a medical professional. Results are not guaranteed and may vary from individual to individual.