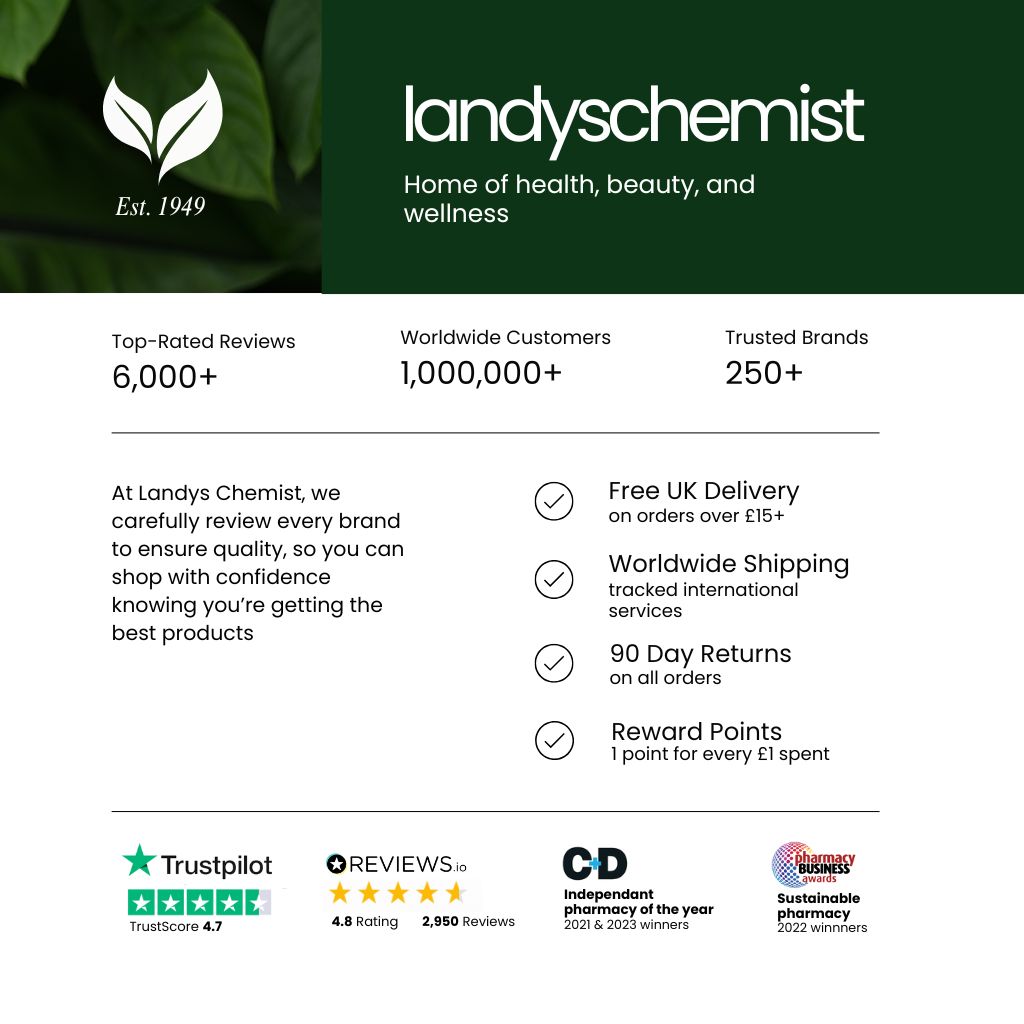 Clarins
Every time you
shop, collect
Reward points
Skincare, Makeup & Fragrance
About Clarins

It's a fact. With Clarins, life is more beautiful.
With plants, you can erase the signs of passing season from a face, streamline a silhouette, protect against pollution, reveal the natural beauty of every woman. But for that you need the knowledge, the curiosity and the persistence of Clarins researchers. You need the power of science to extract the beauty secret from the heart of each plant, to discover its most precious and effective ingredients. With plants you can make the world more beautiful, you can do wonders. 
When you shop with Landys Chemist you can shop with confidence. We are one Clarins' authorised retailers which ensures you are always getting Clarins UK products. Verify this here

All you need to know about Clarins
How long has Clarins been in business?
Clarins, a renowned French luxury skincare and cosmetics brand, has been in business for over six decades. Founded in 1954 by Jacques Courtin-Clarins, the company started as a small skincare institute in Paris. Initially focused on providing personalised beauty treatments, Clarins soon expanded its offerings to include skincare products. The brand gained recognition for its innovative formulas and emphasis on natural ingredients. Over the years, Clarins has continued to evolve and grow, establishing itself as a global leader in the beauty industry.
Are Clarins products suitable for all skin types?
Yes, Clarins offers products suitable for all skin types. They have specific formulations designed for dry, oily, combination, and sensitive skin, as well as products targeting aging concerns. Their range combines natural plant extracts with scientific innovation to provide effective and balanced solutions for various skin needs.
What is Clarins known for in the beauty industry?
Clarins is renowned in the beauty industry for its high-quality skincare and cosmetic products. The brand is particularly well-known for its expertise in skincare, offering a wide range of innovative and effective products that address various skin concerns. Clarins is recognised for its use of natural plant-based ingredients, carefully selected for their efficacy and gentle nature. The brand's commitment to research and development has led to the creation of iconic products, such as their Double Serum and Beauty Flash Balm, which have gained a loyal following worldwide.
Why is Clarins double serum so popular?
Clarins Double Serum is Clarins' most popular skincare product due to its unique formulation and effectiveness in addressing multiple skincare concerns. Its dual-phase formula combines water-soluble and oil-soluble ingredients, delivering a potent blend of 21 organic plant extracts to the skin. This powerful combination helps to hydrate, nourish, and revitalise the skin, while targeting signs of aging such as wrinkles, fine lines, and uneven texture. The Double Serum's lightweight and easily absorbed texture, coupled with its ability to provide visible results, has made it a favourite among skincare enthusiasts. Its versatility in catering to all skin types and ages, along with its ability to enhance radiance and improve overall skin health, has solidified its reputation as a beloved and effective skincare product.
What age are Clarins skincare products suited to?
Clarins skincare products cater to various age groups. They offer products for younger individuals (late teens to early twenties) to maintain and enhance youthful skin, while also providing solutions for those in their 25-40 age range to address early signs of aging. For individuals over 40, Clarins offers advanced anti-aging skincare products targeting wrinkles, firmness, and elasticity.