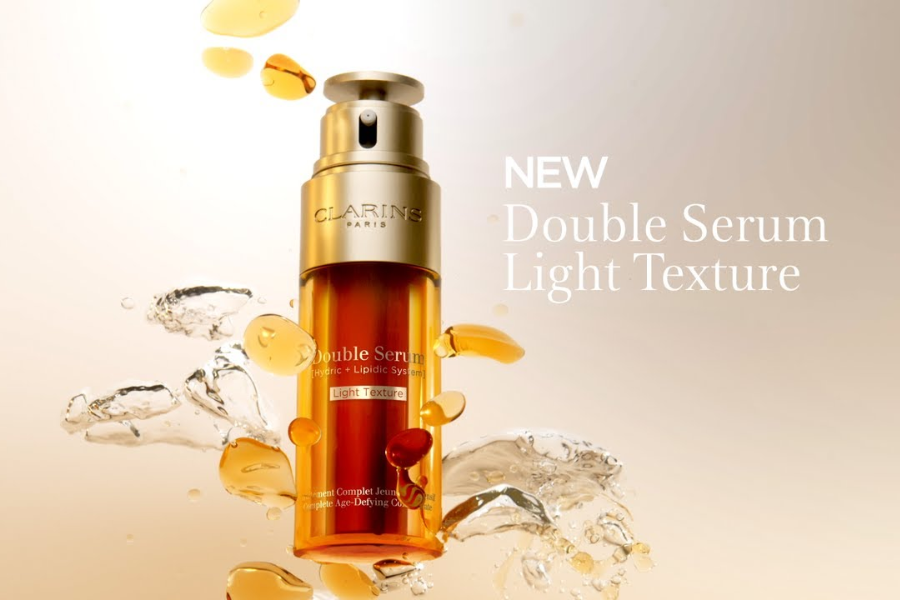 The Difference Between Clarins Double Serum and Double Serum Light
---
The Clarins Double Serum is one of the most popular concentrated serums on the skincare market. This complete anti-ageing concentrate is powered by 21 potent and organic plant extracts that individually contain unique properties that help to care for your skin on a wide spectrum of skin concerns. The double serum has a rich fluid texture that penetrates the skin for to instantly revive and hydrate. However, for combination and especially oily skin types, a lighter consistency would be more suitable. Fortunately, Clarins exciting new launch of the Double Serum Light version is here to cater to these skin types.
Clarins Double Serum Light Texture

The Differences Between Clarins Double Serum and Double Serum Light
There are a few key differences between these two serums including:
1. Texture:
The most noticeable difference between the two is the texture. The original Clarins Double Serum has a rich texture, while the Double Serum Light has a lightweight texture, with a new 50% lighter feel. The Light version is designed for those with oily or combination skin, who may find the original formula too heavy. For those who prefer light layers in their routines, double serum light can also work as a better base for makeup for a "barely there" finish.
2. Formulation:
The Clarins Double Serum Light contains ultra-light and "evanescent" oils that help to draw out the active ingredients onto the skin, and then evaporate for a weightless feel.
3. Hydration:
The original Clarins Double Serum is designed to provide intense hydration to the skin, while the Clarins Double Serum Light offers more lightweight hydration.
Does Clarins Double Serum Light contain the same ingredients as the original?
Although the formulation is slightly difference to give the double serum light a weightless feel, it still contains the same 21 potent plant extracts that makes double serum powerful and effective. The double serum light offers the same benefits as the original including regeneration, nutrition, oxygenation, hydration, and protection to act on anti-ageing and various other skin concerns.
Should You Use Clarins Double Serum or Double Serum Light?
This all depends on your skin type and personal preference. For those who have dry or dehydrated skin, the original Clarins double serum would be more suitable for keeping your skin feeling hydrated and nourished all day long. However, if you have more combination or oily, blemish-prone skin then you should opt for the double serum light as it will equally nourish your skin but also feel weightless and less heavy on the skin.
What are the key benefits of Clarins Double Serum Light?
Suitable for all skin types: Normal, Oily, Combination, and Dry.
Weightless serum texture.
Suitable for use every day, morning and night.
Firming and smoothing.
Reduces the appearance of fine lines and wrinkles.
Powered with 21 organic and potent plant extracts.
Improves the skins elasticity.
Suitable as a primer/make up base.
Notice brighter and more radiant skin.
Reduces the appearance of enlarged pores.
Helps to even your skins complexion.
Skin is left feeling nourished and rejuvenated.
How To Apply:
Rotate the dial to select the appropriate dose for your skin. Press down.
Mix the two phases in your hand to warm it up.
Gentle press in the serum to your face and neck.
If your skin needs the ultimate boost, apply 2 big droplet pumps under your appropriate weekly mask.
Complete your routine with the Clarins Double Serum Eye which targets puffiness, dark circles, fine lines and wrinkles, and dullness.
Clarins Double Serum Eye

Read more on an in-depth review on original Clarins double serum which weighs on the benefits of the formula.
---
By Rhysa Phommachanh, BA (Hons) Specialist Skincare and Media Makeup