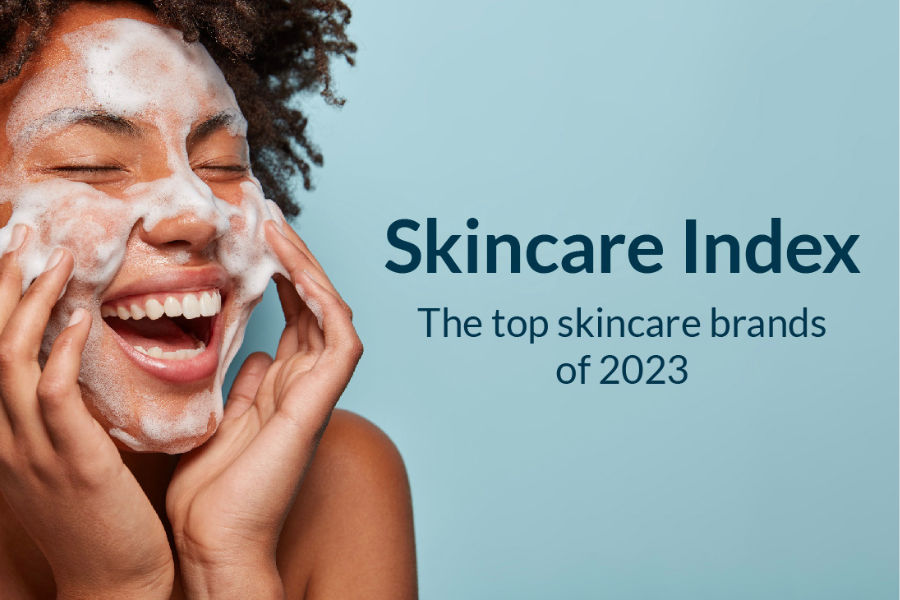 Skincare Index: Top Skincare Brands of 2023
---
We'll do anything to achieve perfect skin, and curating a good skincare routine that works for your complexion has become more and more important to us in recent years. From TikTok-inspired trends and viral brand reviews to celebrity-endorsed products, the hype around the best skincare routines and products for achieving glowingly clear skin is only increasing.
There are millions of different skincare products available to people in their quest for perfect skin, with some opting for natural-based treatments for those more sensitive complexions, and others following trends of the time to trial new viral products.
But which products and brands are the most popular in 2023?
By taking a deep dive into data provided by public search trends and interest, we have been able to identify the biggest trends in the skincare industry!
Top trending skincare brands in 2023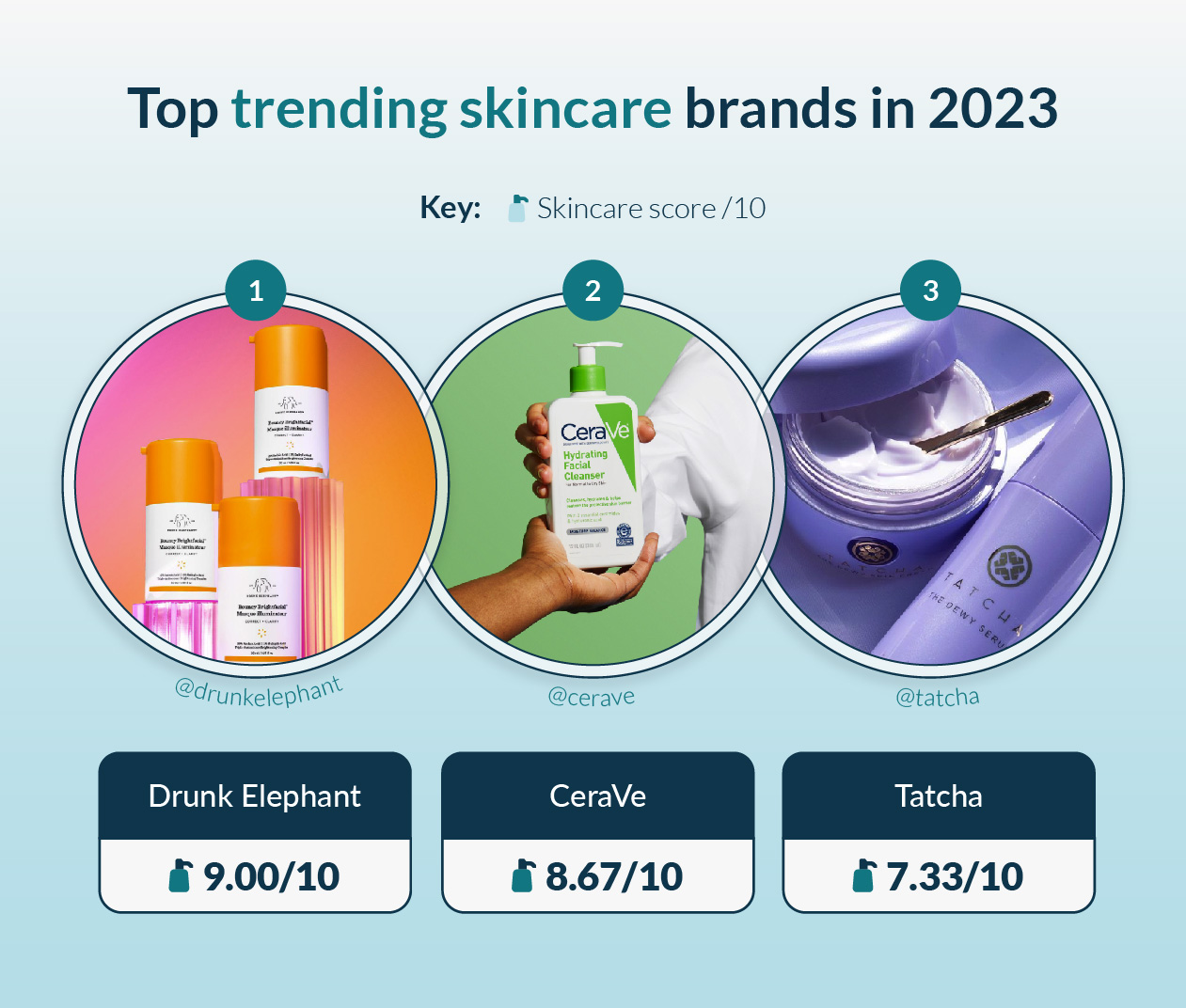 The top trending skincare brand this year is Drunk Elephant, a company that is committed to biocompatible skincare that uses active ingredients to help keep skin healthy. Searches for Drunk Elephant increased by over 114% from 2021/22 to 2022/23, showing interest in the brand is on the rise. They also have over 1.4 million followers on Instagram.
2. CeraVe, skincare score of 8.67/10:
Just behind Drunk Elephant is CeraVe, scoring 0.33 fewer out of ten. Although there were almost 20 million more Google searches for CeraVe in the past 12 months, the search volume had only risen by 28%. CeraVe is also less popular than Drunk Elephant on Instagram as it has fewer followers and a lower engagement rate.
3. Tatcha, skincare score of 7.33/10:
Tatcha is a Japanese skincare company that has recently started selling products in the UK, Tatcha says that they promise to bring harmony from people's skin to their soul. Tatcha has 1.2 million followers on Instagram, but a relatively low engagement rate of just 0.16%.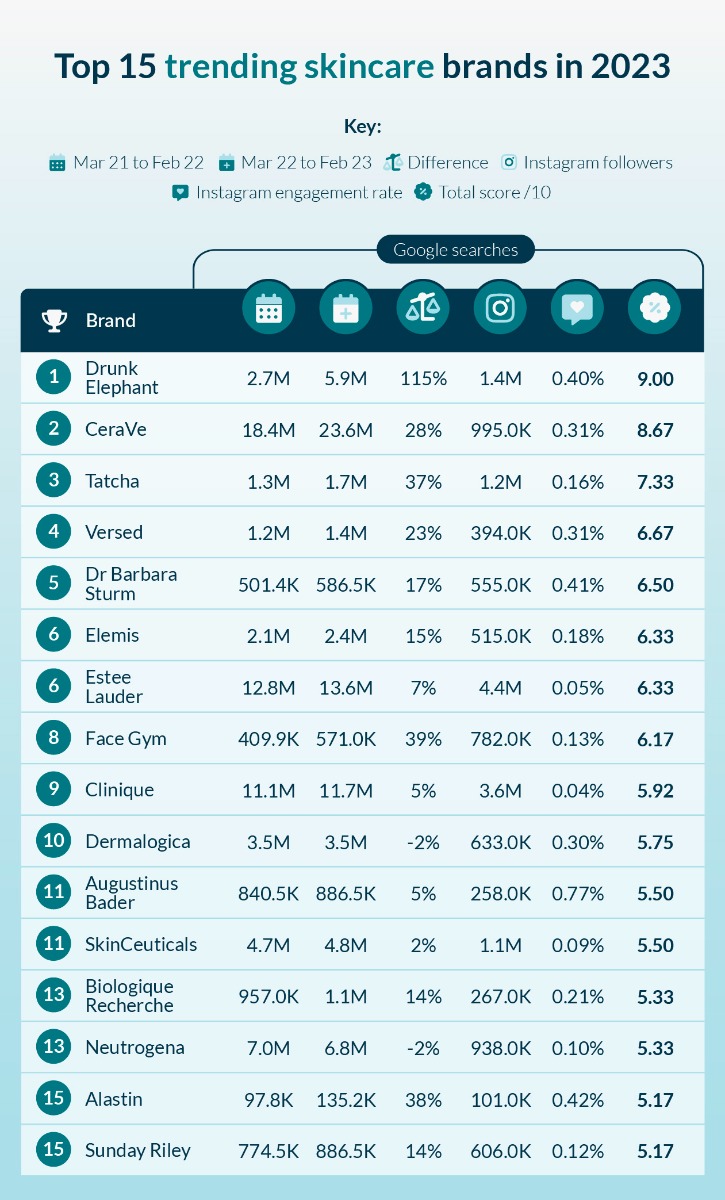 ---
Top skincare brands on Instagram
Skincare brands with the most Instagram followers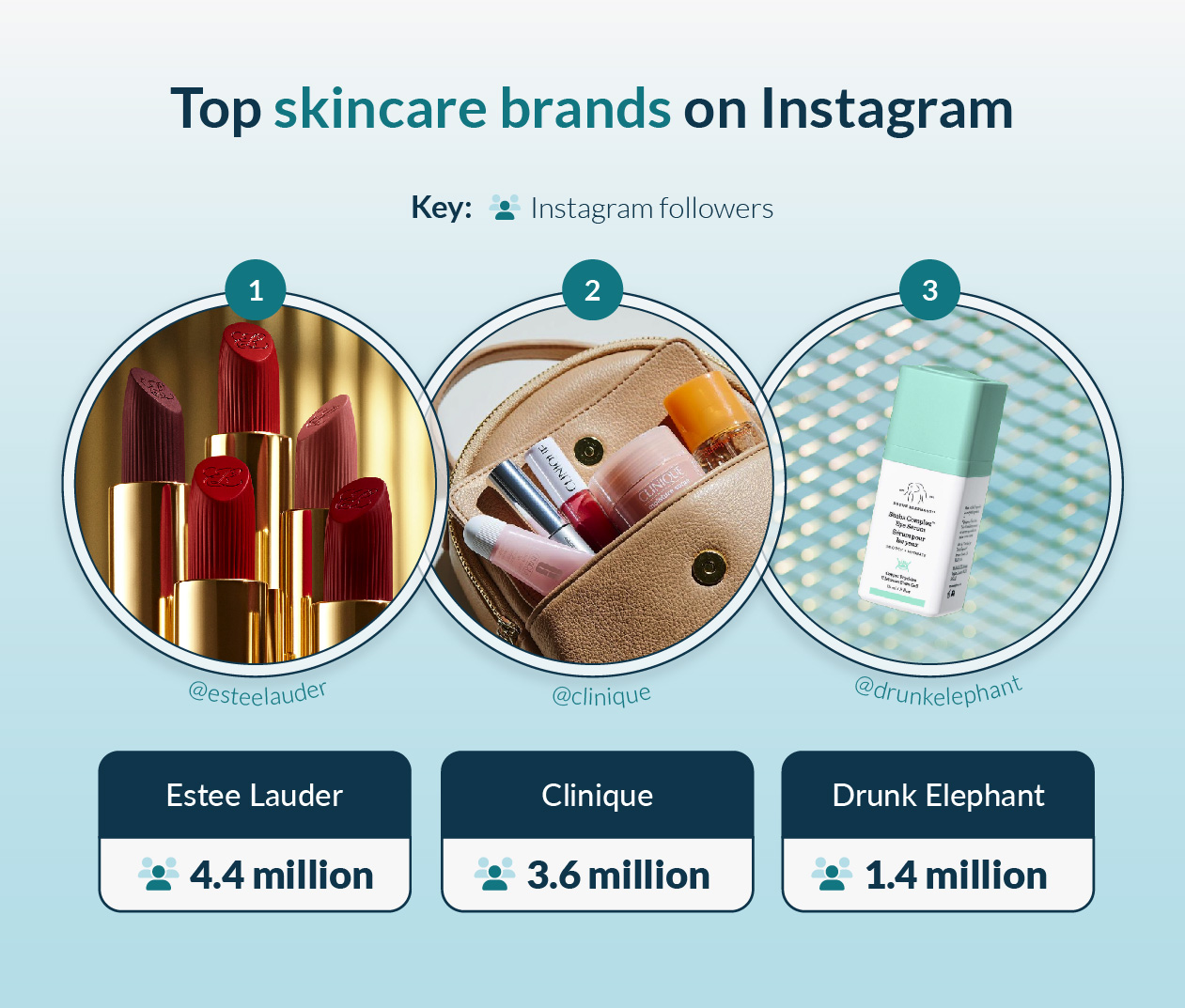 Estee Lauder is the most followed skincare brand on Instagram, with almost a million more followers than Clinique. This American cosmetics giant was founded just after the Second World War and has grown to a giant multinational company which made $14.3 billion in revenue in 2020.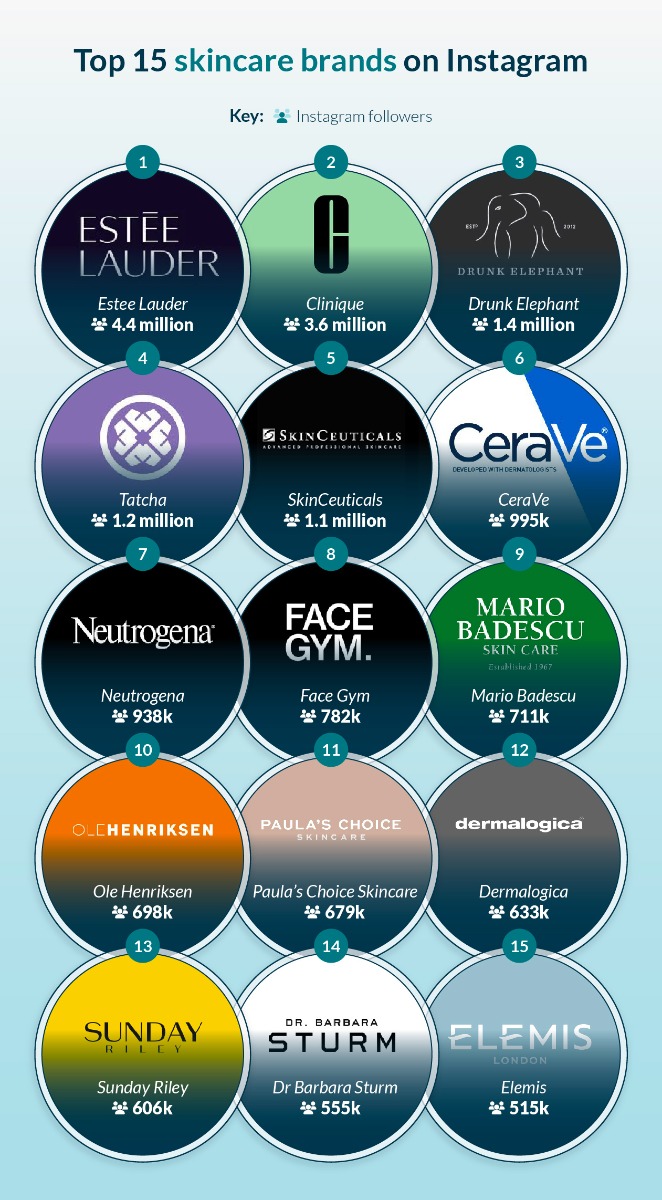 Skincare brands with the highest Instagram engagement rate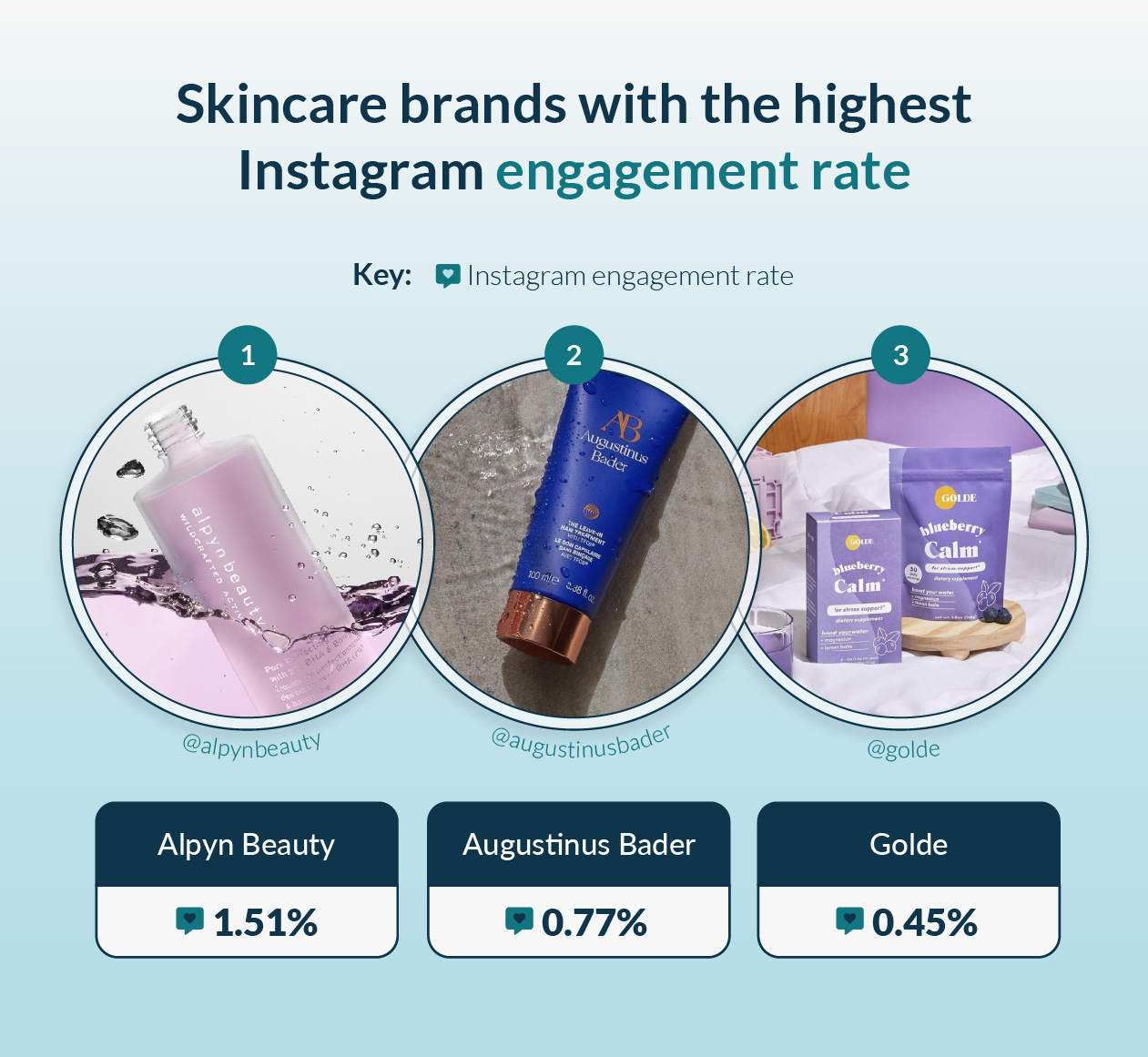 Alpyn Beauty is a skincare brand that specialises in using hand-harvested wild plants so that they yield their peak potency and clinical benefits. On Instagram, the beauty brand has a 1.51% engagement rate from its 38,000 followers. This is far more than any other skincare brand we looked at, and the only one that achieves over 1% engagement.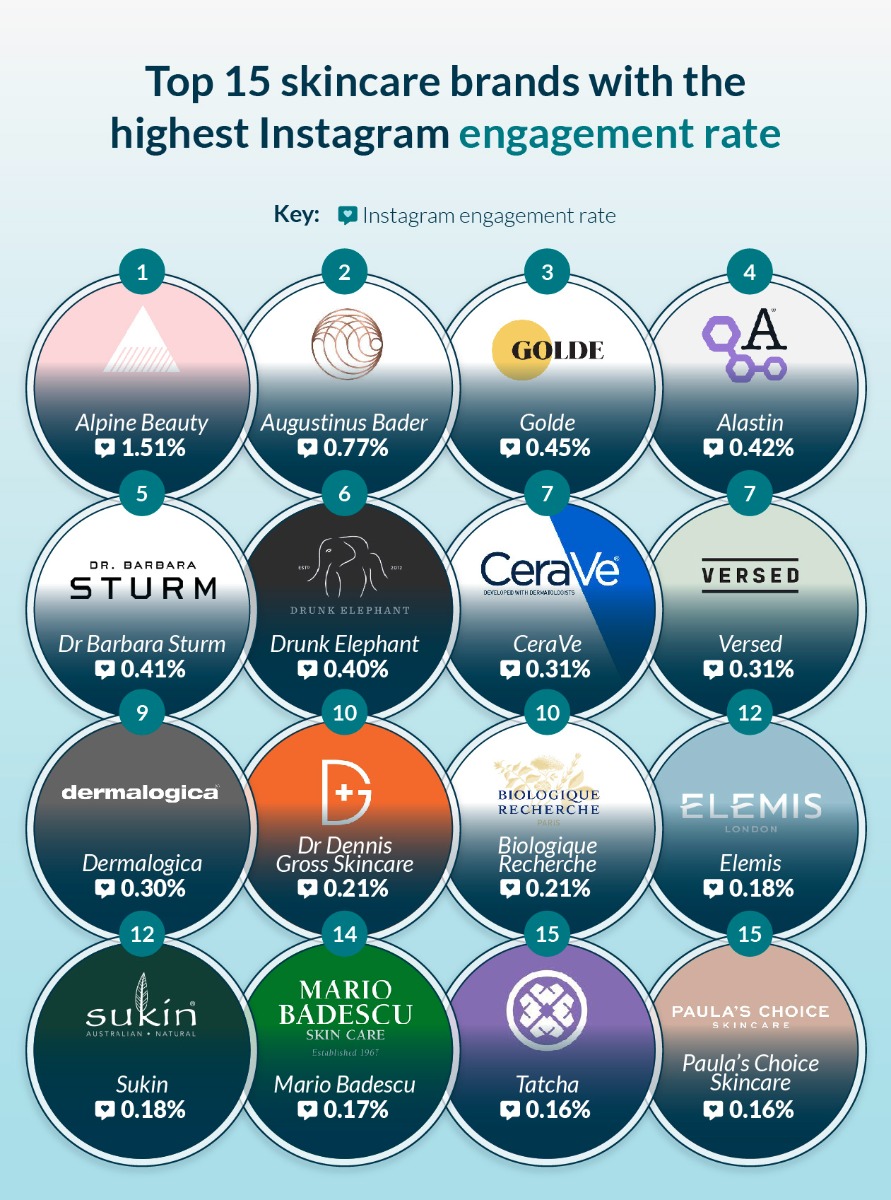 ---
Most popular skincare products in 2023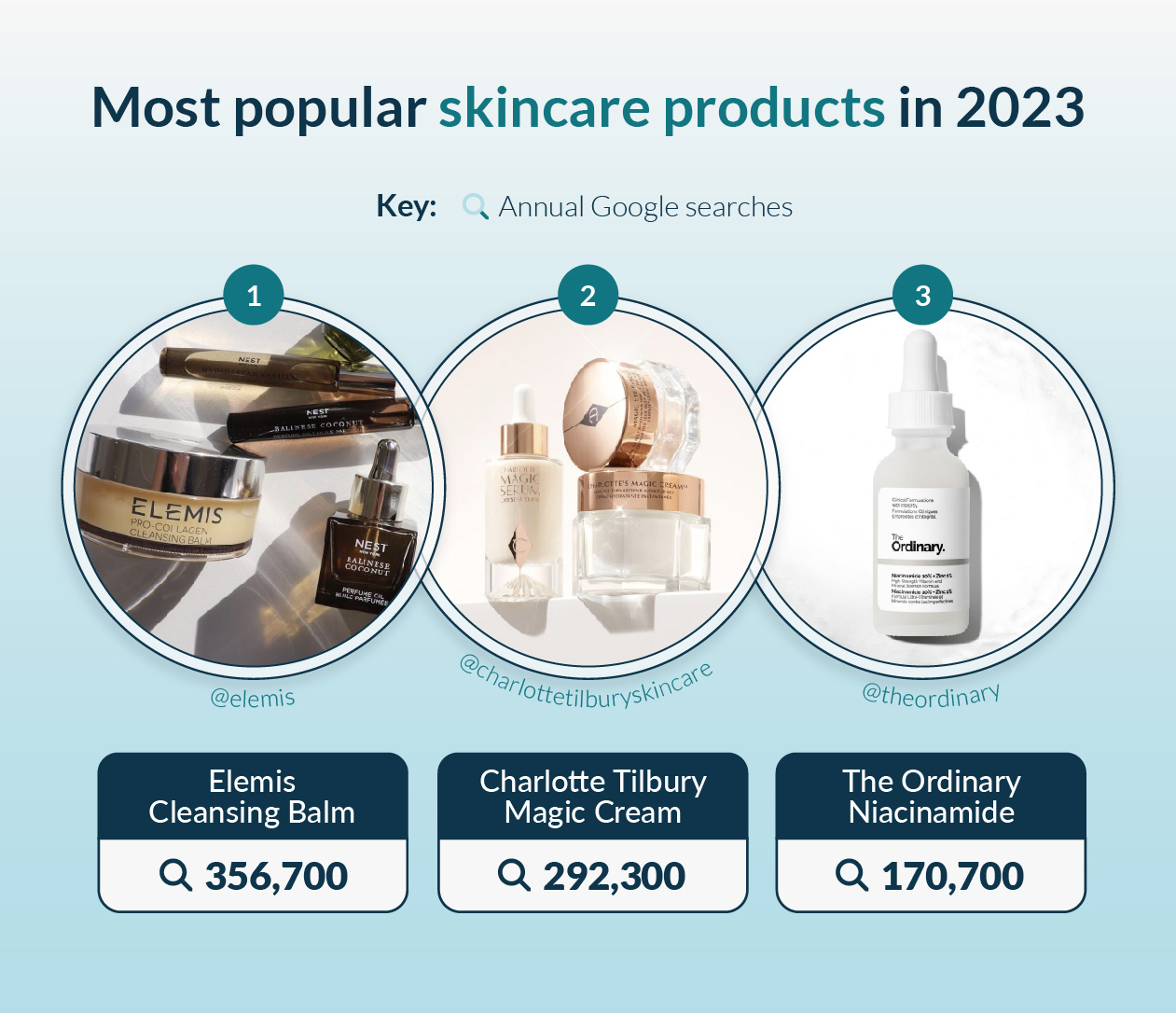 The most searched product on Google is the viral Elemis Cleansing Balm, there were almost 357,000 Google searches for this product between March 2022 and February 2023. It is the best-selling product for Elemis and transforms into three unique textures. The first is a nourishing balm, the second a cleansing oil and finally a hydrating cleansing milk.
British makeup artist Charlotte Tilbury founded the brand that shares her name ten years ago, it has since grown massively, launching a number of products that have taken the beauty industry by storm, and made almost £225 million in revenue in 2021 alone. One of their premium products is Charlotte's Magic Cream which is highly praised for leaving skin hydrated and plumper looking.
The Ordinary skincare company offers a collection of treatments based on ingredients that are proven to help nourish and protect the skin. The Ordinary is a stripped-back brand telling you exactly what is in their products in the product name, so you know exactly what is going onto your skin. In their own words "in the category of functional beauty, integrity is rare", and this integrity of offering humble but effective skincare products, does exactly what it says on the tin. Niacinamide is a form of Vitamin B3 found in many foods and often used in dietary supplements, when applied to the skin it is useful in fighting acne and gives you a clearer complexion.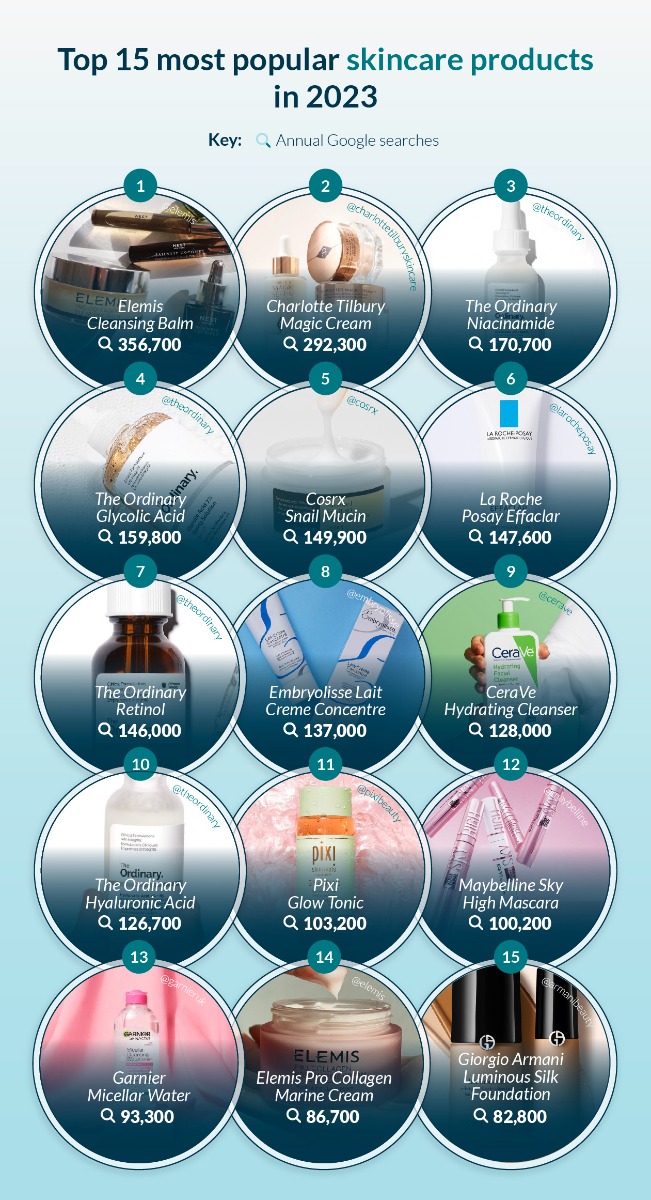 ---
Top trending skincare products in 2023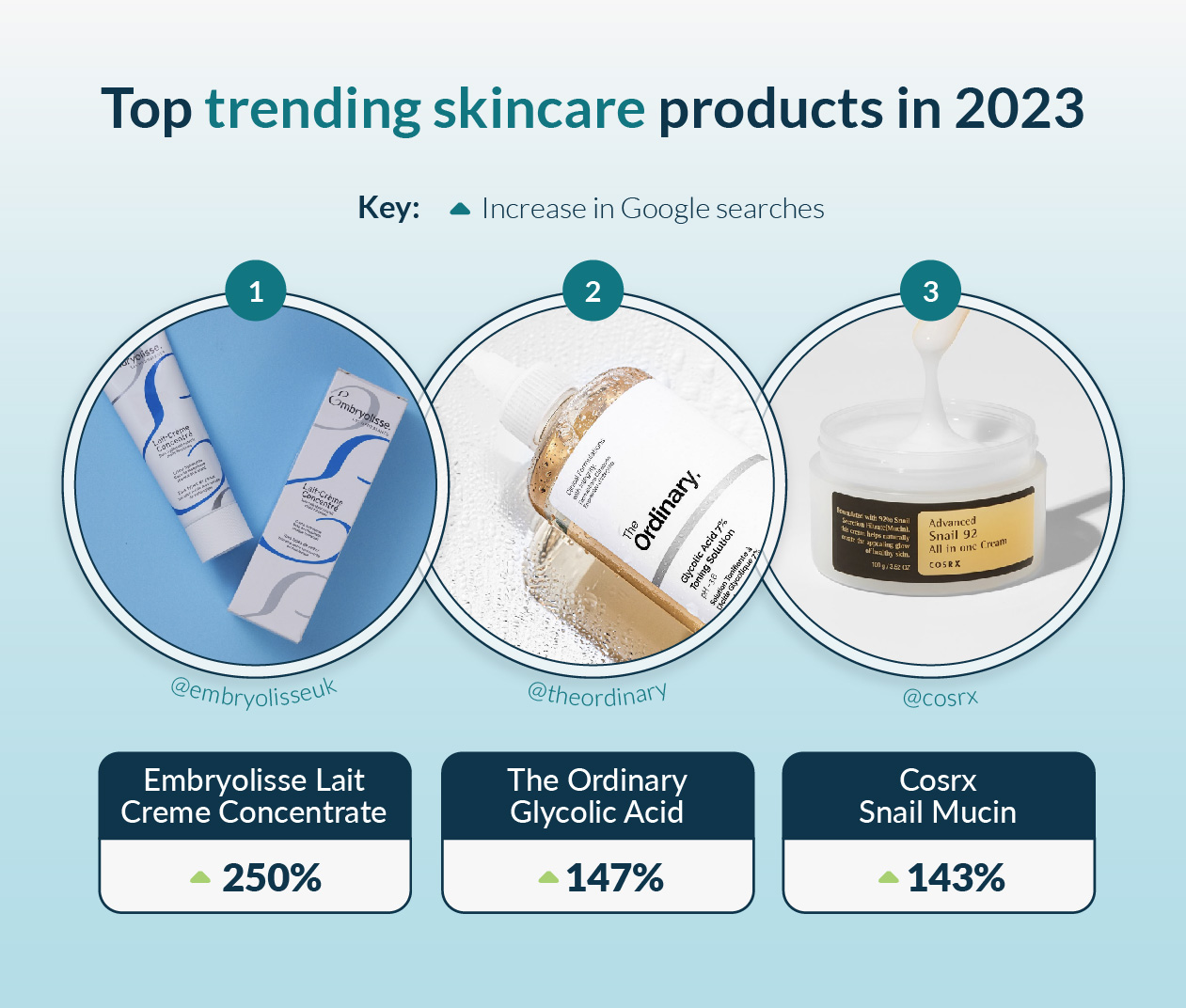 1. Embryolisse Lait Creme Concentrate, 250% increase in Google searches:
Even though Embryolisse lait creme has been around since the 1950s, its popularity has increased again over the past year thanks to its products going viral on social, and as a result, Google searches have risen by 250%. A reasonably priced skin cream which has 6 functions in one, acting as a primer, moisturiser, make-up remover, repairing mask, aftershave, and even providing skincare for babies!
The idea of putting a corrosive acid on your face might not sound that appealing, but the Ordinary's Glycolic Acid Solution uses 7% acid within its serum, making it safe for use on the skin. Not only is it safe, but it is also incredibly beneficial in exfoliating the skin and leaving you with a radiant, glowy complexion. Google searches for this particular product rose by almost 150%.
3. Cosrx Snail Mucin, 143% increase in Google searches:
The daily use of snail mucus has become one of the most popular (and potentially more questionable) skincare products recently. The moisture and nutrients found in snails are incredibly beneficial for the skin. Although it has been popular in South Korean beauty routines for many years, its benefits are being talked about in the west more. As a result, searches increased by 143% in the past year.
---
Methodology
Lists of popular skincare brands and products were compiled from various articles.

We ran them through

Google Keyword Planner

to find the number of annual Google searches between March 2021 and February 2022, as well as the searches between March 2022 and February 2023.

We then calculated the percentage change in the number of searches between the two 12-month periods.

For the brand section, we also found the number of Instagram followers each brand had and used an '

Instagram engagement calculator

' to discover the engagement rate for each brand.

Each brand or product was then given a normalised score out of ten for each factor before an average of these scores was taken.
---
By Rhysa Phommachanh, BA (hons) Specialist Skincare and Media Makeup