BioGaia
Every time you
shop, collect
Reward points
Probiotics
About BioGaia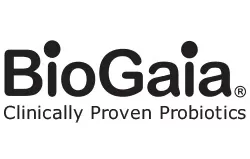 BioGaia is an innovative Swedish healthcare company and has been a world-leader in dietary supplements with probiotics for nearly 30 years. Over the years we have created networks of leading, independent researchers and specialists, manufacturing experts and local distribution partners worldwide. Our products are recommended by pediatricians and other healthcare professionals in more than 100 countries.
All products from BioGaia
---
BioGaia FAQs
What Is BioGaia Used For?
BioGaia products are used for gastrointestinal issues, gum, teeth and bone health and as supplementary nutrition. BioGaia probiotic supplements contain Vitamin D3 to maximise support for a healthy immune system.
Lactobacillus reuteri is a good-bacteria found naturally in the human gastrointestinal tract, urinary tract and breast milk. BioGaia probiotics use lactobacillus reuteri to help effectively absorb nutrients from food and fight off bad bacteria. They can also be used to treat stomach pain, constipation and diarrhoea.
How Long Does It Take For BioGaia To Work?
BioGaia products may take 3-4 days before making noticeable improvements in acute digestive issues. Noticeable changes in overall digestive health can take a few weeks of regular use of BioGaia probiotics and supplements.
Is BioGaia good for newborns?
BioGaia baby products are clinically proven to be safe and effective. Check with your baby's GP or nurse before starting them on any probiotics or supplements.
BioGaia Protectis Baby Probiotic Drops are formulated to help keep a natural balance of good microorganisms for good gut health in children and babies. They can help with colic, reflux and allergy issues from the very first days of life.
To support bone health and a strong immune system, try BioGaia Protectis Baby Drops with Vitamin D3. For safety, it is strongly recommended to feed all baby drops using a spoon.
How Long Should I Give My Baby BioGaia?
BioGaia products for babies are safe to use long term. BioGaia's probiotic strain, lactobacillus reuteri, has been tested to be effective from age 0-18 years. 5 drops are the recommended and maximum daily dosage.
Can I Mix BioGaia With Breast Milk?
BioGaia Protectis Baby Probiotic Drops can be added to breast milk or baby formula. The liquid should be consumed within the same day once the drops are added and drops should not be added to liquids warmer than 37°C.