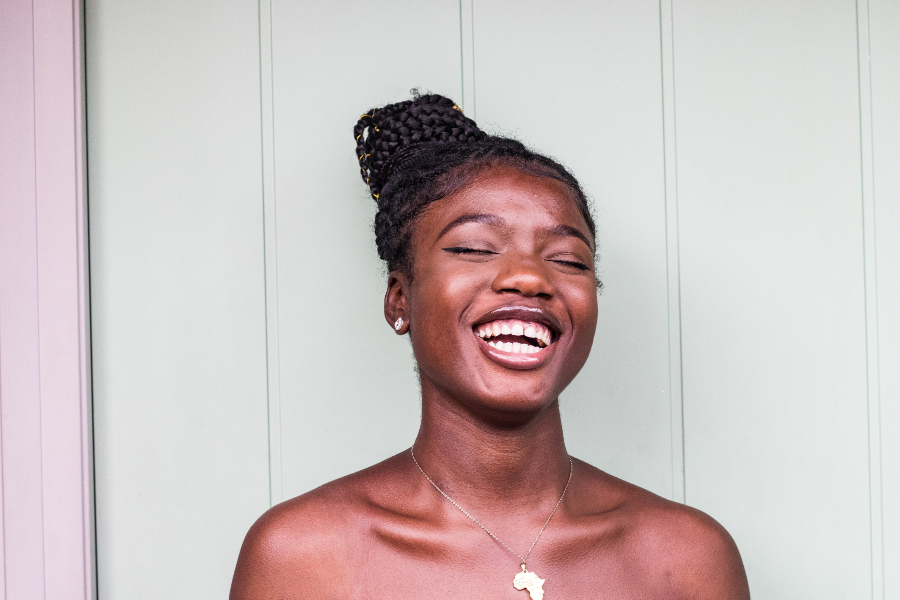 Best Skincare Routine For Oily Skin
Everyone needs a great face skincare routine. The best skincare routine for oily skin is one that considers the needs of your skin type, which will differ from dry or normal skin, and includes steps and products that support your skin's needs. Ready to get your oily skin sorted?
This skincare routine for oily skin includes advice on what products to choose and why certain ingredients are beneficial for your skin type. But before we get started, we want to explain what an oily skin type is so you can make sure it's your skin type.
What is oily skin?
Oily skin is a skin type where your skin produces a lot of sebum, the oily substance that protects your skin and keeps in moisture. If your face looks shiny then you probably have oily skin. If your face has oily patches and dry patches, then you may have combination skin. Some people just have oily skin, like dry skin or combination skin, and it's not tied to your health. Oily skin isn't bad.
What causes oily skin?
Skincare expert, Paula Begoun, says that "Oily skin is complicated because it's primarily hormonal". Fluctuating hormone levels, particularly of testosterone, can cause the sebaceous glands, which produce sebum, trigger an increase in production. Common times when hormones fluctuate are puberty and during menstruation. Some people also have genetically larger pores which makes their skin naturally more oily than others. Sebum production can also increase due to factors like increased humidity or stress, creating oily skin.
How to look after oily skin
People with oily skin often turn to exterior products to deal with the shininess and excess sebum, attempting to cover it up. Common solutions are mattifying powder or blotting papers. However, these solutions won't help you control your oily skin. Understanding your oily skin and working with it, rather than against it, will allow you to get the best from your skin.
For example, you could be washing your skin more often, to try and wash away the excess oil. But in doing so you are stripping the skin of its natural moisture and so getting it to produce even more sebum. So your skin ends up looking oilier.
Following a regular skincare routine, using products specifically for oily skin, is the best way to support your skin and keep it looking and feeling great.
Skincare Routine For Oily Skin: The Steps
Step 1: Use a cleanser morning and night
Surprising but true, the best way to get rid of excess oil is with an oil-based product. Oil attracts oil and so using an oil based cleanser can really help to attract and remove excess sebum from your skin. You should use a gentle cleanser both morning and night to stay in control of your oily skin.
When looking at which cleanser to use on your oily skin, you should use cleansers with salicylic acid as this will help remove dead skin cells while mediating any redness or skin inflammation. You should avoid alcohol-based products as they will strip your skin, removing oils at the cost of drying your skin and thereby causing more shine.
Foaming cleansers are good for oily skin, as long as they are from skincare brands that use high-quality ingredients. You can use them on other parts of your body too, for example if you have spots on your chest, back or neck, or on your face.
Best cleansers for oily skin
Cleansers For Oily & Combination Skin
Step 2: Consider using a toner
Toners are a great way to get rid of dirt and impurities that your cleanser doesn't catch. Toners can open your pores to allow for a deeper clean. You don't need to use a toner on oily skin every day. How often you need it will depend on how oily your skin is and how much you come into contact with pollution, smoke, etc which can get stuck in your pores. Start with twice a week and see how it goes.
For a healthy glow, people with oily skin should use exfoliating toners with acids such as glycolic and salicylic, which are much more gentle on the skin than a physical exfoliant, such as face scrubs. There are lots of great toners for oily skin available.
Best toners for oily skin
Toners For Oily & Combination Skin
Step 3: Use a face mask once a week
Those with oily skin will sometimes suffer from irritating blemishes. Spots are often caused by dead skin cells and impurities sitting on the skin in sebum. Since those with oily skin have an excess of sebum, it can make their skin more prone to spots. A face mask helps with this.
Face masks with clay-based formulas will pull out impurities, while witch hazel-infused masks will act as a natural astringent, tightening pores and helping to balance out your skin's shiny appearance.
Best face masks for oily skin
Step 4: Moisturise. Twice a day, every day.
There is a common misconception that because oily skin is producing plenty of sebum that a moisturiser isn't needed. Sebum doesn't cover the skin evenly and if you are using cleansers and toners to remove the excess then you need to add hydration to your skin with a good moisturiser.
Oil-free, mattifying formulas can help stabilise your oily skin and control the appearance of your skin's excess sebum. Ingredients like lemongrass, willow bark extract and vitamin C will all help to reduce shine, sooth skin and will prime the skin perfectly for make-up.
Use a moisturiser morning and evening, after doing any cleansing steps.
Best moisturisers for oily skin
Step 5: (Optional) Sunscreen
Sunscreen should be a daily staple to help protect your skin from UV rays. Choosing an oil-free formula will help you control the greasy feeling and shine on your oily skin. Sunscreen is always the last layer to put on, after moisturisers and any serums. If you are wearing makeup, consider a foundation or tinted moisturiser with SPF as your final step.
Always look out for non-comedogenic products as these will help avoid clogged pores, and therefore spots, which can already be an issue if you have oily skin.
Best sunscreens for oily skin