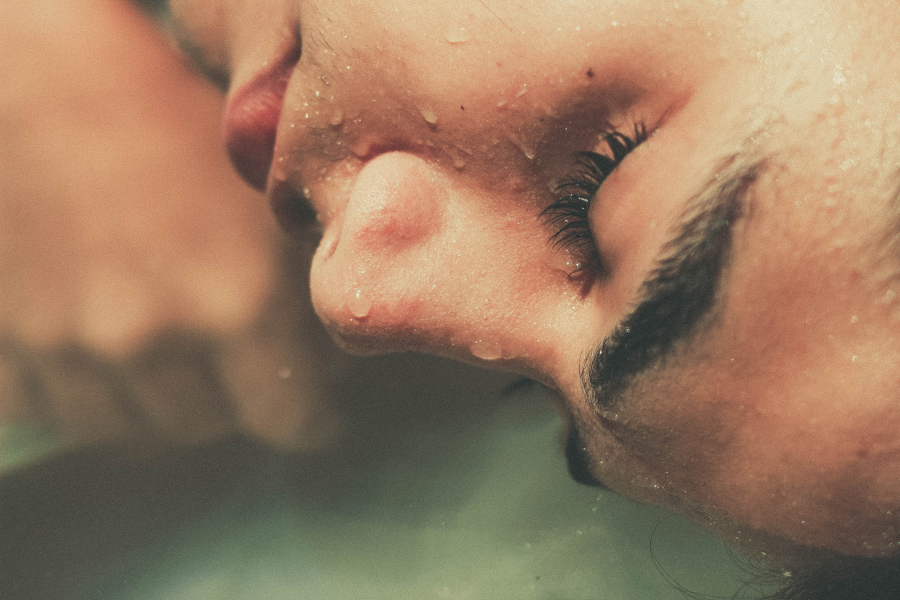 How To Build The Perfect Facial Moisturising Routine
Using advice from skincare experts, studies into the effectiveness of moisturisers and specific ingredients featured in facial moisturisers, we've compiled the best advice for how to build a perfect facial moisturising routine.
Our guide aims to help you understand the steps that make a great skincare routine, which products should be included as basics and which are beneficial to add into your routine based on your skin needs and goals. We also look in depth at the vital role of facial moisturisers in skincare routines and answer common facial skincare routine FAQs.
What Is The Correct Skincare Routine Order?
In the simplest terms, a basic skincare routine should be in this order:
Cleanse – Start by using a wash or cleanser to remove the daily dirt, grime and natural build up of dead cells from your skin.
Treat – Next, treat any skin conditions or issues you have, be it dark circles, spots or rosacea, with serums and toners.
Moisturise – Finally, apply vital moisture to protect your skin from danger and to maintain a healthy glow using a moisturiser (suited to your skin type).
This should be done twice a day, once in the morning (or whenever you get up) and once in the evening (before going to bed).
It's important to apply skincare products in a specific order to ensure they get onto or into the skin without undoing a previous step and to get the maximum benefit. For example, you don't want to cleanse after moisturising and so wash off the moisturiser rather than clearing out your pores!
Minimal Skincare Routine
For a minimal skincare routine, there are still a few steps that skincare experts consider to be vital.
Gemma Jones, a Field Trainer at dermatological skincare brand BIODERMA, advises that: "The bare minimum you can do to take good care of your skin is wash your face with a soap-free cleanser twice a day, wear a good moisturiser twice a day and use sun protection 365 days of the year no matter how warm it is or where you are".
Comprehensive Skincare Routine
If you are keen to make the most of your facial skincare routine, then you can consider a more comprehensive set of steps and a larger number of products. Here is the complete list of steps you might take, although they don't all necessarily need to be done every day.
A comprehensive face skincare routine will have the following steps, in order:
Cleanser
Exfoliator
Toner
Serums & Treatments

Including:

Spot Treatments
Eye Creams
Retinol - Only Daytime (Before Moisturiser)

Moisturiser
Bonus (After Moisturiser):

Daytime: Sunscreen
Evening: Face Oil
The Steps Of A Great Face Skincare Routine & Why Moisturising Is So Important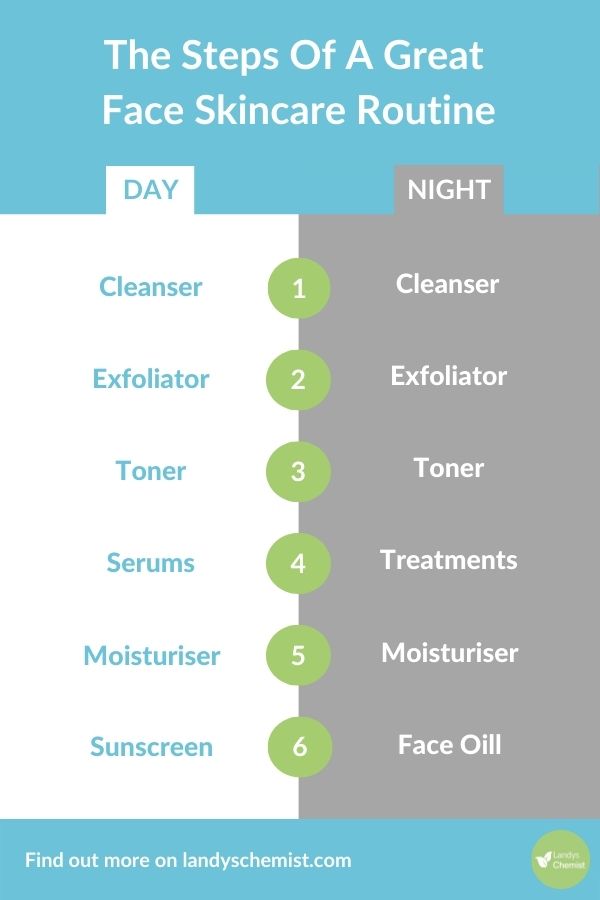 Step 1: Cleanser
Cleansers are the all important first step in your face skincare routine. Using a cleanser, be it a foaming cleanser, light face wash or cleansing water, is a great way to make sure your skin stays clear of dirt, dead skin cells and excess sebum – your skin's natural oils that, if left in excess, can lead to spots.
When using a foaming cleanser or face wash, you should apply them with warm water and gently massage into the skin. If you are using a cleansing water, you can apply it after you've showered or as the first step in your night-time skincare routine by applying to a cotton pad and wiping over your face.
If you are wearing make-up, you might need to use a cleanser twice or allow your cleanser to sit on your skin for a minute before cleaning off. You should aim to use specific eye make-up removers around your eyes, and avoid that area with your facial cleanser as the skin is more delicate and you don't want to irritate it or your eyes.
Recommended Cleansers
Bioderma Sebium Purifying Cleansing Foaming Gel 500ml Rating: 100% of100

CeraVe Foaming Cleanser 473ml

Step 2: Exfoliator (Optional)
Exfoliators clean deeply into your pores to remove any build up of dirt or dead cells. You can exfoliate with an exfoliating wash, scrub or mask, whichever you prefer.
An exfoliator is an optional step for your facial skincare routine because you don't need to use an exfoliator more than twice per week. Exfoliators clean deeply and effectively, but they are harsher on your skin than products like cleansers. Think of exfoliators like shampoo, you don't want to overuse them and so strip out the natural oils your skin (and hair) needs to stay healthy.
You can also use an exfoliating cleanser instead of seperate cleansers and exfoliators. However, if you do this, avoid using your exfoliating cleanser every day, and not more than once a day, as it will strip your skin of its natural oils.
Recommended Exfoliators
Uriage Hyséac Exfoliating Mask 100ml
Avene Gentle Exfoliating Gel 75ml
Step 3: Toner (Optional)
Toners are another optional step for your face skincare routine. Save using toners for days when you've worn heavy make-up or your skin is feeling particularly grimy or you are experiencing breakouts.
Facial toners are used to get rid of the last traces of dirt and grime, like a cleanser, and then to tighten pores and reset your skin's pH balance. To use, simply put a few drops on your fingers or a cotton pad and sweep around your face.
You don't have to use a toner in order to have a good skincare routine, but it can be a valuable additional step if you have acne-prone skin. To help prevent breakouts, choose a toner with salicylic acid. If you have dry or sensitive skin then pick up a hydrating toner to cleanse deeply without dehydrating your skin.
If you aren't sure where to start with a toner, take a look at the facial toners for your skin type. As with all skincare products, you want to choose a toner that suits your skin's needs.
Recommended Toners
Eucerin DermatoCLEAN Clarifying Toner 200ml

Vichy Purete Thermale Perfecting Toner 200ml

Avene Gentle Toning Lotion 200ml
Step 4: Treatments & Serums
Once your skin is thoroughly cleansed, you can start to apply treatments to deal with any skin issues you may have, and serums to boost your skin's health. Depending on your skincare goals, this step of your facial skincare routine could involve applying one product, several or none.
Treatments are normally applied before moisturising as moisturisers provide a protective layer that prevents serums and creams from penetrating your skin. However, serums can be water-based or oil-based. Water-based serums should be applied before moisturiser and oil-based afterwards.
If you aren't sure where to start with treatments or serums, here are some popular choices that help deal with common skincare issues:
Use Spot Treatments At Night
We recommend applying any spot treatment or acne serums as part of your night-time skincare routine as they will be most effective at night while your body is in repair mode.
Be wary of layering acne-fighting ingredients like benzoyl peroxide or salicylic acids with retinol, which can cause irritation. Instead, make sure you're doing the most to keep skin calm and hydrated by applying the other steps of the face skincare routine during the day, and applying spot treatments at night.
Use Vitamin C Serum On Acne, Dark Spots & Psoriasis
Use a vitamin C serum as part of your daytime skincare routine. Vitamin C serum is known for its anti-ageing benefits but it can also help with acne-prone skin, oily skin, dark spots and psoriasis. Since vitamin C is what keeps your cells robust and strong, and contains antioxidants that combat free radicals from pollution in the air, it makes sense for vitamin C serum to be a part of your morning skincare routine.
Use Hyaluronic Acid Serum To Plump Sagging Skin
If you are seeing a sag to your skin as a result of ageing, using hyaluronic acid topically in a serum can help. Alternatively, you can choose a facial moisturiser or another skincare serum that contains hyaluronic acid.
Hyaluronic acid is what allows your skin to maintain its moisture, and to stay plump and healthy looking. Applying hyaluronic acid as part of your night-time skincare routine will help give your skin a supportive boost so it can restore and replace old skin cells with new ones overnight.
Use An Eye Cream To Reduce Puffiness
Applying eye cream to your eye area allows you to give a boost of hydration and brightens your eyes. It's useful to use an eye cream or serum instead of moisturiser around your eyes as the skin is particularly sensitive and even light moisturisers can be a bit too heavy for this area.
Using an eye cream can help to reduce puffiness around your eyes while hydrating them. Your face skincare routine doesn't have to include an eye cream, but if you are moisturising the rest of your face, why not take care of your eyes too!
Avoid using it at night as this can lead to puffiness in the morning.
Step 5: Face Moisturiser
Now, it's time to apply some important hydratration. BIODERMA's Gemma Jones says that: "Facial moisturisers are an essential part of every skin routine as their main job is to protect your skin barrier from irritation. They create a barrier against your skin and the ever-changing environment enabling the skin to maintain its all important balance". Using a facial moisturiser after any serums or treatments will help to lock them in, alongside moisture, rather than letting them evaporate off your skin.
In general, you should choose a lighter face moisturiser for your daytime skincare routine. If you are wearing make-up, a light moisturiser will provide good skin protection without interfering with any make-up you layer on top. The exception to using a light face moisturiser in the day is if you have naturally dry skin or are dealing with dehydrated skin and so you may want a moisturiser specifically formulated for dry skin, which will be thicker and more hydrating.
Your night-time skincare routine can include a heavier, creamier moisturiser. After washing off the day, and since you won't be dealing with sunlight or pollution while in bed, you can apply a heavier moisturiser. It will soak into your skin overnight, nourishing your skin while you sleep. If you want a boost in skin repair overnight, because of spots, wrinkles or dry patches, consider a moisturiser with hyaluronic acid for your night-time face skincare routine.
Recommended Moisturisers
La Roche-Posay Hyalu B5 Hyaluronic Acid Moisturiser 40ml

CLn Facial Moisturiser 100ml
Step 6: Sunscreen (Daytime only)
Sunscreen protection is important for everyone, no matter how much time you spend outdoors or your skin tone. A good daytime skincare routine should always include sunscreen as the final step.
Gemma Jones at BIODERMA warns you should "Never ever skip your suncare as UVA rays are with us all year round and these are the ones that cause the delayed photo-ageing effects on the skin over time".
Remember that UVA rays can travel through windows and cause sun damage to your skin.
If you don't want to use sunscreen every day, but still want protection, you can try a moisturiser with SPF protection. Ideally this would be as high an SPF protection as possible but as little as SPF15 provides good protection all year round.
Recommended Sunscreens
CeraVe Facial Moisturising Lotion SPF25 52ml

What Is A Good Morning Facial Skincare Routine & Why Can't You Skip Moisturising
BIODERMA's Gemma Jones advises that your morning facial skincare routine should be as simple as possible. She says: "The skin in the day needs protection from its environment and the sun mostly, so you don't want to overdo it. Wash your face, then use your serum (if you have a deeper skin concern like dark spots, anti ageing etc). Then apply your moisturiser, wait for it to dry and then add your sun protection to finish. After this, you can apply the rest of your cosmetic routine i.e. make-up, if you wish."
What Is A Good Night Facial Skincare Routine?
For a night facial skincare routine, BIODERMA's Gemma Jones says that "During the evening, as the sun has gone in, you are able to add more things to your routine to target any deeper issues you might have". Since our bodies, including our skin, go through restoration and renewal at night, this is the time to supply it with everything it needs to make those repairs.
She recommends that "First, if you are wearing make-up you double cleanse, to make sure everything from the day is completely gone from the face. Then, a couple of times a week, you might want to manually or chemically exfoliate the skin to help with congestion, remove dead skin cells from the skin or brighten up your complexion. Additionally, a mask/peel could also be used a couple of times a week if your skin needs it. Exfoliators, masks and peels should not be used every evening as this might over stimulate the skin. Then you simply continue with the rest of your normal routine, applying any serum if needed and then your moisturiser to finish."
Facial Moisturiser Guidance & Tips
Facial moisturisers seal in hydration, along with any supportive and restorative skincare products you use, making them one of the most vital steps in a skincare routine. To help you understand why we all need face moisturisers and how to use them correctly, we're going to look at moisturisers in more detail.
How Can You Tell If Your Skin Needs Moisturiser?
Generally speaking, everyone should be using a moisturiser to support their skin. If your skin feels dry or looks shiny, has irritating spots or just doesn't feel great, then it's likely you need a moisturiser.
You may need to change your moisturiser if you experience a change in the usual texture, pallor or feeling of your skin. This might happen because you've switched products, as a result of ageing, or a change in your skin caused by another health reason or treatment – for example, pregnancy often changes face skin leading to dark patches or dry patches.
Beware Of Using The Wrong Moisturiser For Your Skin Type
It can be a sign that you either need to moisturise more or change your moisturiser if your skin feels or looks different. For example, if your skin becomes dull or feels tight, your usually oily skin becomes dry and flaky, or if your dry skin gets cracked and sore. All these changes are a sign that your face needs more moisturiser or that you need to start using a different moisturiser that works with your particular skin type.
Common Mistakes Made With Facial Moisturisers
BIODERMA's Gemma Jones says that: "It is so important that you buy the right moisturiser for your skin type. So many of us buy a new moisturiser because a certain brand goes popular and goes viral, but what is good for one skin is not always good for another and it is not a one size fits all!".
It is important to figure out what your skin type is and to choose a moisturiser that is formulated to work with that skin type. This is about having dry, oily, combination or 'normal' (no particular issue) skin, as well as whether you have sensitive or spot-prone skin.
She notes that: "We also have to manage our expectations on how a product can perform. If you are choosing a moisturiser that is making just anti-ageing claims, then it probably won't help with your pigmentation issues. If you choose a moisturiser that is just a basic hydrator it will not help prevent or ease the appearance of fine lines and wrinkles! So, it is important to really understand the claims each moisturiser is making in order for you to see the desired difference in your skin."
Facial moisturisers can work wonders for our skin. But no cream, serum or moisturiser is a miracle product. How it works within your skincare routine, and with your lifestyle, is what makes it work best.
How Should You Apply Your Face Moisturiser?
To moisturise your face properly, you should apply a small amount of moisturiser onto the back of your hand or arm. Then use one or two fingers to take small amounts on your fingertips and lightly massage onto your skin until you have covered your whole face, including your chin and neck.
How Much Moisturiser Should You Use On Your Face?
You should use a relatively small amount of moisturiser on your face. You don't need to slather! This does not make the moisturiser more effective. As BIODERMA's Gemma Jones puts it: "Only so much moisturiser can be absorbed into the skin physiologically and the rest is a waste. I would always advise a pea size amount for the face, neck and chest. If it is winter and you feel drier than normal, then feel free to put a hydrating serum on before applying a moisturiser to boost the skin's hydration."
Many people wonder how much moisturiser to use on their face, how much is enough and if they are over-applying. If you apply incrementally, starting with a small amount, you will be able to learn over time how much you need to cover your face.
It is recommended to start with around a pea-sized amount of facial moisturiser. If you find this gets absorbed into your sky or leaves it feeling dry after application, it could be a sign that you need a richer formula face moisturiser.
You may find that you need more or less moisturiser depending on the season or climate. Particularly hot or cold weather can dry out your skin more and so you need more moisturiser to get complete coverage.
How To Moisturise Your Face Without Moisturiser
Facial moisturisers are the result of lengthy skincare research to find the best way to moisturise your skin. You can rest assured they have been created specifically for that purpose. However, for those who prefer a natural approach, there are alternative ways you can moisturise your skin without using a manufactured moisturiser.
Examples Of Natural Moisturisers
Examples of natural moisturisers include:
Coconut Oil
Olive Oil
Almond Oil
Sunflower Seed Oil
Shea Butter
Cocoa Butter
Aloe Vera Gel
Honey
Are Natural Moisturisers A Good Alternative?
Not all natural alternatives to moisturisers will work for every skin type, and some may not have the effect on your skin you intend. Like with finding the right facial moisturiser for your skin type, you may need to try a few natural moisturisers to find one that works with your skin biology.
Gemma Jones, of BIODERMA, says that: "Although natural plants, extracts and essential oils can improve some skin types, particularly lipid dry skin, they can also trigger sensitivities and allergic reactions in those with sensitive skin and oily/acne prone skin types, if used in high concentrations. It all comes down to an individual's skin tolerance levels. I would say that a scientific and dermatological formula with few plant extracts and natural antioxidants gives you the best of both worlds."
She adds that: "Coconut oil is a well-known occlusive meaning it works to provide a seal over the skin to prevent a loss of hydration. But because it is so rich, scientific studies have shown it is highly comedogenic which means it can clog pores over time. It is not something professionals would recommend for any skin type."
"Shea butter however is an emollient which is rich in antioxidants and fatty acids that works to soothe and add hydration to the skin, especially dry skin. However, it is recommended to use shea butter in conjunction with other ingredients because it does have a thick consistency which isn't advised for oily/acne prone skin."
Facial Skincare Routines: Your FAQs Answered
There are many questions that could be asked of facial moisturisers. Here, we've narrowed down our list of FAQs to the most popular and pertinent.
Should I Moisturise My Whole Face?
Yes, you can and should moisturise your whole face. Applying moisturiser all over your face means you will be providing your skin with a completely protective barrier.
Should You Put Face Moisturiser On Wet Skin?
Applying face moisturiser to damp skin is good as you can lock in extra moisture under the protective layer of facial moisturiser.
How Can I Moisturise My Face Fast?
Drinking water is one of the most important ways of keeping your skin hydrated. When it comes to fast face moisturisation, there is no quick way, only the long term benefits of regular moisturisation.
You can moisturise your skin from the outside with creams, oils and serums. But you can also hydrate it from the inside by drinking plenty of water, avoiding caffeine and alcohol, and enjoying a diet rich in fatty acids.
Should I Wash My Face Before Moisturising?
Yes, you should aim to wash your face before applying your moisturiser. Ideally, you should apply your moisturiser shortly after cleansing, with all the dirt and impurities removed, allowing your moisturiser to form a protective layer over your clean skin.
Should You Wash Your Face With Hot Or Cold Water?
Lukewarm water is best for washing your face as it helps to foam your cleanser and won't be too hot or cold for your skin. Hot water can scold your skin and strip off natural oils. Cold water can temporarily make your face feel more taut and refreshed, but it won't last.
Can I Put Body Moisturiser On My Face?
You can use body moisturiser on your face temporarily, but it is not recommended for long-term use. Body moisturisers are thicker and have heavier formulas than face moisturisers in order to support the less-sensitive skin on your body, but this can cause oily skin and spots if used on your face. Facial moisturisers are lighter generally, even the formulas for dry skin, so won't block your pores.
Can You Use Moisturiser As A Face Mask?
Yes, you can use your moisturiser as a face mask. Sometimes called moisture masking (inventive name, we know), you can apply a thick layer of moisturiser – much more than you usually use. Let the moisturiser absorb into your skin for at least 15 minutes, then simply wipe off any excess on your skin with a soft cloth or cotton pad. Moisture masking is best done as part of your evening skincare routine – unless you happen to have lots of extra time in the morning.
Should I Keep Moisturiser In The Fridge?
There is no need to keep your face moisturiser, or any skincare products, in the fridge. They are meant to work with your skin at body temperature, so keeping them at ambient room temperatures is fine.
Skincare products contain preservatives that keep them usable when left out. Extreme heat can cause formulas to separate, so keep your moisturiser and other skincare products out of direct sunlight.
Should I Leave Moisturiser On Overnight?
Yes, you should leave moisturiser on overnight. After applying as part of your evening skincare routine, you don't need to rinse or wipe off your face moisturiser, just let it absorb overnight.
Should I Wash Off Moisturiser In The Morning?
No, there is no need to wash off moisturiser in the morning. Most likely, you won't be able to as it will have been absorbed into your skin overnight. If you find your skin is oily when you wake up, this will be because your skin is starting up sebum production – sebum being the natural oils that refresh and hydrate your skin.
Should You Pat Or Rub Serum Into Your Skin?
As a general rule, patting skincare products into your skin is better than rubbing. Rubbing just causes extra tension on your skin unnecessarily. When applying small amounts of formula, like with skincare serums, patting is also an easier way of evenly distributing.
Do You Moisturise After A Face Mask?
Yes, you should apply moisturiser after removing your face mask. Face masks help to deeply cleanse skin and apply supporting nutrients. Applying a face moisturiser afterward helps to seal in hydration and keep your skin healthy.
Face Moisturiser Ingredients Glossary: What Is It In Layman's Terms?
There are lots of ingredients in moisturisers that in scientific terms have to be named a certain way, but that doesn't mean they aren't normal and natural ingredients. They are listed in these specific ways to follow INCI (International Nomenclature Cosmetic Ingredient) standards.
To help you interpret what's in your facial moisturisers, check out our glossary below, compiled with advice from BIODERMA.
Aqua/Eau – Water
Xanthan Gum – Comes from the leaves of Brasica vegetables, like cabbage. It is a common additive in food and skincare products to thicken or stabilise a formula. It is made from using sugar to ferment a carbohydrate with Xanthomonas campestris – the bacteria extracted from Brasica vegetable leaves.
Sodium Hyaluronate – This is the sodium salt version of hyaluronic acid, considered more beneficial as it penetrates deeper into skin.
L-Ascorbic Acid, Ascorbyl Palmitate, Tetrahexyldecyl Ascorbate and Magnesium Ascorbyl Palmitate – All of these are popular derivatives of vitamin C.
Glycerin – A popular carbohydrate that helps with hydration.

Names for other common moisturising ingredients include: Xylitol, Capric Triglyceride and Pentylene Glycol.

Tocopherol or Tocopherol Acetate – This is vitamin E, an invaluable antioxidant and great skincare ingredient.
By Girish Desai, Pharmacist (GPhC ), Nutritionist and Homeopath
---
Disclaimer
The products offered are not intended to diagnose, treat, cure, or prevent any illness or disease, or replace the advice of a medical professional. Results are not guaranteed and may vary from individual to individual.