Issey Miyake
Every time you
shop, collect
Reward points
Fragrance for Men and Women
About Issey Miyake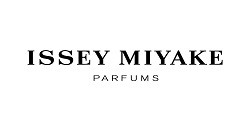 Issey Miyake, a visionary who always seeks the essential and the innovative, loves to create unexpected mixes.
Drawing inspiration from art, architecture and personal encounters, he marries tradition and the avant-garde, sobriety and colour, nature and sophistication, craftsmanship and high techology like no one else.
Issey Miyake is not a style but a genuine spirit of creativity.
All products from Issey Miyake
---
All you need to know about Issey Miyake
What makes Issey Miyake fragrances unique to other brands?
One thing that makes Issey Miyake fragrances unique is that they envision nature as a source of inspiration, to make it innovative and sustainable. Rooted in Japanese culture, Issey Miyake embodies a sense of tranquillity, purity and serenity. Incorporating elements like water, flowers and wood into their fragrances, there is a fresh and vibrant character to the scents.
They stand out for their unique fusion of minimalism and elegance, creating an olfactory experience that is both distinct and captivating. Often using a few carefully selected notes to create harmonious blends which exude elegance. They also combine unexpected notes to create intriguing juxtapositions that surprise and captivate the wearer.
Issey Miyake fragrances have a distinct timelessness that transcends passing trends. They possess a remarkable ability to remain relevant and beloved across generations.
What are some of the best-selling Issey Miyake fragrances?
The signature fragrance of Issey Miyake is "L'Eau d'Issey" for women, often referred to as "L'Eau d'Issey Pour Femme". It was the first fragrance released by the brand in 1992 and has since become an iconic scent in the perfume industry. L'Eau d'Issey is known for its fresh, aquatic notes combined with delicate floral and woody accords, creating a harmonious and captivating composition. Its timeless appeal and unique character make it a recognizable and beloved fragrance within the Issey Miyake collection.
Another popular scent by Issey Miyake is "L'Eau d'Issey Pour Homme," which is the counterpart to the iconic "L'Eau d'Issey'' fragrance for women. Introduced in 1994, L'Eau d'Issey Pour Homme has garnered a significant following and has become a classic choice for men. It features a harmonious blend of citrus top notes, spicy heart notes, and woody base notes, resulting in a fresh and sophisticated fragrance. L'Eau d'Issey Pour Homme showcases Issey Miyake's dedication to crafting timeless and elegant scents that resonate with individuals seeking a distinct and refined olfactory experience.
Are Issey Miyake Fragrances Vegan?
Issey Miyake are committed to transparency in ingredient sourcing and their range of perfumes cannot be considered as completely vegan as select fragrances contain small amounts of ingredients derived from animal-origin secretions. These ingredients include ambrettolide, which is what gives some scents a musky note, as well as beeswax.