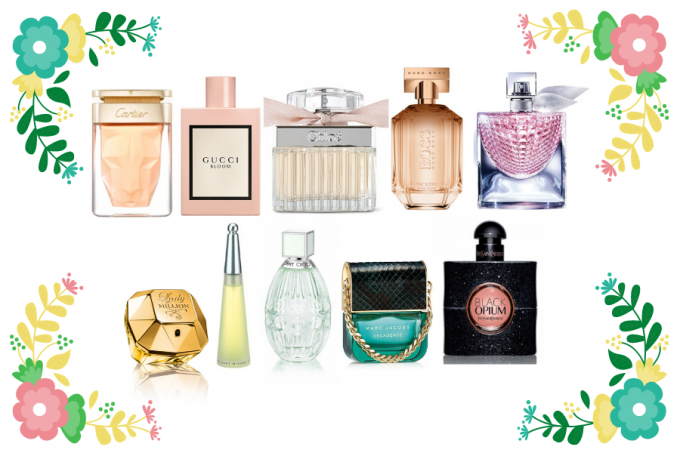 Best Women's Perfumes & Fragrances 2021
By Sara Soltanzadeh, Beauty Consultant
---
When choosing a new perfume, the options can be overwhelming. There are tons of bottles of women's fragrances out there, both new and innovative and classic staples. You might also choose to wear different scents seasonally, playing with lighter and more refreshing fragrances in spring and summer, then moving into richer, spicier perfumes in autumn and winter. So where do you start?
Finding the right fragrance for you will be a question of scent and how each fragrance reacts with your skin – perfumes can smell quite differently on each person. However, you can get a good idea of which are the best women's perfumes by looking at which are the most recommended, the most popular and by having a good sniff yourself.
Using advice and the noses of customers and perfumers, we've compiled a list of the 10 best women's perfumes, in no particular order, and the notes of each fragrance.
1. Gucci Bloom
The fresh aromas in Gucci Bloom evoke a verdant garden where a symphony of flowers reside. With top notes of fruit sweet Rangoon Creeper and a delicate heart of Jasmine, this fragrance is grounded in the soft musk of Natural Tuberose. It combines the light sweetness of flora with a nurturing earthiness (without smokiness or strong woody scents). A perfect women's perfume all year long, but especially in spring.
2. Hermes Twilly Eau de Parfum
Twilly is a beautiful olfactory interpretation of the classic Hermes silk twilly scarf. It's a white floral fragrance featuring notes of ginger, bitter orange and bergamot. The fragrance reveals a heart of tuberose, orange blossom and jasmine. It's an outstanding fragrance for the spring and summer time.
Hermes Twilly Eau de Parfum 50ml

3. Yves Saint Laurent Black Opium
Black Opium is the women's perfume for those who want to exude confidence and femininity. It is uncompromising yet relaxed, engaging but not energetic. What makes this a fantastic year round fragrance is the interesting combination of scents used. Each of the top, middle and base notes are a balance of delicate and defiant. First, you get orange blossom against pink pepper. In the middle, jasmine meets coffee. Then in the base notes, vanilla with patchouli.
Yves Saint Laurent Black Opium Eau de Parfum 50ml

4. Paco Rabanne Lady Million
Lady Million is a great summer scent. It has all the aromas needed in a women's perfume to pair perfectly with basking in the heat, sipping iced tea and dancing the night away. One of the top notes of this fragrance really captures its essence: Neroli. Neroli oil is produced from the blossom of a bitter orange tree and has a honey sweetness with green and spicy notes. This eau de parfum builds on this with honey and amber as it's base notes, a heart of Arabian jasmine and bitter orange with raspberry to top it off.
5. Chloé Signature

Price: £53.50
SophistIcation is the word that comes to mind when you first enjoy the aroma of Chloé's signature eau de parfum. It is a resonant and elegant combination of florals; Peonies, Freesias, Roses, Magnolias and Lily of the Valley are all there, yet it remains uncluttered and refined. Ideal for day to evening wearing, from work to play. The scent of fresh cut flowers is balanced in this women's perfume with base notes of Virginia Cedar for warmth, creamy Amber and the faint sweetness of Litchi (Lychee).
6. Jimmy Choo Floral
The Jimmy Choo perfumes are a range of fragrances that offer unique twists on their core scents, playing with grounded musk under interesting fruit and floral combinations. A great spring and summer women's fragrance, Jimmy Choo Floral leans into the aforementioned flora, with a top note of Hibiscus and middle note of Peony, both delicate aromas. This is cut with a refreshing citrus element in both upper layers with sweet Nectarine and zesty Bergamot. It is rounded out in the base with Cedar.
Jimmy Choo Floral Eau de Toilette 60ml

7. Marc Jacobs Decadence
When it comes to women's perfume, it's all about the amoras, however, Marc Jacobs gets a special mention for the exceptional bottle design for Decadence. This might be the best smelling handbag in existence! This is a sexy fragrance which really comes into its own in autumn, but can work all year round. With a light woodiness from base notes of Papyrus, Amber and grassy Vetiver, it lifts with bold Bulgarian Rose and sweet Orris, finishing with top notes of Italian Plum, Iris and Saffron.
8. Issey Miyake L'Eau D'Issey
L'Eau D'Issey is indicative of Issey Miyake's modern and innovative women's fragrances. This perfume is light, clear and encapsulates the rejuvenation and freshness of spring. Delicate floral notes of Rose and Lotus top this perfume and are married in the aroma of Lilies at the heart of this perfume. With base notes of precious woods, think cedar or sandal, L'Eau D'Issey isn't grand or showy, it is happily playful and confident. This eau de toilette is perfect for the new year, spring time and for a fresh start.
Issey Miyake L'Eau D'Issey Eau de Toilette 50ml

9. Lancome La Vie Est Belle
Flirtatious, effervescent and joyful. The combination of fruity and floral notes in La Vie Est Belle come together to create a sensational women's perfume. The original La Vie Est Belle, meaning Life is Beautiful, L'Eclat builds on the base notes of Vanilla present in previous iterations, layering it with sandalwood before adding middle notes of Iris and Jasmine. The top note of Bergamot brings all the layers together while ensuring there is a crispness to this perfume.
Lancome La Vie Est Belle Eau de Parfum 100ml

10. Carolina Herrera Good Girl
The most intoxicating of the women's perfumes on this list, Good Girl aims to embody the essence of a 'free spirited woman'. There is a complex sharpness within the aromas, coming through as Almond, Jasmine and Tuberose, that is placated by Tonka Beans and Cacao. This is one for women as powerful as they are sensual.
Carolina Herrera Good Girl Eau de Parfum 80ml

Time For A Spritz?
This tantalising list will no doubt have got you thinking about the power of your next choice of perfume and existed to get a new fragrance to wear. What are you waiting for? We stock a lot of perfumes for women, with more being added each month.
---
Disclaimer
The products offered are not intended to diagnose, treat, cure, or prevent any illness or disease, or to replace the advice of a medical professional. Results are not guaranteed and may vary from individual to individual.