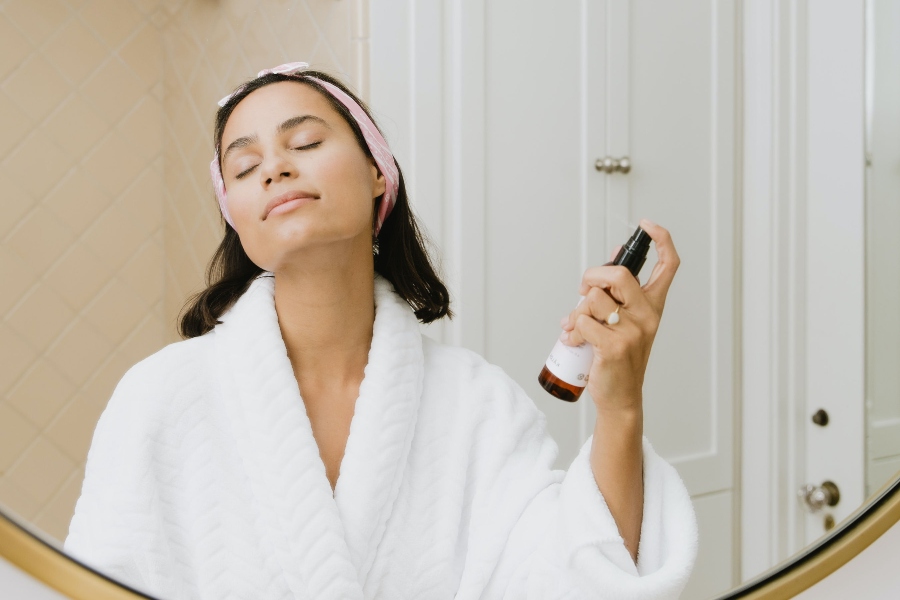 How To Build A Good Skincare Routine
By Panasha Desai, Pharmacist
---
A good skincare routine will keep your skin looking and feeling healthy, and can make dull or spotty skin vibrant and blemish-free. Skincare can be easy to neglect in a busy life, but a regular skincare routine that works with your skin's needs will have an impact you can see every day – literally!
The skincare industry has come a long way, creating numerous products to support your skin's health and appearance. With so many skincare products on offer, you might be left wondering which are essential and which are nice-to-haves.
Below, we look at the ideal steps for a good skincare routine, highlighting the value of each product, and explaining when you might, or might not, need to include a particular skincare product in your routine.
The 3 Foundational Steps Of A Good Skincare Routine
If you take nothing else away, you should remember these three foundational steps of a good skincare routine: cleanse, treat and moisturise.
Cleanse

Start by using a wash or cleanser to remove the daily dirt, grime and natural build up of dead cells from your skin.

Treat

Next, treat any skin conditions or issues you have, be it dark circles, spots or rosacea, with serums and toners.

Moisturise

Finally, apply vital moisture to protect your skin from danger and to maintain a healthy glow using a moisturiser (suited to your skin type).
If you want to have the best basic skincare routine, follow those three steps every day, ideally morning and night. You'll love the results.
The Order Of Products In Your Skincare Routine Matters
It's important to apply skincare products in a specific order to ensure they get onto or into the skin without undoing a previous step and to get the maximum benefit. For example, you don't want to cleanse after moisturising and so wash off the moisturiser rather than clearing out your pores!
Daytime & Night-time Skincare Routines
The foundations of a good skincare routine are a great place to start, but if you want to get serious about your skincare then you need to be thinking about building a daytime skincare routine and a night-time skincare routine. Although the parts will be similar, there are slight variances that allow you to provide the different protection your skin needs during the day and the added revitalisation that you can benefit from at night.
A Good Skincare Routine
Step 1: Cleanser
Washing your face in the morning and evenings is recommended, but try not to use products that are too harsh so you don't strip your skin of its natural oils. Using a cleanser, be it a foaming cleanser, light face wash or cleansing water, is a great way to make sure your skin stays clear of dirt, dead skin cells and excess sebum – your skin's natural oils that, if left in excess, can lead to spots.
When using a foaming cleanser or face wash, you should apply with warm water and gently massage into the skin. If you are using a cleansing water, you can apply it after you've showered or as the first step in your night-time skincare routine by applying to a cotton pad and wiping over your face.
If you are wearing makeup, you might need to use a cleanser twice or allow your cleanser to sit on your skin for a minute before cleaning off. You should aim to use specific eye-makeup removers on the eyes, and avoid that area with your facial cleanser as the skin around your eyes is delicate.
Recommended Cleansers
Step 2: Exfoliator (Optional)
Exfoliators clean deeply into your pores to remove any buildup or dirt or dead cells. You can exfoliate with an exfoliating wash, scrub or mask, whichever you prefer.
An exfoliator is an optional addition to your skincare routine because you don't need to use an exfoliator more than twice per week. Exfoliators clean deeply and effectively, but they are harsher on your skin than products like cleansers. Think of exfoliators like shampoo, you don't want to overuse them and so strip out the natural oils your skin (and hair) needs to stay healthy.
You can also use an exfoliating cleanser instead of seperate cleansers and exfoliators. However, if you are doing this, avoid using your exfoliating cleanser every day.
Recommended Exfoliators
Step 3: Toner (Optional)
Toner is an optional step for your skincare routine. Toner is used to get rid of the last traces of dirt and grime, like a cleanser, and then to tighten pores and reset your skin's pH balance. To use, simply put a few drops on your fingers or a cotton pad and sweep around your face.
You don't have to use a toner in order to have a good skincare routine, but it can be a valuable additional step if you have acne-prone skin. To help prevent breakouts, choose a toner with salicylic acid. If you have dry or sensitive skin then pick up a hydrating toner.
If you aren't sure where to start with a toner, take a look at the toners for your skin type. As with all skincare products, you want to choose a toner that suits your skin's needs.
Recommended Toners
Step 4: Serums & Treatments
Once your skin is thoroughly cleaned of any impurities, it's time to start applying serums and treatments to restore its suppleness and radiance, and to tackle any skin issues you may have. These are all optional based on your skincare needs, though there are some serums and treatments that belong in any good skincare routine.
Use a vitamin C serum as part of your daytime skincare routine. Vitamin C serum is known for its anti-ageing benefits but it can also help with acne-prone skin, oily skin, dark spots and psoriasis. Since vitamin C is what keeps your cells robust and strong, and contains antioxidants that combat free radicals from pollution in the air, it makes sense for vitamin C serum to be a part of your morning skincare routine.
Use a moisturising serum with hyaluronic acid in your night-time skincare routine. Hyaluronic acid is what allows your skin to maintain its moisture, and so stay plump and healthy looking. Applying a moisturising serum that contains hyaluronic acid, among other ingredients, as part of your night-time skincare routine will help give your skin a supportive boost so it can restore and replace old skin cells with new ones overnight. Serums can be water-based or oil-based. Water-based should be applied before moisturiser and oil-based afterward.
Apply eye cream as part of your daytime skincare routine. Since your eyes have more delicate skin around them, using a specially created eye cream to hydrate that area is a good idea. Using an eye cream can help to reduce puffiness around your eyes while hydrating them. Your skincare routine doesn't have to include an eye cream, but if you are moisturising the rest of your face, why not take care of your eyes too! Avoid using it at night as this can lead to puffiness in the morning.
Apply any spot treatment serums as part of your night-time skincare routine. It's a good idea to use acne spot treatments at night, when your body is in repair mode. Be wary of layering acne-fighting ingredients like benzoyl peroxide or salicylic acids with retinol, which can cause irritation. Instead, make sure you're doing the most to keep skin calm and hydrated.
Step 5: Moisturiser
After cleansing and treating your skin, it's time to apply some important hydratration that helps to strengthen your skin barrier. Moisturisers are a key part of any good skincare routine and should never be skipped.
Using moisturiser after treatments will help to lock in those products – which is also why you don't apply treatments after moisturiser since the moisturiser is a protective layer and so would prevent serums and creams from penetrating your skin as needed.
In general, you should choose a light moisturiser in your daytime skincare routine. If you are wearing makeup, a light moisturiser will provide good skin protection without interfering with any makeup you layer on top. The exception to using a light moisturiser in the day is if you have naturally dry skin or are dealing with dehydrated skin and so may want a moisturiser specifically formulated for dry skin which will be thicker and more hydrating.
Your night-time skincare routine can include a heavier, creamier moisturiser. After washing off the day, and since you won't be dealing with sunlight or pollution while in bed, you can apply a heavier moisturiser. It will soak into your skin overnight, nourishing your skin while you sleep. If you want a boost in skin repair overnight, because of spots, wrinkles or dry patches, consider a moisturiser with hyaluronic acid.
Recommended Moisturisers
Step 6: Sunscreen (Daytime only)
Sunscreen protection is important for everyone, no matter how much time you spend outdoors or your skin tone. A good daytime skincare routine should always include sunscreen as the final step. This is particularly important during summer months, but is recommended on all sunny days. Remember that UV rays can travel through windows and cause sun damage to your skin.
If you don't want to use sunscreen every day, but still want protection, you can try a moisturiser with SPF protection. Ideally this would be as high an SPF protection as possible but as little as SPF15 provides good protection all year round.
Recommended Sunscreens
---
Disclaimer
The products offered are not intended to diagnose, treat, cure, or prevent any illness or disease, or replace the advice of a medical professional. Results are not guaranteed and may vary from individual to individual.