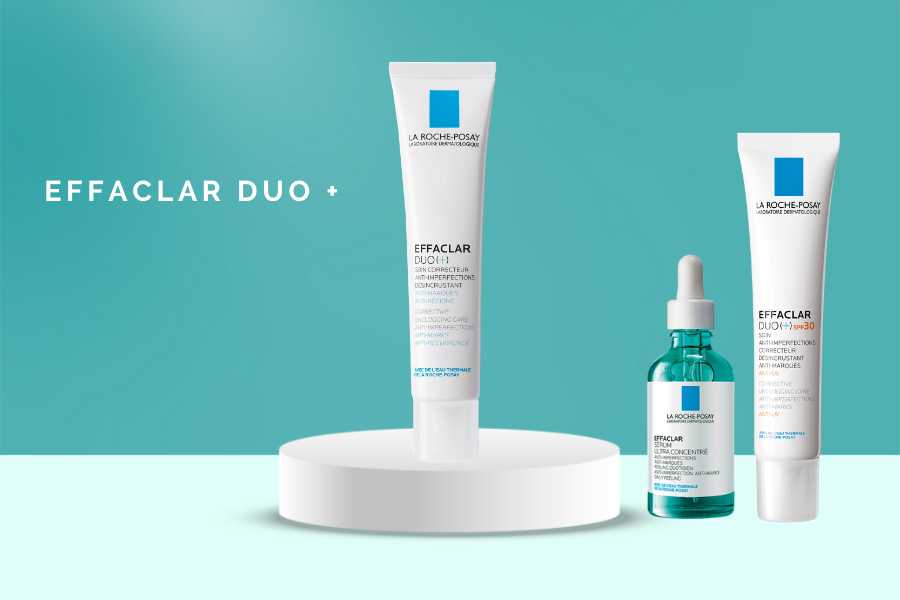 Is La Roche Posay Effaclar Duo (+) Good For Blemish-Prone Skin?
---
The La Roche Posay Effaclar is a complete range that has been specifically developed for oily and blemish-prone skin types. This range includes cleaners, toners, masks, treatments, serums, and moisturisers that help to tackle common problems that occur with oily and blemish-prone skin. The Effaclar products are formulated to help with excess oil (sebum production), clogged pores, blackheads, breakouts, and post-acne marks (the red and brown spots left after a breakout).
What Is La Roche Posay Effaclar Duo?
La Roche Posay Effaclar Duo (+) is a unique, dual action, anti-imperfections and anti-marks, daily moisturiser that improves the overall appearance and complexion in oily, blemish-prone skin. This soothing and hydrating formula is suitable for teenagers and adults with oily, blemish-prone skin types and shows visible results within 12 hours of use.
Key Benefits of Effaclar Duo:
Helps to reduce imperfections such as blemishes and marks
Prevents pigmentation marks
Controls sebum production
Mattifies oily skin
Minimises the appearance of enlarged pores
Unclogs pores and blackheads with its exfoliating effect
Allows the skin to feel purified and comfortable
Compatible with layering underneath makeup
Dermatologically tested
Lightweight gel-cream texture
Hypoallergenic and non-comedogenic formula
Active Ingredients In Effaclar Duo:
Niacinamide (vitamin B3):
Niacinamide is a form of Vitamin B3 that has been shown to have several benefits for the skin, including reducing the production of sebum, improving the skin's barrier function, and reducing redness which can be beneficial for those with oily skin. Research indicates that niacinamide is effective in alleviating signs in mild to moderate acne.
Lipo Hydroxy Acid (LHA) and Salicylic Acid:
Salicylic Acid and LHA are both are oil-soluble chemical exfoliants and is oil soluble, meaning they are able to penetrate into the deeper layers of the skin and unclog pores from excess sebum and dirt. They are gentle exfoliants that helps to unclog pores, remove dead skin cells, and reduce inflammation, making them a perfect ingredient from acne-prone skin.
Zinc PCA:
Zinc PCA is a derivative of the mineral zinc that is commonly used in skincare products for its potential benefits sebum regulation and pore-tightening. This is particularly useful for oily skin types as it can help to reduce shine and the appearance of enlarged pores.
Glycerin:
Glycerin in widely incorporated for its skin-loving capabilities. This ingredient is a humectant which means it binds water to your skin and keeps your skin healthy, reducing inflammation and other signs of an irritated skin barrier.
Procerad:
Procerad is a patented ceramide that helps to suppress excess production of melanin in red or brown marks that can appear after acne breakouts. This helps to promote clearer and even skin complexion.
How To Use La Roche Posay Effaclar Duo (+):
La roche posay Effaclar duo is a gentle moisturiser that is suitable for daily use both day and night (avoid eye contour area). A common mistake that people with oily, blemish-skin types is that they choose to avoid wearing moisturiser to avoid 'clogging up the skin'. However, the result of not moisturising your skin daily, is that it can become dehydrated even if your skin is oily (read more). Signs of dehydrated skin are tightness, flakiness, redness, inflammation, blackheads, and breakouts. Effaclar duo is a moisturiser that won't clog your pores but will still keep your skin nourished.
Does Effaclar Duo Contain Benzoyl Peroxide?
No, the formula supplied in the UK does not contain Benzoyl Peroxide. However, formulations in the US contain 5.5% Benzoyl Peroxide.
La Roche Posay Effaclar Duo with SPF30:
La roche posay Effaclar duo SPF 30 combines the original formula with broad spectrum protection against UVA, UVB. This formula also contains Carnosine, an anti-oxidant that helps to prevent oxidative damage caused by pollution.
Sun protection is important for all skin types, including oily, blemish-prone skin. UVA and UVB protection helps to minimise signs of imperfections and marks on the skin for an even skin tone.
What is La Roche Posay Effaclar Duo (+) Unifiant?
La Roche Posay Effaclar Duo Unifiant moisturiser has an identical formula to the original Effaclar duo, except that it contains mineral pigments in shade light and medium. These mineral pigments have a light tint which helps to even out the look of the skins complexion instantly.
This formula is great for those looking for a very natural, light coverage with their moisturiser.
What Products Work Well With Effaclar Duo?
La roche posay's Effaclar range caters to oily, blemish-prone skin needs. We recommend using their Effaclar Purifying Foaming Cleanser which is perfect for an everyday gentle cleanse. It helps to remove excess dirt, sebum, and oil that may be clogging the pores. This foaming cleanser visibly leaves your skin shine-free and refreshed after use.
The Effaclar Duo Ultra Concentrated Serum is the perfect overnight treatment to boost your skins renewal process. It is designed for those with persistent breakouts. This serum helps to improve your overall skin texture while simultaneously targeting blackheads, blemishes, and marks. We recommend that you use this serum at night without Effaclar Duo or any other products containing AHA's and BHA's to avoid any irritation.
What should you avoid mixing with Effaclar Duo?
Avoid layering effaclar duo with other skincare products containing AHA's or BHA's like salicylic acid or glycolic acid, and retinol as this is likely to cause skin irritation.
---
By Rhysa Phommachanh BA (Hons) Skincare and Media Makeup Specialist