Viridian
Every time you
shop, collect
Reward points
Vitamins, Minerals & Supplements
About Viridian Nutrition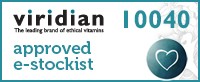 About Viridian Vitamins, Minerals & Supplements
The mission at Viridian Nutrition is to bring health and wellbeing to everything they touch. From the fields where much of their ingredients are grown, through to the recycling bank where the glass bottles are collected, they follow the ethical principle of 'care for others as we care for ourselves'. This is reflected in the quality of Virdian's vitamins, minerals and other supplements.
At the heart of Viridian Nutrition is a philosophy that cares for the natural products movement supporting organic growing, the respectful preservation of ancient health traditions and the sensitive introduction of innovative complementary health foods, supplements and concepts.
Explore our range of Viridian supplements below.
All products from Viridian
---
Viridian Supplements FAQs
Viridian supplements can be used to maintain a healthy balance of nutrients, helping to promote a strong immune system, gut health and a general sense of wellness.
Is Viridian A Natural Supplement?
Yes, Viridian supplements are natural. Viridian vitamins, minerals and nutritional supplements are designed and created with close attention to detail, maintaining a high ratio of natural sources for all their supplements.
Is Viridian Organic?
40% of Viridian supplements are organic. Certification of organic supplements is confirmed by the Soil Association and marked by their logo.
Are Viridian Vitamins Good?
Viridian vitamins, minerals and supplements have received an excellent score in the Good Shopping Guide of ethical brands. Viridian is considered an industry leader in cruelty-free and sustainable supplements. If you are looking for ethical vitamins, minerals or other supplements, Viridian is a great choice.
Viridian supplements are considered a very good choice for those looking to promote positive health and wellbeing and gain additional nutrition via food supplements.