Cacharel
Every time you
shop, collect
Reward points
Fragrance for Men and Women
About Cacharel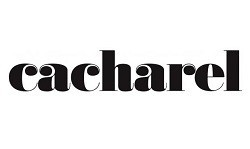 Jean Bousquet established Cacharel in 1962 as a ready-to-wear fashion line for the liberated women of the era.
The design philosophy of "comfort and ease of wear" became Cacharel's signature style and the building block of the company. The youthful style, femininity, lightness, refinement and use of bright colours set Cacharel apart from the rest.
The late 1970s saw the founding of the Cacharel fragrance line, with the launch of the romantic floral Anais Anais. Other bestselling fragrances include Eden, Loulou and Amor Amor, each inspired by beguiling femininity.
All products from Cacharel
---
All you need to know about Cacharel
What is the history of the Cacharel brand?
Cacharel is a popular French fashion and fragrance brand with a rich history that dates back to 1962. Founded by designer Jean Bousquet, Cacharel quickly gained recognition for its youthful and vibrant fashion collections. The brand's success extended to the fragrance industry when it launched its first perfume, Anaïs Anaïs, in 1978, which became an instant hit. Over the years, Cacharel has continued to captivate perfume enthusiasts with its innovative scents and iconic fragrances.
What are the most popular fragrances by Cacharel?
When it comes to popular fragrances, Cacharel has a range of scents that captivate fragrance enthusiasts worldwide. Among the most sought-after fragrances by Cacharel is the iconic "Anais Anais," a timeless floral composition that evokes femininity and elegance. Another beloved scent is "Amor Amor," an enchanting blend of fruits and floral notes that exudes youthful passion. Cacharel's "Noa" is also a favorite, known for its delicate and comforting aroma with hints of white flowers and warm undertones. These popular fragrances by Cacharel continue to allure individuals searching for captivating scents that embody beauty and sophistication.
Are Cacharel perfumes long-lasting?
With carefully crafted formulas, Cacharel fragrances are designed to have staying power on the skin, allowing you to enjoy their captivating scents throughout the day.