Solgar Vitamins
Every time you
shop, collect
Reward points
Vitamins, Minerals & Herbal Supplements
About Solgar Vitamins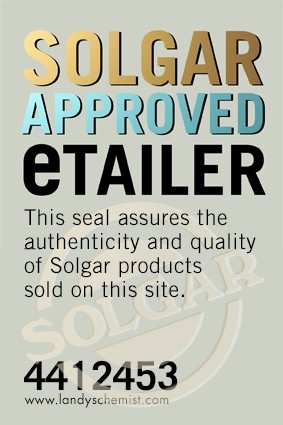 Solgar is dedicated to providing consumers with quality, innovative, science-based supplements. Solgar has been innovating and producing fine quality nutritional supplements since 1947.
Solgar has been manufacturing fine quality nutritional supplements for over 60 years in an industry that is constantly evolving. Throughout these changes, they have never lost sight of their original mission - to provide consumers with the highest quality nutritional products and information to help promote optimal health.
All products from Solgar Vitamins
---
About Solgar Vitamins
Is Solgar a Good Brand? 
Solgar is a well-known brand in the supplement industry that has been providing high-quality vitamins and dietary supplements for over 70 years. The company has a reputation for producing products that are effective, safe, and reliable. In this article, we will explore the reasons why Solgar Vitamins are such high quality.
Quality Ingredients
Solgar uses only the highest quality ingredients in their supplements. All of their ingredients are carefully selected and sourced from trusted suppliers. The company has a rigorous quality control process that ensures that each ingredient is pure and potent.
Solgar also uses natural ingredients whenever possible, which means that their supplements are free from synthetic chemicals and additives. This makes them safe and gentle on the body, while still being effective.
Advanced Formulas
Solgar is constantly innovating and developing new formulas that are backed by the latest research. They work closely with a team of scientists and health experts to ensure that their products are effective and safe.
Their formulas are also designed to be highly bioavailable, which means that they are easily absorbed by the body. This ensures that the nutrients are delivered where they are needed most, and that they can be used by the body efficiently.
GMP Certified
Solgar is committed to maintaining the highest standards of quality and safety. All of their products are manufactured in facilities that are GMP certified, which means that they meet strict guidelines for quality control and safety.
GMP certification ensures that each product is produced in a clean and controlled environment, with proper testing and documentation procedures in place. This means that Solgar products are safe, effective, and free from contaminants.
Third-Party Testing
Solgar also performs third-party testing on their products to ensure their safety and effectiveness. This means that independent laboratories test their products to verify their potency and purity.
This testing provides an additional layer of quality control, ensuring that customers can trust that they are getting the highest quality products.
Where is Solgar made? 
Solgar Vitamins are made in the USA. That said they search globally for the highest quality raw materials and ingredients to ensure the quality and efficacy of their products.
Are Solgar products natural?
The vast majority of Solgar products are naturally occurring ingredients. Many of them are made naturally by the human body but in some cases (like Omega-3 Fish Oil products) the body can't manufacture these itself.
In some cases Solgar manufactures products using a synthetic form of an ingredient. In these cases the products are still subject to Solgar's very high standards in terms of quality, efficacy and testing.  
Who owns Solgar? 
Solgar was acquired in 2022 by Nestle Health Sciences. The new owners remain committed to the same principles which has allowed Solgar to develop it's reputation as one of the most premium brands of supplements in the market.